Westfield 'die-in' protest: 76 arrested for Eric Garner demonstration at London shopping centre
Demonstration was in solidarity with US protests against black father-of-six's death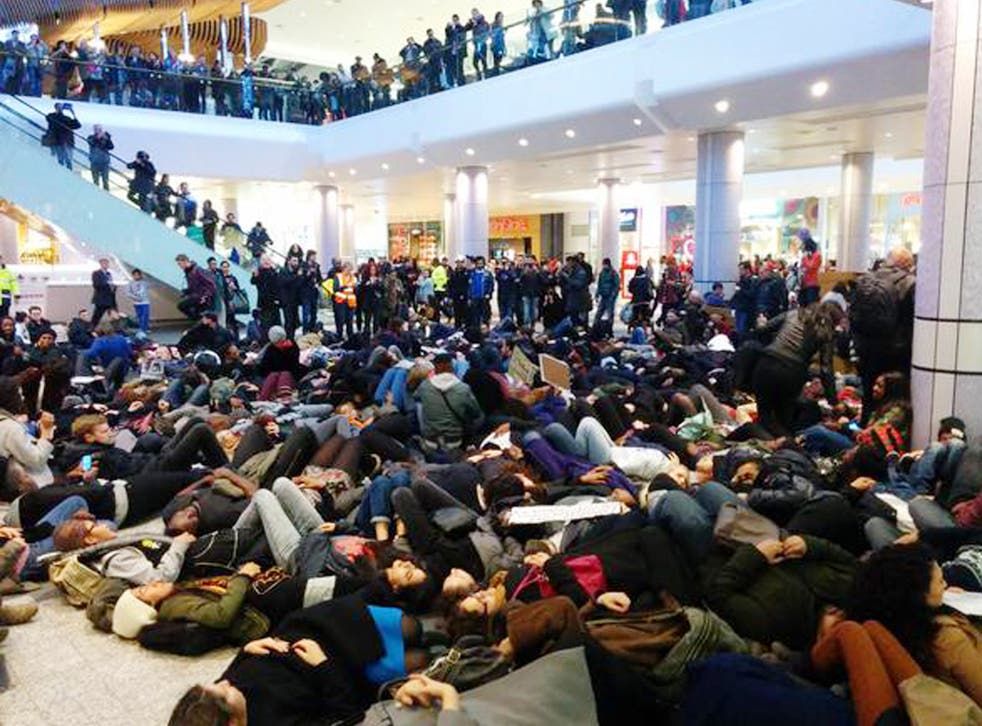 Police have arrested 76 people who were part of a mass "die-in" protest in solidarity with US rallies sparked by the death of Eric Garner at a major London shopping centre.
An estimated 600 people attended two peaceful protests held at a Westfield shopping centre in Shepherd's Bush, west London - one inside the centre and one outside. It is understood those inside were asked to make their way outside and no arrests were made at that time.
Later some protesters, who police said broke away from the main group and attempted to get inside the centre, were arrested on suspicion of public order offences, with one man further arrested on suspicion of assault.
The Evening Standard reports that some shops were forced to shut their doors as demonstrators lying on the floor as if dead chanted "I can't breathe!".
Mr Garner, a 43-year-old black man, died on 17 July after an attempted arrest in New York when a white police officer restrained him in a chokehold.
The father-of-six repeatedly gasped "I can't breathe!" in an arrest that was captured on video.
In pictures: Protests over death of Eric Garner

Show all 30
The officer involved was the second in nine days to escape indictment by a grand jury, after white officer Darren Wilson was not indicted for the fatal shooting of Michael Brown in Ferguson, Missouri.
Thousands have protested in New York and elsewhere since the announcement that the officer who restrained Mr Garner would not be indicted last week.
Chief Superintendent Mark Bird, in charge of the policing operation in London, said: "We will always work with those that wish to demonstrate lawfully - as the majority of protesters did yesterday.
"However, we will not tolerate the small minority that offer violence or commit other criminal acts, such as that witnessed outside Westfield yesterday evening."
The Met said their enquiries into the incident are continuing.