Woman guilty of tricking blindfolded friend into having sex by pretending to be a man
Gayle Newland disguised her appearance and voice during around 10 sexual encounters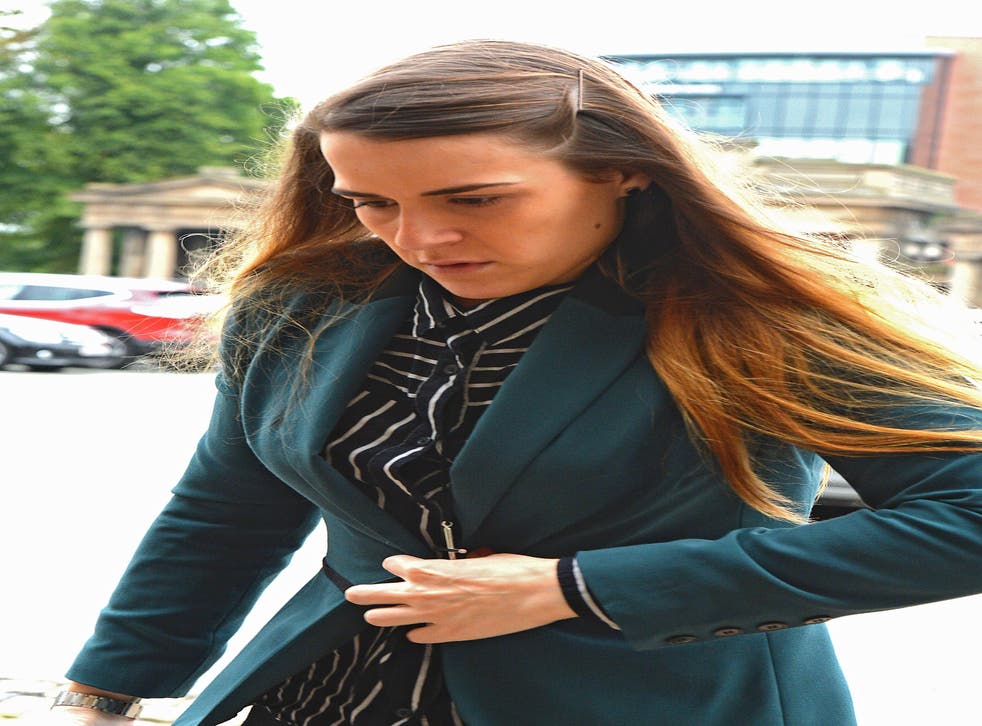 In a courtroom drama as confusing as it was compelling, a woman has been convicted of pretending to be a man and using a deep voice, a prosthetic penis and a blindfold to trick her female friend into having sex with her during a two-year relationship.
Gayle Newland, 25, persuaded her victim to wear a blindfold throughout the more than 100 hours they spent together during their relationship, which started online.
Her 25-year-old victim told Chester Crown Court that she had kept the blindfold on during about 10 sexual encounters. She remained blindfolded when the pair were sunbathing together and even when they "watched" a film at her flat. The deception, she said, only ended when she pulled off the blindfold while they were having sex to see her friend Gayle wearing a strap-on prosthetic penis.
Gayle exclaimed: "It's not what you think."
In her defence, Newland insisted that no blindfold was used during their relationship. She also denied strapping bandages to her chest to mask her breasts, claiming they were only there to protect a heart monitor.
Denying five counts of sexual assault, Newland, from Willaston, Cheshire, insisted her accuser always knew she was pretending to be a man, and that they had been engaging in roleplay while her friend struggled to come to terms with her lesbianism.
But the jury convicted Newland of three of the sexual assault charges while acquitting her of two others.
Judge Roger Dutton warned her that imprisonment was inevitable, but adjourned the case for pre-sentencing reports, explaining that Newland had "serious issues surrounding her personality".
Newland's deception begun in 2011 when she sent her victim a Facebook friend request after setting up a fake account in the name of "Kye Fortune" by downloading photos from an American man's Myspace page.
During online and phone communication, "Mr Fortune" told the victim, who cannot be named for legal reasons, that "he" had a close friend called Gayle Newland. The victim then became friends with Newland as well as Mr Fortune.
The victim said she noticed that Mr Fortune and Newland, who at the time was a Chester University student, had "really similar accents, [but] his was just a bit deeper". Describing how she fell for the con, she told the court: "When you Googled him, it came up with a Twitter account, Facebook account, a Bebo account. He seemed a feasible person. I'm still in shock... coincidences keep flashing in front of me, like how Gayle and Kye shared the same birthday."
The pair finally met face-to-face in February 2013, but "Mr Fortune" insisted on the blindfold, claiming he was embarrassed about scars on his body from being involved in a car accident and receiving treatment for a brain tumour.
The court heard how the victim also agreed to rules that included not touching Mr Fortune's genitals.
As the romance blossomed, the victim said, they would sometimes snuggle up in front of a film. She added: "I would not say 'watch' because I had a mask and scarf on. I heard a film. For us, that was what was normal. In hindsight, I wish I had ripped that mask off sooner."
The couple eventually got engaged. The victim, who insisted she was not attracted to women, said: "I told my friends I was engaged to a guy. Every time I met up with Kye Fortune, I either had the mask on already or he would wait outside the door and I would put it on. I was so desperate to be loved. It's pathetic.
"If I could go back and scream at me, I would. It does look ridiculous on paper."
The deception ended, she told the court, while they were having sex: "I grabbed for the back of his head and my hand got caught on something. It did not feel right.
"Something in my mind said, 'Pull it [the blindfold] off'. I just pulled it off. Gayle was standing there... I just couldn't believe it."
As the judge told Newland she faced "serious consequences" after the jury returned their guilty verdict, she protested: "How can you send me down for something I have not done?" She repeated tearfully: "I don't understand... I don't understand."
Register for free to continue reading
Registration is a free and easy way to support our truly independent journalism
By registering, you will also enjoy limited access to Premium articles, exclusive newsletters, commenting, and virtual events with our leading journalists
Already have an account? sign in