Cyclist kicked into the path of a coach by fellow cyclist
Video: Cyclist-on-cyclist road rage filmed by Raphael Carrondo, who was lucky to escape alive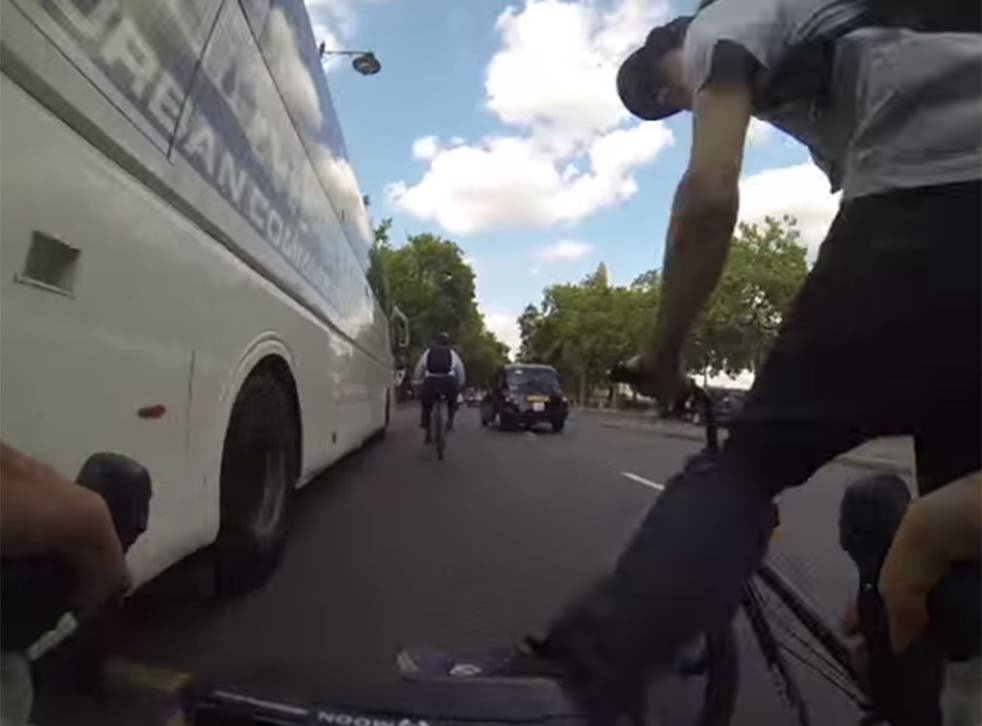 We are used to hearing about the dangers of cycling in London, with countless dreadful cases over the years that have seen cyclists injured or killed because of reckless motorists.
Yet video from one cyclist in the capital has revealed another hazard for those travelling on two wheels: other cyclists.
Raphael Carrondo uploaded a video two months ago showing a horrifying encounter with an irate BMX cyclist.
The video shows Carrondo cycling along the Embankment to the side of the middle lane, with a line of large coaches parked to his left. As Carrondo approaches one coach, which is indicating to show it is about to move out, a cyclist on a BMX bike appears at Carrondo's right side and aims a kick at his bike. Carrondo instantly falls to the floor and into the path of the moving coach.
Luckily, Carrondo is not too seriously hurt and gets up in time before any serious damage can be done.
Moments before the kick, 32-year-old Carrondo was forced to slam on his brakes as the BMX rider tried undertaking him as they passed a parked bus.
Carrondo posted the video on his YouTube and said that anyone who can help him to find the rogue cyclist will be rewarded.
He wrote: "Please help me find the person in the video to bring him to justice. If you have any information that can lead to identifying the person on the video will be much appreciated. The incident happened in London at around 5.15pm in front of the embankment station on Wednesday 6 August 2014."
The video has been viewed over 10,000 times.
Carrondo told ITV News: "I couldn't believe what had happened - I feel so lucky to be alive. This guy just came out of nowhere and leathered my front wheel. I went flying over the handlebars and my head almost went under the bus - it was terrifying."
He added: "It was ridiculous - it's the most dangerous thing I've ever seen on a cyclist's cam, and unfortunately it happened to me. I could have easily died."
Join our new commenting forum
Join thought-provoking conversations, follow other Independent readers and see their replies