Cyclist death in London: Woman, 26, dies after collision with lorry near Bank of England
The woman, who died at busy Bank junction at rush-hour, is the eighth cyclist to die on the capital's roads this year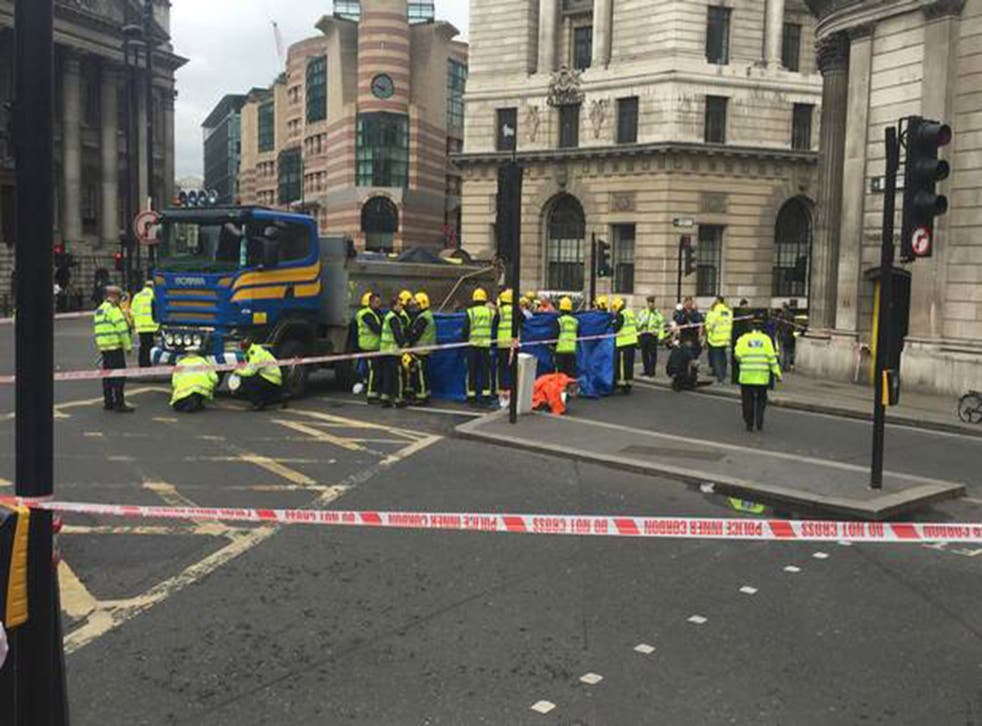 Shocked commuters saw the crash and its aftermath, with medics battling to save the woman's life in the middle on the junction, one of the busiest in the City.
The woman came off her bike and became trapped under the wheels of the blue and yellow lorry at around 9am on Monday.
Ambulance crews were there within minutes but were unable to revive the young woman, who was declared dead 40 minutes later. The fire brigade erected blue tarpaulins around the scene.
The death - at an accident blackspot - means that eight cyclists have died on the capital's roads this year, most of them women who collided with heavy good vehicles.
A witness to the crash told the Evening Standard: "I must have left the Tube seconds after it happened. I saw people - passers-by- trying to help her as she was trapped under the wheels.
"Then ambulance crews arrived and they must have been working on her behind a tarpaulin. It was horrible. She would have left home this morning going to work and now she's dead. Makes you realise how fragile life is."
Christian Stanley, who works in insurance, said he witnessed the "horrendous" aftermath of the crash.
He added: "I came out the tube and heard a crunch and heard people screaming. I ran over to her. She wasn't conscious. The driver came out and looked shocked."
Witness Allan Williams wrote on Twitter: "V distressing at Bank, where there's been another incident with cyclist and lorry. CPR taking place, lorry driver distraught."
He added that the crash had been "awful to witness".

At 9.42am, the 26 year old woman was pronounced dead at the scene."
Bank junction has now mostly reopened after it was closed by the crash, though Threadneedle Street was still closed in both directions, the spokesman added.
The driver of the lorry has not been arrested, though he was seen speaking to police at length at the scene.
A 50-year-old cyclist died after colliding with a car in Harrow on Friday. Seven of the cyclist deaths in London this year have involved lorries.
Join our new commenting forum
Join thought-provoking conversations, follow other Independent readers and see their replies