Graph of world wars by number of dead and duration of conflict shows how war is very much not behind us
Though smaller in size, wars have only grown in number
Christopher Hooton
Tuesday 11 November 2014 13:05 Comments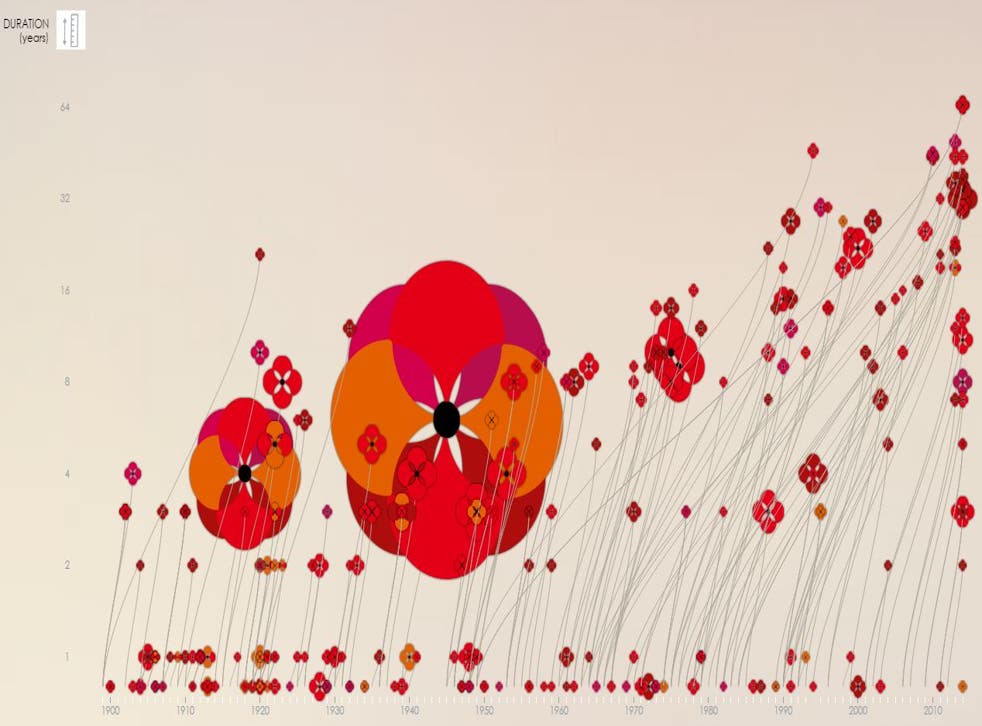 It might be 100 years since the Great War, but the world remains a very turbulent place.
An infographic at poppyfield.org shows what an entanglement of wars we find ourselves in, bringing together the chronology, duration and cost to human life of conflicts in the 20th century to present day.
"The First World War was initially dubbed the war to end all wars," the website states. "Sadly, the world has witnessed more than 200 conflicts in the 100 years since.
"Poppy Field reflects on the human cost of war from the beginning of the 20th Century."
View the full interactive infographic here.
While the First and Second World Wars were the conflicts that by far killed the most, the graph also highlights how more modern wars tend to drag on as the politics involved becomes more complicated and the opposing sides less defined.
In pictures: Remembrance Day around the world

Show all 11
The infographic was designed by Valentina D'Efilippo and Nicolas Pigelet, with poppy stems growing from the year when the war started and flowering in the year the war ended.
Register for free to continue reading
Registration is a free and easy way to support our truly independent journalism
By registering, you will also enjoy limited access to Premium articles, exclusive newsletters, commenting, and virtual events with our leading journalists
Already have an account? sign in
Join our new commenting forum
Join thought-provoking conversations, follow other Independent readers and see their replies