7/7 bombings anniversary: The Independent's coverage of the London bombings the day after the terror attack
52 people died and 700 were injured in the attacks which was the single worst terror atrocity on British soil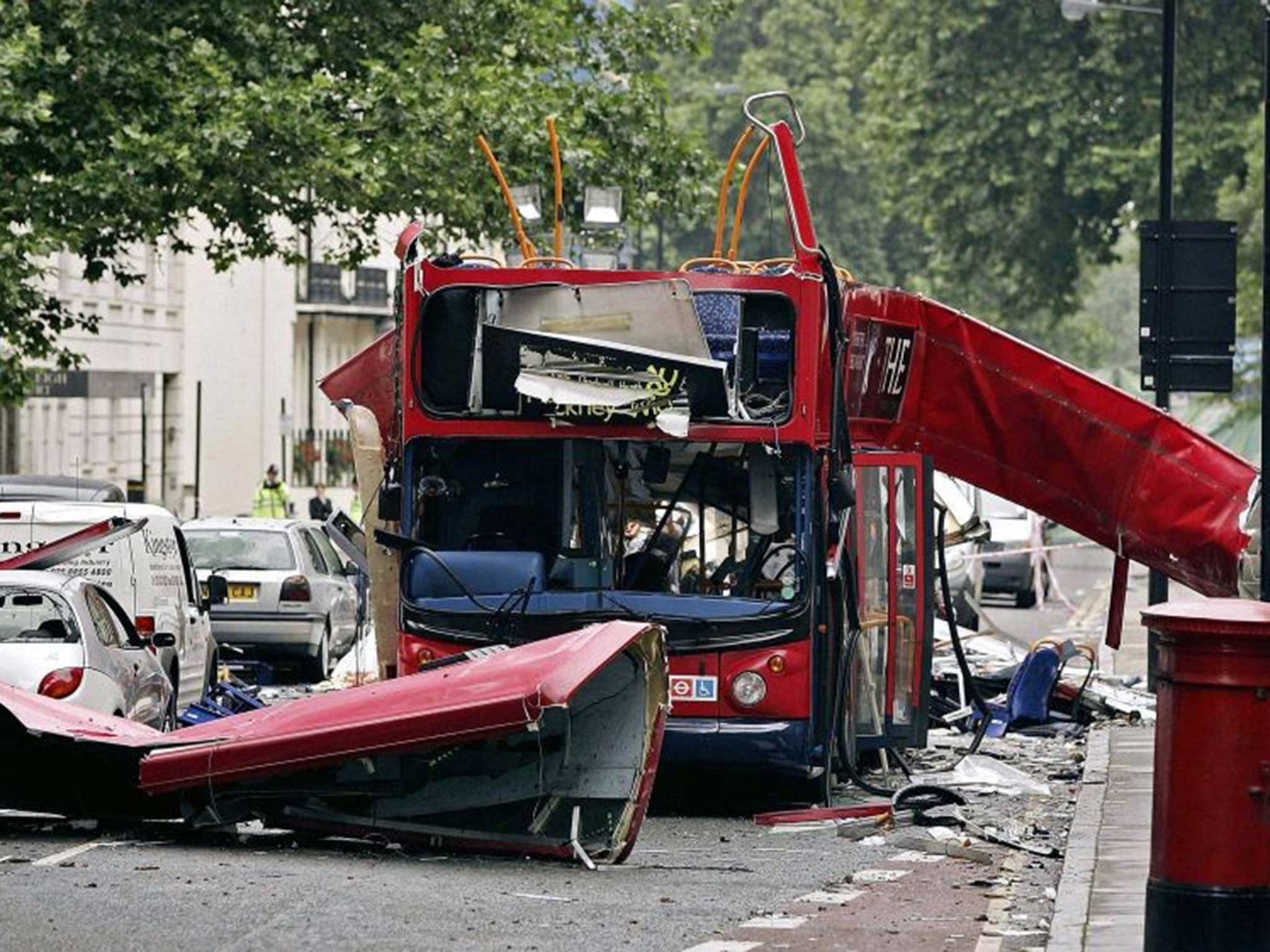 On the day following the 7/7 London bombings, this is what The Independent published.
"Like millions of other Londoners, Michael Henning began his daily Tube journey to work yesterday with the confetti from the joyous Olympic celebrations of the day before still strewn about the streets of the capital.
Heading from Kensington to his offices in east London, Mr Henning watched as fellow passengers on the packed Circle line train scanned newspapers full of good news for once, p r o-claiming victory in the battle for the 2012 Games.
"London's Triumph," proclaimed one headline. "Gold Rush", said another. There was a light drizzle as people made their usual trek into work, but it didn't seem to matter; London was on a roll, and it felt good.
Then, it began. Tube trains ground to a halt all over London. Drivers announced over the on-board public address systems that a "power surge" on the track had closed down the network.
Mobile phones started buzzing with startling rumours: that there were explosions across the city. Aldgate, King's Cross, Edgware Road, all were said to have been at the centre of "incidents". Then word swept the city by phone and e-mail that a bus had exploded in central London.
Before the rush hour was over, dreams of Olympic glory had been forgotten. Terrorists had struck in three co-ordinated bomb attacks which hit London's claustrophobic peak-hour Tube trains, two of which were in tunnels, causing dozens of deaths and hundreds of injuries. A fourth bomb – possibly the work of a suicide bomber – exploded on a crowded bus, killing at least two more people. Last night 37 people were confirmed dead. More than 700 were injured, some critically. It was the bloodiest attack on Britain since the Second World War. Fate saved Mr Henning, 39, a Lloyds banker, who missed his usual train. He tried to get on to another but was forced out by the sheer weight of numbers,and moved down the platform to another carriage. At 8.51am, the carriage he had tried to enter exploded. "There was a flash of light and everything went black," Mr Henning said. "You couldn't see; you could just hear shouting and screaming. We managed to find a way out. What we left behind was absolute carnage."
That bomb and the two that followed within 26 minutes were the first successful bomb attack on the London Underground in its142-year history. Then, as commuters reeling from one of the explosions looked for other transport, the packed bus exploded. There had been no intelligence indicating an attack was imminent. Nor was there a warning. Police were investigating whether it was the first time a suicide bomber had operated on British soil, and there were warnings that the crisis may not yet be over.
The entire Tube system, the world's largest, remained closed last night, as rescue workers continued to toil in the carriages mangled by the explosions, attempting to retrieve the remaining bodies.
It quickly became apparent that al-Qa'ida – or those acting in its name– had finally decided, as many had predicted it would, to attack London at its most vulnerable point. A claim of responsibility was made on the Al-Qal'ah– The Fortress – internet site, by a previously unheard-of group calling itself the Secret Organisation Group of al-Qa'ida of Jihad Organisation in Europe. Although police and e m e r-gency services responded quickly with a carefully prepared major incident plan, the attacks came only a few weeks after the security level in the capital had been downgraded to one of the lowest levels since the 2001 attacks in the US.
Questions were being asked about how such an attack could have happened during the G8 Summit when security services might have been expected to be on maximum alert. Last night, a number of Metropolitan Police officers deployed in Scotland were returning to the capital.
The London attacks are likely to lead to demands for tougher anti-terrorism laws, particularly the introduction of identity cards. They left Muslim leaders, who condemned the bombings, deeply anxious about the effect on their communities' relations with the rest of Britain.
At Gleneagles, a distraught-looking Tony Blair insisted the G8 meeting would continue: "It is important … that those e n-gaged in terrorism realise that our determination to defend our values and our way of life is greater than their determination to cause death and d e-struction to innocent people in a desire to impose extremism on the world. Whatever they do, it is our determination that they will never succeed in destroying what we hold dear in this country and in other civilised nations throughout the world.'' His words were echoed short-l y afterwards by President George Bush: "It's a war on terror for us all.'' He added: "We will not yield to these people;we will not yield to the terrorists."
The attacks were also condemned by other world leaders, including the Pope, while the Queen sent a message of sympathy to the victims and ordered the flag on Buckingham Palace to be flown at half mast.
The attack on London began, as did those on New Yo rk in September 2001 and in Madrid in March 2004, just before 9am. At 8.51, a Circle line train heading into Liverpool Street station. The huge complex, the confluence of several underground as well as overground lines from north and east London, carrying commuters in and out of the City, was rocked by a huge explosion. Terry O'Shea, 42, a construction worker from Worcester, said: "I was in the carriage behind where the explosion was. There was a loud bang and we felt the train shudder. Then smoke started coming into the compartment. It was terrible. People were panicking, but they calmed down after one or two minutes.As they led us down the track past the carriage where the explosion was, we could see the roof was torn off it, and there were bodies on the track."
Jack Linton, 14, from Hawk-swell, Essex, who suffered cuts on his face, said: "There was a massive explosion, smoke and flames. My carriage must have been two away from where it was. Everybody got on the floor. Then eventually the smoke cleared and we managed to open the central doors down the train to go to the back of it before they walked us along the track past the train to the station. The middle of the train was blown out and there were people on the track. I've got glass in my hair and my pockets and my ear hurts."
Many people were trapped for up to 40 minutes. Sarah Reid, 23, a student doing work experience, was in the carriage next door to the one struck by the explosion. "There was a fire outside the carriage window and then there was a sudden jolt which shook us forward. The explosion was behind me. Some people took charge. We went out of the back of the carriage. "A carriage was split in two, all jagged, and without a roof. I saw bodies, I think," she added. Seven people are believed to have died on that train.
Within a few minutes, at 8.56, the Underground was rocked by a second blast, a few miles to the north-west, where the southbound Piccadilly line sweeps in from north London.
Underneath the elegant streets of Bloomsbury, between King's Cross and Russell Square stations, another bomb exploded; it is believed that at least 21 people died. Reaching this deep-lying Tube line became a much more difficult task for the rescue workers than at Liverpool Street, where the older Circle and Metropolitan lines were built much closer to the surface. Passengers were trapped for more than two hours.
While the emergency services were rushing to both scenes, there was a third explosion, at 9.17am, several miles to the west, at Edgware Road station, this time on another Circle line train heading west. The explosion ripped through a wall in the tunnel and blew a hole in a train trave l l i n g east on another track. Seven people died.
Simon Corvett, 26, from Oxford, was on the eastbound train. He said: "All of sudden there was this massive huge bang. It was absolutely deafening and all the windows shattered. The glass did not actually fall out of the windows, it just cracked. The train came to a grinding halt, everyone fell off their seats.
"There were just loads of people screaming and the carriages filled with smoke, Yo u couldn't really breathe and you couldn't see what was happening. The driver came on the Tannoy and said,'We have got a problem, don't panic'."
Mr Corvett joined other passengers to force open the train doors with a fire extinguisher. Dozens of them escaped down the tunnel. Recalling his ordeal. his face covered in soot, he said the carriage on the other track was destroyed. "You could see the carriage opposite was completely gutted. There were some people in real trouble."
By now, the Underground network was rapidly grinding to a halt as trains were stopped and backed up in stations. Fear, panic and confusion began to spread through the system as survivors staggered out of stations to be met by scores of ambulance crews and firefighters.
Just after 9.30am, Transport for London took the decision to close the system, evacuating scores of stations. Still not sure of what had happened, senior Scotland Yard officers were still working on the assumption that some kind of catastrophic power surge was to blame.
But that assumption soon began to look questionable. At 9.47am, in Tavistock Square, just south of Euston Road, a number 30 bus travelling from Hackney to Marble Arch, which had been boarded by several people who had been evacuated from the Underground, was ripped apart by a huge explosion.
It remained unclear last night how many people had died, but the number is believed to be in double figures. Witnesses spoke of seeing bodies flung out of the upper deck.
Ayobami Bello, 46, a security guard at the nearby London School of Tropical Hygiene and Medicine, said the blast completely blew the bus apart.
"It was terrible: the bus went to pieces," Mr Bello said. "There were so many bodies on the floor. The back was completely gone. It was blown off completely and a dead body was hanging out and there were dead bodies on the road. It was a horrible thing."
He said other bodies sat slumped in their bus seats, some with arms and legs missing: "I can't believe it. I can't even believe I survived it. There was panic and everyone was running for their lives. I saw a lady coming towards me soaked inblood. Everyone was in confusion."
Andrew Childes, 36, a cycle courier, was on his way to the British Medical Association's headquarters in Tavistock Place. He said: "I heard a bang, a thudding, deep sound. There was a big cloud of grey smoke. I was about 250 metres away at the time and I stopped in my tracks and didn't go any further. I waited for a bit and then went to see what had happened. The bus was just splintered metal, and it was all bent over. The top part of the bus was completely exposed, as if the roof had been ripped off it.
"There was a bit of panic going on, a few screams and shouts, but there wasn't massive panic. The police were already there because of what was happening on the Tube and quickly got things under control.
"I didn't see if anyone was on the bus or if anybody was hurt. Somebody told me they saw the driver running away from the bus but I don't know if that's true.'' BMA staff came out to treat the injured, and their building was turned into an impromptu casualty station. Police were still trying to establish last night whether a suicide bomber had been on board, and if so, whether the bomb was being taken to another Tube station and was detonated earlier, either accidentally or deliberately. The bus had been diverted from its normal route which may have caused the bomber to panic.
As news of the explosions spread, there was panic, transport chaos and confusion across central London and parts of the City. Evacuees from the Underground system attempted to board buses only to find them stuck in traffic and, eventually, they were ordered to stay where they were. Mainline trains into London were halted and mobile phone networks collapsed under the pressure of thousands of calls.
Emergency services implemented the major incident plan, putting hospitals throughout the capital on alert and summoning help from adjacent authorities. At the London Hospital on Mile End Road, a short distance from Aldgate, more than 100 people were treated and air ambulances lined up to land on its helipad. Fleets of commandeered buses took dozens of slightly injured people to hospital.
The bombs were condemned by the nation's religious leaders, and many clergy turned out to help with rescue operations. Steve Nichols, London Underground chaplain, was counselling the emergency services in St Botolph's Church near Aldgate station. He said: "There was one poor lady who had been impaled by one of the poles in the train and she was still alive. The people have been picking up various body parts. It is obviously very grim and there aren't really words to describe it. I guess you could say I've been caring for the carers."
At Gleneagles, Tony Blair and the other world leaders were informed by their aides. After his first of three statements of the day, an anguished looking Mr Blair flew by helicopter back to London.
In a televised statement from Downing Street last night he promised intense police and security service action to bring the bombers to justice and he repeated his "profound condolences" to the families of the victims. Mr Blair said: "It is through terrorism that the people that have committed these terrible acts express their values and it is right at this moment that we demonstrate ours.
"I think we all know what they are trying to do. They are trying to use the slaughter of innocent people to cow us, to frighten us out of doing the things that we want to do, trying to stop us from going about our business as normal, as we are entitled to do, and they should not, and they must not succeed. When they try to intimidate us, we will not be intimidated. When they seek to change our country or our way of life by these methods, we will not be changed.''
Mr Blair later visited Scotland Yard's control room. He returned to the G8 Summit at Gleneagles last night which had been chaired by Foreign Secretary Jack Straw in his absence. While in London, Mr Blair also chaired a meeting of the Cobra Committee, the Cabinet Office body which oversees such crises; the committee was convened hours earlier, chaired by Charles Clarke, the Home Secretary. Initially, Sir Ian Blair, the Metropolitan Police Commissioner announced there had been six explosions, but it is believed this was because of the confusion from the bombs being in the tunnels between Russell Square and King's Cross and between Liverpool Street and Aldgate. Sir Ian warned the public to "stay where they were''. Ken Livingstone, the Mayor of London, still in Singapore where he had spent the previous night celebrating the success of the London bid, issued a strong con-demnation of the attacks: "I want to say one thing: This was not a terrorist attack against the mighty or the powerful, it is not aimed at presidents or prime ministers, it was aimed at ordinary working-class Londoners. That isn't an ideology, it isn't even a perverted faith – it's mass murder. We know what the objective is. They seek to divide London." The London Olympic bid committee was adamant that the Games would not be affected but said that they were "devastated". Keith Mills, chief executive of London's bid team, said: "I'm totally distraught. I think it goes to demonstrate that no city in the world can escape terrorism these days. Even London, which has probably the best and most sophisticated security services in the world, finds it difficult to dealwith these sorts of attacks." Mr Mills said the London contingent was "completely and utterly devastated … This is our town, our city, our home. We're praying for the people who have been affected."
The attacks also had their effect on the City, where the FTSE 100 Index plunged more than 200 points in the immediate aftermath of the explosions; it recovered some of its poise during the afternoon, to limit the losses to less than 100 points. Shares in hotel operations, airlines and luxury goods were worst affect-e d. Many banks and trading houses were eitherevacuated or found staff unable to reach their desks. The London Stock Exchange remained open but took action, such as asking traders to switch off certain electronic trading systems to prevent a more volatile response.
Last night, as scores of people were still being treated in hospitals, scores of shows and events across London were cancelled after police asked people not to travel into the West End.
Amid chaos on the jammed roads, with buses operating a limited service and Tube lines closed, police and security officials warned that they could not be sure the attacks were finished. Andy Trotter, the deputy chief constable of British Transport Police, said: "This is an extremely challenging time for London and we do not know whether it's over yet."
Michael Henning was one of the lucky ones. After treatment for head and eye injuries at the Royal London Hospital, he left for home, still in shock that he had survived. "It was unbelievable," he said. "I could have been killed I just can't believe what I've gone though today. I'm just so very, very lucky."
In pictures: The 10th anniversary of the 7/7 London bombings
Show all 26
Join our commenting forum
Join thought-provoking conversations, follow other Independent readers and see their replies