Postscript: Abby Tomlinson, the 'Milifandom' founder on her YouTube channel and George Osborne's 'assault on young people'
'When I ran into David Cameron in Parliament I tried to speak to him but he wasn't having any of it'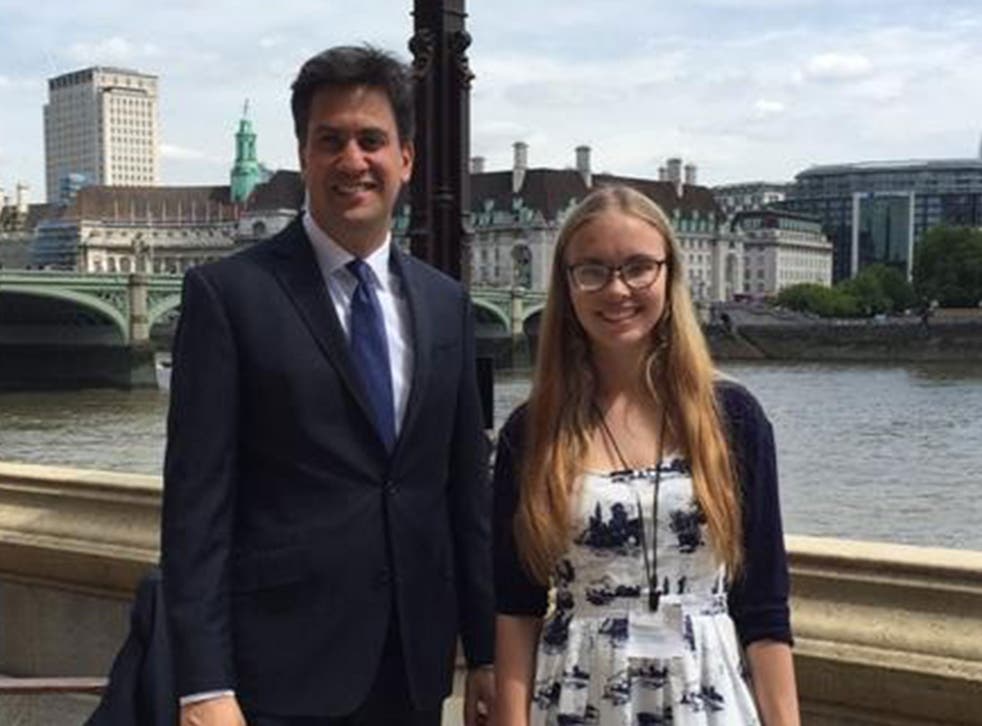 Elvis Presley; Brad Pitt; One Direction – all have enjoyed pin-up status. But earlier this year an unlikely heartthrob stole the hearts of teenage girls across the UK: Ed Miliband.
In April, ahead of the general election, 17-year-old student Abby Tomlinson declared her admiration on Twitter for the then Labour leader. It prompted an outpouring of support from other young women, who used the hashtag "Milifandom".
Abby, from Leyland, Lancashire, had been following the build-up to the election and felt "inspired" by Mr Miliband's vision. However, she noted, many media outlets didn't share her enthusiasm.
"The tabloids were saying, 'He's weird, he looks funny eating a bacon sandwich.' They made him out to be the village idiot. It made me really angry," says Abby.
She began publishing posts about Mr Miliband on Twitter and, before the teenager knew what was happening, the Milifandom movement was born.
"Suddenly everybody wanted to know about me," says Abby, who was studying for her AS-levels at the time.
"I told my mum but my dad only found out about it all when a reporter turned up at his house – I got a text from him asking what was going on," she says.
Abby's family and friends greeted her newfound celebrity with a mixture of awe and disbelief.
"I believe you are now the most influential person in the election campaign," she was informed by one of her teachers.
But Abby was not without her detractors. Former Conservative MP Louise Mensch was roundly condemned for hounding the teen with a string of aggressive messages. Thankfully Abby had forged friends in high places, with figures including former Deputy Prime Minister John Prescott springing to her defence.
The student, who had "never even heard of" Mrs Mensch, says she found the experience upsetting but was cheered by the amount of support she received.
Despite Milifandom mayhem, Abby managed to get through her exams relatively unscathed.
On the day of her final exam she received a call from "Ed's" office inviting her out for lunch. "I didn't think he'd actually follow up on the invitation but he kept his pre-election promise," Abby jokes. "He's so normal, so down-to-earth. It was easy to sit and talk about things with him.
"He wasn't resentful about what had happened with the election – he understood that's how politics works. I don't think I've ever met a nicer person. I'm a Labour supporter and I think I always will be now," she reveals.
Since the election Abby has been closely scrutinising the Conservative Government. She says that while she had been braced for the slew of welfare cuts announced by Chancellor George Osborne in this month's Budget, she was shocked at the "all-out assault on young people".
David Cameron could be forgiven for assuming Abby would disappear as suddenly as she appeared, but unfortunately for the Prime Minister she is likely to remain a thorn in his side.
Abby has established herself as a force to be reckoned with in Westminster, having launched her WestminsterAbby YouTube channel, which features interviews with politicians, including Labour leadership hopefuls Jeremy Corbyn and Andy Burnham.
Tory MPs aren't beating down her door to be interviewed, with the Prime Minister proving particularly reluctant.
"When I ran into David Cameron in Parliament I tried to speak to him but he wasn't having any of it," says Abby, who claims Mr Cameron scurried past her before staring at her suspiciously.
Ed Miliband might have had his hopes of leading the country dashed but he remains a role model to his young protégée.
"I would definitely like to go into politics when I'm older," Abby says. "People keep telling me to get a proper job, though."
'Postscript' will run in the i paper and online every Saturday. If you would like us to return to someone who was in the news, please write to i@independent.co.uk
Join our new commenting forum
Join thought-provoking conversations, follow other Independent readers and see their replies