Alan Henning: Second British hostage in Isis beheading video named as 'kind and funny' aid worker from Salford
Those who met Mr Henning before his capture in Syria say he was 'genuinely trying to help the Syrian refugee crisis'
Oliver Wright
,
Tom Harper
Monday 15 September 2014 08:54 Comments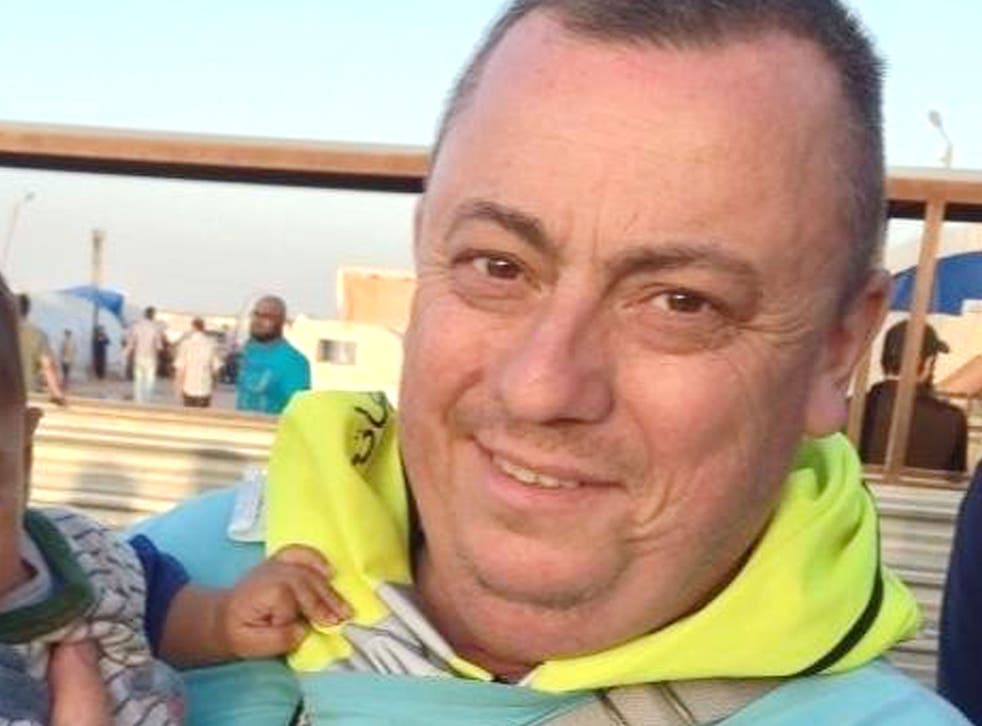 The second British hostage whose life is being threatened by Islamist extremists is a volunteer aid worker with two children who left his job as a taxi driver to deliver supplies to Muslim refugees caught up in the Syrian civil war.
Alan Henning, 47, who is being held by the same Isis terrorists who murdered another British aid worker, David Haines, was captured in December while he was part of an aid convoy near Syria's border with Turkey.
Yesterday, David Cameron described Isis fighters as "monsters" not Muslims, as he pledged to "hunt down" those responsible for the acts of brutality against British and American citizens over recent weeks.
Tributes to Mr Haines, whose death was shown on a video posted on the internet on Saturday night, were led by his brother Mike, who quoted the Koran as he warned the poisonous ideology fuelling Isis poses a threat "to the wholesale safety of every person in the world".
In pictures: The rise of Isis

Show all 74
In a statement released by the Foreign Office, Mike Haines said: "We agree with the Government in that Isis are extremely dangerous, and pose a threat to every nation, every religion, every politics and every person.
Catrin Nye, from the BBC Asian Network, who met Mr Henning while he was packing aid convoys in Salford, said he was known as "Gadget" because of a fondness for technology and described him as a "very likeable" and "funny" man. "He had travelled on a convoy, he had been into a refugee camp … and it had been a life-changing experience," she said. "He had handed out the goods. He described holding the children … and how that really affected him. He told me he had to go back."
Last night, Mr Henning's family sanctioned the Foreign Office to release a photo of him holding a young child in a refugee camp on the Syrian-Turkish border.
Mohamed Elhaddad, company director of the UK Arabic Society who was on two previous convoys with Mr Henning, described him as a passionate humanitarian volunteer. "The first time we went together he was very excited and very emotional. He does a lot for others," he said.
But he added: "Alan went too far into Syria. He took that extra risk, because he could have accomplished the drop-off at the border. I disagree completely with what is happening to him. Alan is my friend, this is extremely sad for him and his family."
Tam Hussein, a freelance journalist, said: "He travelled over to Turkey with a charity's aid convoy but was given advice by one of the organisers not to go into Syria because he was a white non-Muslim. However, he insisted on going because he wanted to know that the money was going to the right place. He was captured along with other British Muslim aid workers by armed men with masks but they were released and he was kept."
Yesterday Mr Cameron said Mr Haines had been murdered in the "most callous and brutal way imaginable" by an organisation which was the "embodiment of evil". He added the Government was ready to take "whatever steps are necessary" to "dismantle and destroy" Isis. Downing Street played down calls for an immediate British military response or a recall of Parliament. Mr Cameron is understood to be waiting until a meeting of the UN General Assembly next week before potentially asking MPs to authorise military action.
More than 30 countries, including 10 Arab states, will meet in Paris today to discuss the proposed US-led alliance to combat Isis.
Mr Cameron made clear the threats made by Isis would only strengthen UK resolve. "They are killing and slaughtering thousands of people across Iraq and Syria. They claim to do this in the name of Islam. That is nonsense. Islam is a religion of peace. They are not Muslims, they are monsters. We have to confront this menace. Step by step, we must drive back, dismantle and ultimately destroy Isis."
Mr Cameron said the Government was aware that Isis "have planned and continue to plan attacks" in Britain.
He described Mr Haines as a British hero. "He went into harm's way, not to harm people but to help his fellow human beings in the hour of their direst need," he said.
"His selflessness, his decency, his burning desire to help others has cost him his life. But the whole country, like his grieving family, can be incredibly proud of what he did and what he stood for."
Dr Shuja Shafi, secretary general of the Muslim Council of Britain, said there was "nothing in our faith that condones such behaviour".
Register for free to continue reading
Registration is a free and easy way to support our truly independent journalism
By registering, you will also enjoy limited access to Premium articles, exclusive newsletters, commenting, and virtual events with our leading journalists
Already have an account? sign in
Join our new commenting forum
Join thought-provoking conversations, follow other Independent readers and see their replies