Amal Clooney to represent 'hooded men' who accuse Ted Heath of authorising torture in Northern Ireland
Her husband, George Clooney, is also set to travel to Belfast to ensure the case gets maximum publicity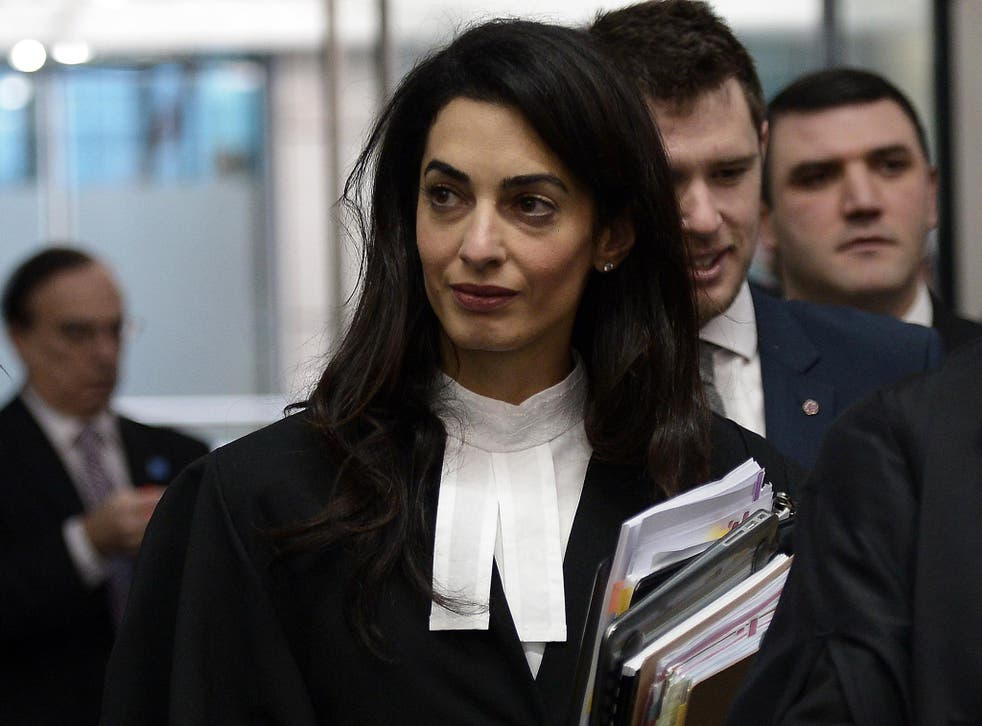 Top barrister and wife of George Clooney, Amal Clooney, is reportedly set to take on the case of the 'hooded men' and their grievances related to the Troubles in Northern Ireland.
The 'hooded men' allege that they were held without trial and were tortured, following the Government's decision to introduce internment in 1971 after disorder broke out in Northern Ireland.
The group claims that the Conservative leader, Sir Edward Heath, was aware of and condoned the use of torture on detainees during this period.
According to the Sunday Telegraph, Mrs Clooney is part of the legal team representing the group, who are aiming to take the case to the European Court of Human Rights in Strasbourg.
The 37-year-old Oxford graduate will travel to Belfast next month for a meeting with the nine survivors.
The torture claims have been backed by the Irish Government and historian, Jim McIlmurray, who has suggested that documents have now been discovered which demonstrate that the Prime Minister at the time was fully aware that torture was being used on prisoners.
"These documents show that torture was discussed at the highest level with the knowledge of Heath.
"Because of this documentation the case is very much black and white. The UK Government had lied about its knowledge and six months prior to internment had ordered a special unit to carry out torture," he said.
Mr McIlmurray has suggested that the documents were originally misfiled by the UK Government, according to The Sunday Telegraph.
The historian has admitted his concern that, although Mrs Clooney is an excellent lawyer, her presence could "turn the case into a circus".
Her husband, Mr Clooney, is set to join her on the trip, to ensure the case gets maximum publicity.
He has recently discovered that his great, great-grandfather was from Kilkenny and has told an Irish newspaper of his plans to travel to the Emerald Isle.
"I'm embarrassed that I've never been properly there before now.
"I've been talking about going there for years and Bono [of the band U2] has been trying to get me to do a bike ride around Ireland with him.
In pictures: The Met Gala 2015 beauty roundup

Show all 17
"I'm definitely going to make a visit happen this summer. Amal has been several times, so she can show me around," he said.
Amal Clooney could not be reached for comment.
Join our new commenting forum
Join thought-provoking conversations, follow other Independent readers and see their replies