Annoyed commuter in Twitter spat with Transport for London
The London Overground Twitter account told @dan_down to 'leave early' when he complained about service delays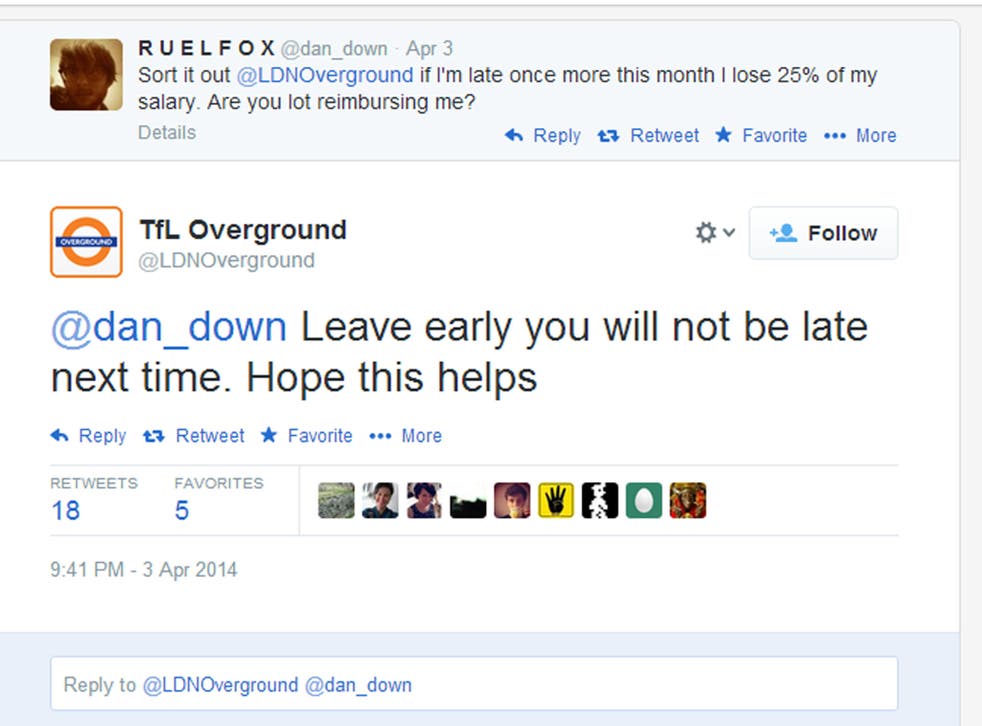 Transport for London (TFL) found itself embroiled in a Twitter spat after telling a disgruntled customer that he should "leave early" for work if he did not want to be late.
Twitter user @dan_down tweeted on Thursday: "Sort it out @LDNOvergournd. If I'm late once more this month I lose 25 per cent of my salary. Are you lot reimbursing me?"
The TFL Overground account replied: "@dan_down Leave early you will not be late next time. Hope this helps."
But the advice was not well received - @dan_down criticised TFL's "smart arse answers" and said that the company should "stick to your timetable". He said that he arrived to the station each morning with the expectation that services would be on time.
"How dare you answer like that," he said.
"Why should I have to compensate for your shoddy service. Why not run on time?"
As his reproach escalated, TFL backtracked on its earlier comments.
"Apologies for the response you received earlier. I don't think it was meant to come across like that. I'll get this looked into," a staff member tweeted from the account.
However, @dan-down said the apology was too little, too late.
"I'm afraid I'm not accepting apologies this time. I've emailed customer services in the hope that it's taken seriously," he said.
"This can't be brushed aside with an insincere 'sorry'."
And other users agreed with his comments. @carole136 tweeted: "OMG is this a serious response to a customer? How arrogant of you!!!"
And @carolinehonour said: "How much time exactly should we be expected to leave early by? 3 hours? 5? Really quite surprised by your glibness."
Some people questioned the legitimacy of TFL's comment, suggesting it befitted the content of a "parody" account or one that had been hacked.
Howvever, other users saw the funny side. @Yasm1nK tweeted: "'Leave early you will not be late next time. Hope this helps' LOL. Love it. #cheekysodz".
And @theaardvark said: "Don't see that you [TFL] should apologise for that at all. Seems eminently sensible to me. It's what I do."
Join our new commenting forum
Join thought-provoking conversations, follow other Independent readers and see their replies