Archbishop of Canterbury: My gay marriage view can be seen as 'akin to racism'
Justin Welby stands by decision to vote against same-sex marriage legislation
Paul Bignell
Wednesday 28 August 2013 18:38 Comments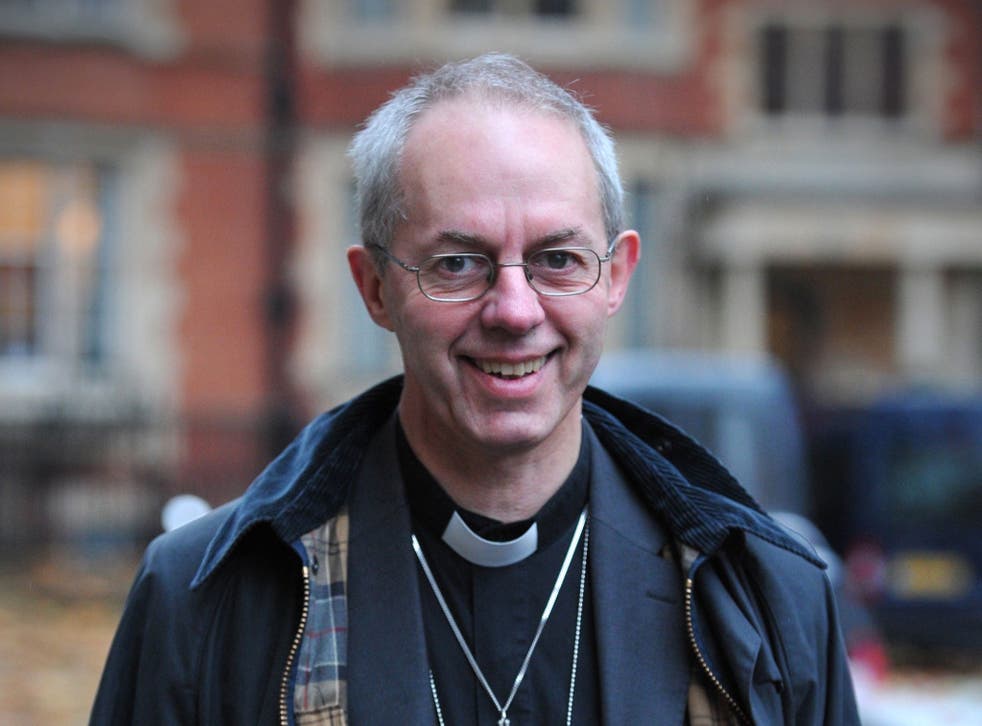 The Archbishop of Canterbury has admitted that his stance against gay marriage is seen by many young people as "wicked" and equivalent to "racism".
The Most Rev Justin Welby said he stood by his decision to vote against same-sex marriage legislation, but said opposing the move could be seen by some as akin to "racism and other forms of gross and atrocious injustice".
In a speech given to the Evangelical Alliance in London today, the Archbishop said today's society had evolving views about sexuality and that many younger people perceived opposition to gay marriage as "plain wrong".
The Marriage (Same-Sex Couples) Act received royal assent last month and gay couples in England and Wales will be able to wed from next year.
"We have seen changes in the idea about sexuality, sexual behaviour," he said. "We have to face the fact that the vast majority of people under 35 not only think that what we're saying is incomprehensible but also think that we're plain wrong and wicked and equate it to racism and other forms of gross injustice. We have to be real about that."
The legislation faced staunch opposition from many religious groups and conservative backbenchers in its passage through Parliament.
The Archbishop said: "What I voted against was what seemed to me to be the rewriting of the nature of marriage in a way that, within the Christian tradition and within scripture, is not the right way to deal with the very important issues that were dealt with in that Bill. The Bill was clearly, quite rightly, trying to deal with issues of homophobia in our society. As I said at the time in the House of Lords, the Church has not been good at dealing with homophobia – it has at times either implicitly or explicitly supported it and we have to be really repentant about that because it is utterly and totally wrong. But that doesn't mean that redefining marriage is the right way forward."
He admitted the Church was "deeply" and "profoundly divided" over the way forward, but said he wouldn't exclude people from the issue who had a different view than the one he held.
Gay rights groups yesterday reacted with anger at the Archbishop's speech. Ben Summerskill, chief executive of the charity Stonewall, said a recent poll conducted by his organisation found that people under 45 were overwhelmingly in support of gay marriage.
"It is a tiny bit rich to say he has great sympathy for gay people when in the 10 years since the introduction of civil partnerships the Church has doggedly refused to bless people's long-term partnerships even though they are happy to have services for pets and even canals," he said.
"Church attendances continue to fall, which is very sad for lots of people, [but] that is not going to change if it doesn't concur with half of the population," he added.
Register for free to continue reading
Registration is a free and easy way to support our truly independent journalism
By registering, you will also enjoy limited access to Premium articles, exclusive newsletters, commenting, and virtual events with our leading journalists
Already have an account? sign in
Join our new commenting forum
Join thought-provoking conversations, follow other Independent readers and see their replies