Army launches third recruitment campaign in a year to boost reserves - despite cuts in troop numbers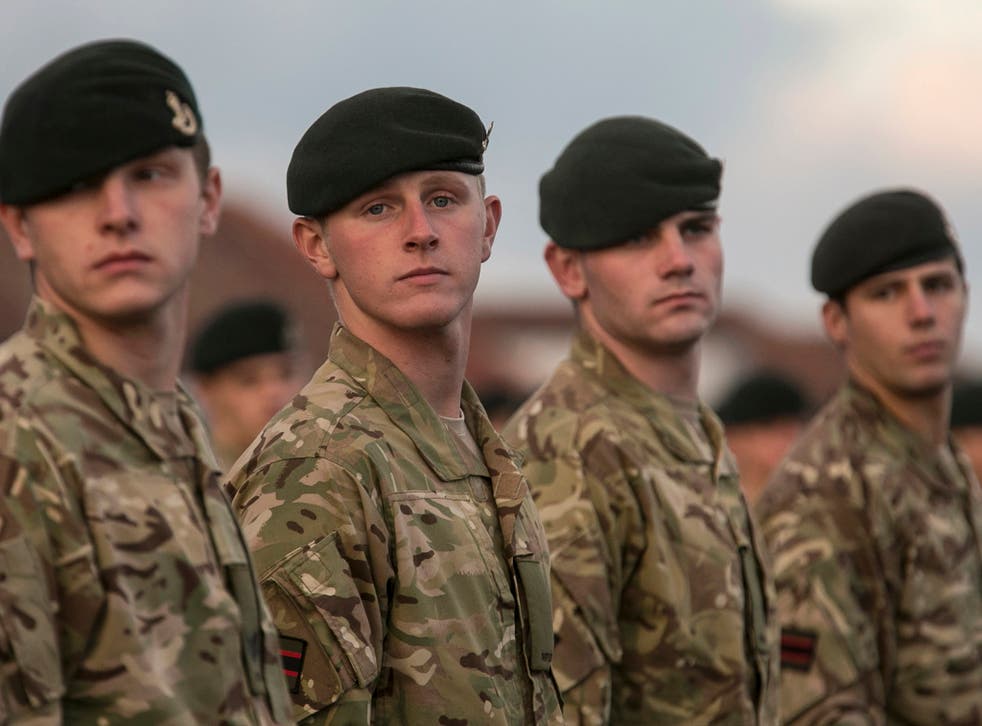 The Army is launching a new recruitment campaign to expand its reserves section, despite recent cuts to the number of troops.
The launch of the campaign, announced today by Defence Secretary Philip Hammond, coincides with research commissioned by the army that says nearly one in four Britons are unhappy with their current career.
The campaign, dubbed "More than meets the eye", aims to show how the new Army Reserve is fully integrated with its regular counterpart.
Through a series of TV adverts, it hopes to capitalise on New Year's resolutions which see people wanting to transform their lives and careers.
The survey showed that 23 per cent of people were not satisfied with their current career.
When asked what was missing, 30 per cent said a decent salary, 27 per cent said excellent training and personal development, 25 per cent said a challenging and exciting role, 35 per cent said UK and overseas travel, and 18 per cent said getting paid while getting qualifications.
The research, carried out by OnePoll on behalf of the army, surveyed 2,000 people in December 2013.
It also revealed a lack of awareness about life in the army.
Of those polled, more than a quarter (28 per cent) thought Army Reserves would not get paid, while 40 per cent did not think a commitment to the reserves was flexible, and 40 per cent also thought signing up to the army was a lifetime commitment.
Defence Secretary Philip Hammond said: "We are restructuring the army to ensure regular and reserve soldiers are fully integrated into one force, training and working alongside each other.
"In 2014, the army will continue to recruit new full-time soldiers and look to increase the trained strength of part-time soldiers.
"Army Reserves will be critical to mounting military operations in the future and we intend to grow the number significantly by 2018."
Chief of the General Staff, General Sir Peter Wall, said: "The army offers people unique opportunities for challenge and adventure, both at home and overseas, during peacetime and on operations.
"It develops personal qualities that are key to success in any walk of life: leadership, judgement, determination, and physical stamina."
January will also see the launch of a new simplified online application form, a more streamlined medical clearance process, and an army fitness app, making it easier for potential recruits to join, said the MoD.
Trooper Marcus Cribb, 23, who is in full-time higher education studying project management but has been in the Army Reserves for four years, features in the new TV ad.
Tpr Cribb, from Weymouth, Dorest, works as a Challenger 2 driver part-time for the army.
He said: "Being in the army has opened up so many opportunities that I wouldn't have achieved elsewhere. I've gained new skills and had the opportunity to travel to Switzerland, all of which has been done part-time.
"My university has been supportive of my role in the army alongside my studies and I'm keen to bring all of the skills and qualifications that I'm gaining in the army to my studies and future full-time career.
"Not many people realise that reserves have all the same opportunities as regular soldiers, but we do. I would encourage anyone looking for an exciting challenge and new opportunity outside of their day job to join."
PA
Join our new commenting forum
Join thought-provoking conversations, follow other Independent readers and see their replies