Ashya King: 'Cruel NHS has not given us the treatment we need', says father of five-year-old with brain tumour who fled to Spain
Boy has been taken to hospital while parents remain in custody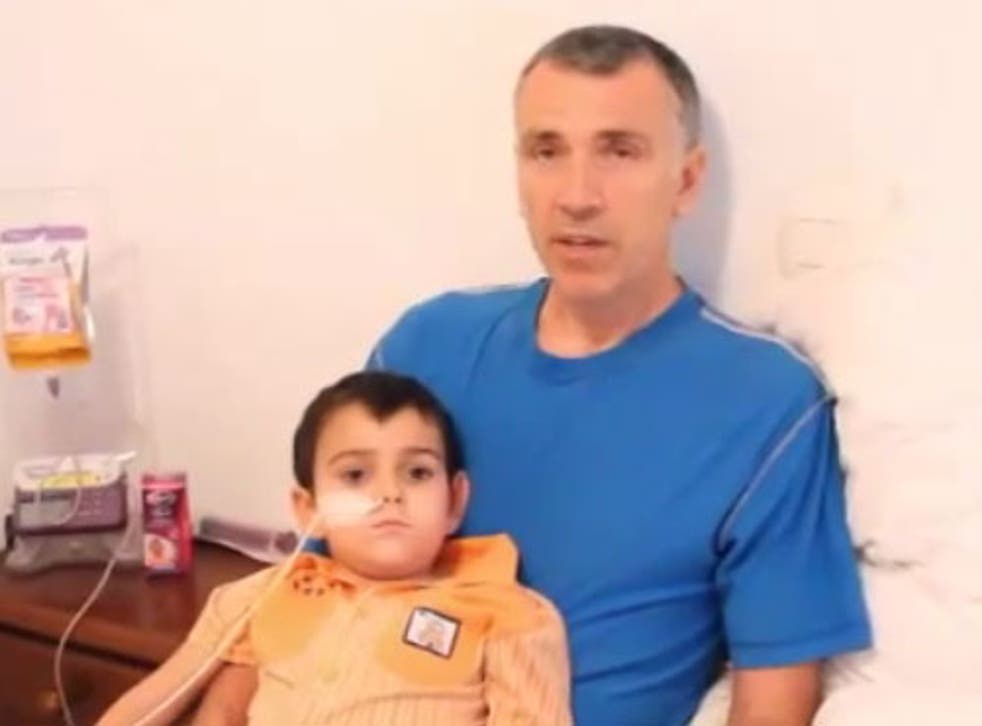 The parents of Ashya King, the five-year-old boy who was taken out of hospital against doctors' orders, have been arrested after they were found with their son in Spain.
Hampshire Police said King and his parents were pulled over in their family car by Malaga police at 9pm UK time on Saturday.
Police said the young boy, who has a brain tumour and requires extensive medical care, showed "no visible signs of distress" and has been taken to hospital.
Assistant Chief Constable Chris Shead of Hampshire Constabulary said Ashya's parents, Brett King, 51, and Naghemeh King, 45, were in custody after being arrested on a European arrest warrant. Police have 72 hours to question the pair before handing them over to a judge, who will then initiate extradition proceedures.
Shead said Hampshire Constabulary makes "no apology" for the police's strong actions in the search operation for Ashya, adding: "We had medical experts telling us that Ashya was in grave danger.
"Medical experts were saying to us that if he didn't get the care that he needed, there was a potential threat to his life. Faced with those circumstances, I make no apology for the police being as proactive as we possibly can to actually find Ashya and ensure he gets all the help he needed."
The family were found after a member of the public recognised Ashya's parents from a Twitter appeal, police said.
Police are travelling to Spain on Sunday to continue the investigation into the parent's removal of their son from a hospital in Southampton on Thursday, seven days after Ashya had undergone "extensive surgery" for a malignant stage four brain tumour.
In pictures: Ashya King's case

Show all 22
"We don't have many details on Ashya's condition at this point in time but what we do know is that he is showing no visible signs of distress," Shead said.
"There are no winners in this situation. I've said all along that this must be a terribly distressing time for Ashya's family and I stand by that now."
The parents' other children were not in the car, police added, but have been located and are "fine", and that Southampton General Hospital has been notified in order to liaise with doctors now caring for Ashya in Spain.
Shead added that it is too early to say when Ashya would return to the UK.
Prior to the arrest, Mr King appeared with his son in a video posted on YouTube, asking people to "call off this ridiculous chase" and explaining that he wanted to take Ashya to Prague for proton beam therapy, which is not available on the NHS.
It is not known when the video, which shows Mr King sat on a bed with his son in his lap, was recorded.
In the video, Mr King claims he and his wife decided to remove their son from the hospital because the doctors "didn't have my interests or my son's interests at all," in relation to Ashya's cancer treatment.
He explained that the "feed" machine which Ashya needs as part of his medical care was working and being used as part of his treatment, while also giving him iron supplements and Calpol.
"As you can see, there's nothing wrong with him. He's very happy actually, since we took him out of the hospital," Mr King said.
He claimed that doctors had threatened to put an "emergency protection order" in place after he questioned the strength of the chemotherapy and radiation that doctors suggested as treatment for Ashya, following his surgery.
"When I asked him why the little bit of chemotherapy was needed, I couldn't really get what he was trying to say, and then straightaway afterwards he said, more or less, if I question him in anyway regarding his treatment, they would get an emergency protection order and take him away from me," he said.
"So after that I realised I can't speak to the oncologist at all because if I actually asked anything or gave them any doubt I wasn't in full accord with them they were just going to get a protection order, which meant in his deepest darkest hour, I wouldn't be there to look after him with my wife, they would prevent us from entering the ward," he added.
Mr King explained that he believed his son's operation had been successful, stating that "the surgeon did a wonderful job on his head that took out the brain tumour, completely they reckon," but that straightaway afterwards Ashya "went into what's called posterior fossa syndrome, which means very limited moving or talking or doing anything".
He added that he had requested proton beam treatment, which he claims is "so much better for children with brain cancer" instead of the chemotherapy that doctors had suggested, but was told Ashya could not receive the treatment on the NHS.
"We pleaded with them for proton beam treatment. They looked at me straight in the face and said with his cancer - which is called medulloblastoma - it would have no benefit whatsoever.
"I went straight back to my room and looked it up and the American sites and French sites and Switzerland sites where they have proton beam said the opposite, it would be very beneficial for him."
NHS England said that where doctors recommend it, the NHS "does fund proton beam therapy" and that is helped 99 children last year to travel abroad for the treatment.
Mr King said he had been trying to fund the therapy by himself by selling property, but that since the family had arrived in Spain he had been stopped from doing so.
University Hospital Southampton NHS Foundation Trust responded to Mr King's allegations, stating that it had offered the family access to a second opinion and offered to help with organising treatment abroad.
A spokesperson for the hospital said: "Our priority has always been Ashya's welfare and we are delighted that he has been found. We are now working closely with colleagues in Malaga to ensure he receives the essential medical support he needs.
"We are aware of the comments made online by his father. Throughout Ashya's admission we have had conversations about the treatment options available to him and we had offered the family access to a second opinion, as well as assistance with organising treatment abroad."