Assange supporters to lose out after breach of bail conditions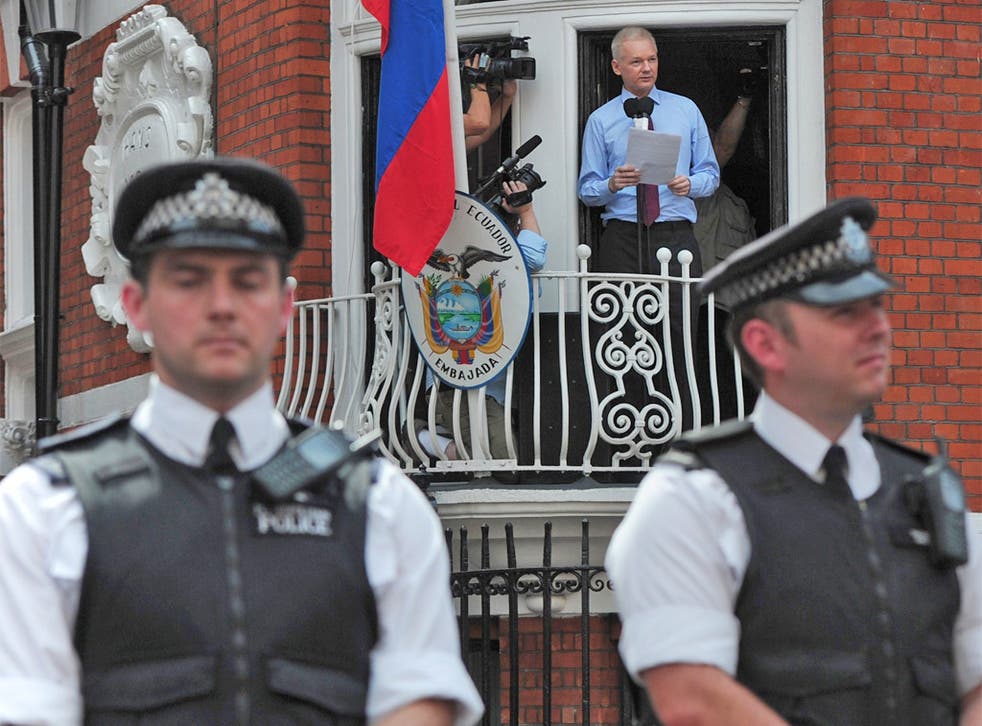 Julian Assange became the darling of the liberal establishment when he confronted the power of the United States by publishing secret diplomatic cables on his Wikileaks website.
Left-leaning celebrities, academics and journalists queued up to lend their support - and put their cash on the line - to back the activist to ensure he remained a free agent after allegations of sex offences surfaced.
But yesterday it emerged that supporters of the controversial Australian now face losing a total of £340,000 after he breached his bail conditions by holing up in the Ecuadorian Embassy in London and were urged to try and persuade him to hand himself over to the authorities.
Nine supporters, including a Nobel Prize winning biologist, began their legal bid to save their money at Westminster Magistrates court. It was confirmed that others, including Jemima Khan and film director Ken Loach, have already lost £200,000 after paying money into court to ensure Mr Assange's bail.
The remaining backers, none of whom were present at the proceeddings are seeking to avoid paying sureties of £140,000 offered up on behalf of the 41-year-old who was arrested in 2010 over allegations made by two women in Sweden.
Among those who offered sureties are Marchioness of Worcester, Lady Caroline Evans, the wife of a former Labour minister and Cambridge scientist Sir John Sulston.
The others are retired educationalist Professor Patricia David, author Phillip Knightley, Vaughan Smith, founder of the Frontline club, Mr Assange's girlfriend Sarah Harrison and his assistant Joseph Farrell.
Kent catering manager Sarah Saunders, who offered a £20,000 surety, is believed to have already lost £100,000 in a security. Under the terms of his bail conditions Mr Assange was wearing an electronic tag and required to live and sleep at Ms Saunders' home in Kent.
Chief Magistrate Howard Riddle said the backers should urge Mr Assange to give himself up saying: "We trusted and put our faith in you - now come back."
He added: "At the moment I am not persuaded that there any reason that securities would not be using every effort, publically or privately, to persuade Assange to surrender himself to the UK authorities. I might change my mind but that's my position now."
Mr Assange breached his bail conditions when he sought political asylum in the embassy after losing his appeal against extradition to Sweden.
Supporter Jemima Khan has already urged him to answer police questions in connection with the allegations. But Mr Assange claims he ultimately faces extradition to the United States from Sweden to face trial in the United States over the Wikileaks revelations.
Henry Blaxland QC representing four of the backers, said none could have predicted his actions nor could they reach him to persuade him to change his mind.
"It was an extraordinary thing to do. Nobody could reasonably have foreseen that's what he would do. The anxiety was not that he would take the steps that he did but that he might abscond in the conventional sense, or go into hiding," he said.
The hearing was adjourned until October 3.
Meanwhile, Foreign Secretary William Hague dismissed fears that the Australian could face the death penalty in the US over the activities of Wikileaks. He told MPs he had made clear that both the UK and Sweden had the "strongest attachment" to human rights and were signatories to the European Convention.
In a separate intervention former Liberal Democrat leader Sir Menzies Campbell suggested the row could hit relations between Britain and Latin America potentially over the Falkland Islands. Foreign Office minister Jeremy Browne dismissed the suggestion.