Austerity to last until 2018, admits George Osborne
The Chancellor confirmed that Britain's growth figures had been significantly downgraded with further public sector spending cuts and tax rises ahead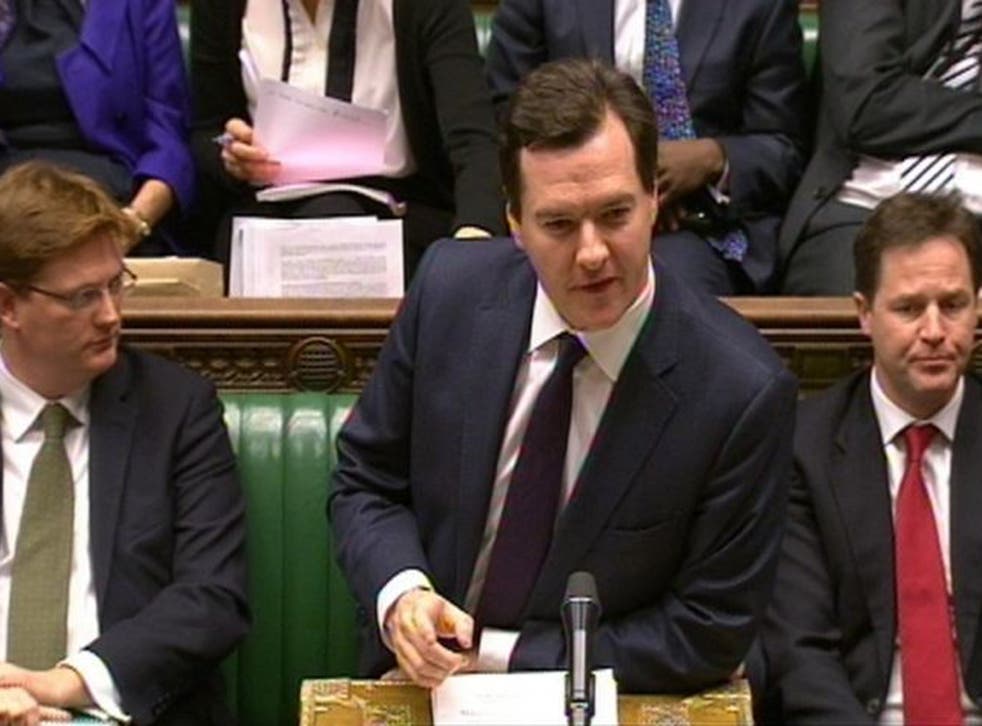 Austerity in Britain will continue until at least 2018, George Osborne admitted today, with further public sector spending cuts and tax rises ahead.
In a downbeat Autumn Statement the Chancellor confirmed that Britain's growth figures had been significantly downgraded and the Government would miss its target to eliminate the structural deficit.
But he insisted he still had the correct economic strategy in place and would not change track in the face of continuing bad economic news.
Amid the main announcement in his statement Mr Osborne:
* Confirmed that most benefits would only rise by one per cent - rather than the rate of inflation. In total changes to welfare announced today will save £3.7 billion by 2016.
* Announced that the maximum anyone can put tax free into a pension in any one year would fall from £50,000 to £40,000.
* And said that the 3p rise in fuel duty due to come into effect in January would be cancelled entirely.
"I know these tax measures will not be welcomed by all; ways to reduce the deficit never are," he said.
"But we must show we're all in this together. When you're looking for savings, I think it's fair to look at the tax relief we give to the top 2 per cent."
In a move which is likely to trigger a bitter battle with teaching unions he announced the end to national pay bargaining in school. He also confirmed that Whitehall departments would have to find £3 billion of further savings – a move which is likely to trigger significant further job cuts.
On tax Mr Osborne said that the threshold for the 40 per cent rate of income tax would rise by 1 per cent in 2014 and 2015 to £42,285. However this is still below the rate of inflation.
In a nod to the Liberal Democrats he also announced that the personal allowance before income tax is paid will increase by £1,335 - £235 more than previously announced - so no tax paid on earnings under £9,440.
But it was the grim economic news which dominated the statement.
He admitted he would miss his target to cut debt and said the economy was still facing major problems.
Quoting the latest Office for Budget Responsibility growth forecast, Mr Osborne said the economy was now expected to shrink by 0.1 per cent this year compared with a previous predication of 0.8 per cent growth.
Setting out spending plans for 2015-16 and a framework into 2017-18, he said deficit reduction measures would be achieved fairly with further savings from bureaucracy, from benefit bills and the better-off.
He admitted he was going to miss his target that debt should start falling as a proportion of GDP by 2015/16 - the year of the next General Election. Instead he said it would take another year.
"Yes, the deficit is still far too high for comfort," he said. "We cannot relax our efforts to make our economy safe. But Britain is heading in the right direction. The road is hard but we're making progress."
He hailed a reduction in borrowing, saying it was forecast to fall from £108 billion this year to £99 billion next year, £88 billion the year after, then £73 billion in 2015-16 and £49 billion and £31 billion in the two years after that.
Mr Osborne said there would be crackdown on tax avoidance by big companies and wealthy individuals.
He said: "Hundreds of millions of pounds of tax loopholes are being closed with immediate effect, and we are investigating abusive use of partnerships.
"HMRC will not have its budget cut over the next two years, unlike other departments.
"Instead we will spend £77 million more on fighting tax avoidance - and not just for wealthy individuals."
He said measures announced today would raise £2 billion more for the exchequer.
Labour seized on the latest forecasts, claiming it revealed the "true scale of this Government's economic failure".
Shadow chancellor Ed Balls claimed the UK was "falling behind in the global race" as a result of Mr Osborne's management of the economy.
Join our new commenting forum
Join thought-provoking conversations, follow other Independent readers and see their replies