Bali Nine executions in Indonesia: Death row British grandmother Lindsay Sandiford says she 'just wants to get it over with'
Indonesia says it will carry out the next wave of executions within 72 hours
Adam Withnall
Tuesday 28 April 2015 09:19 Comments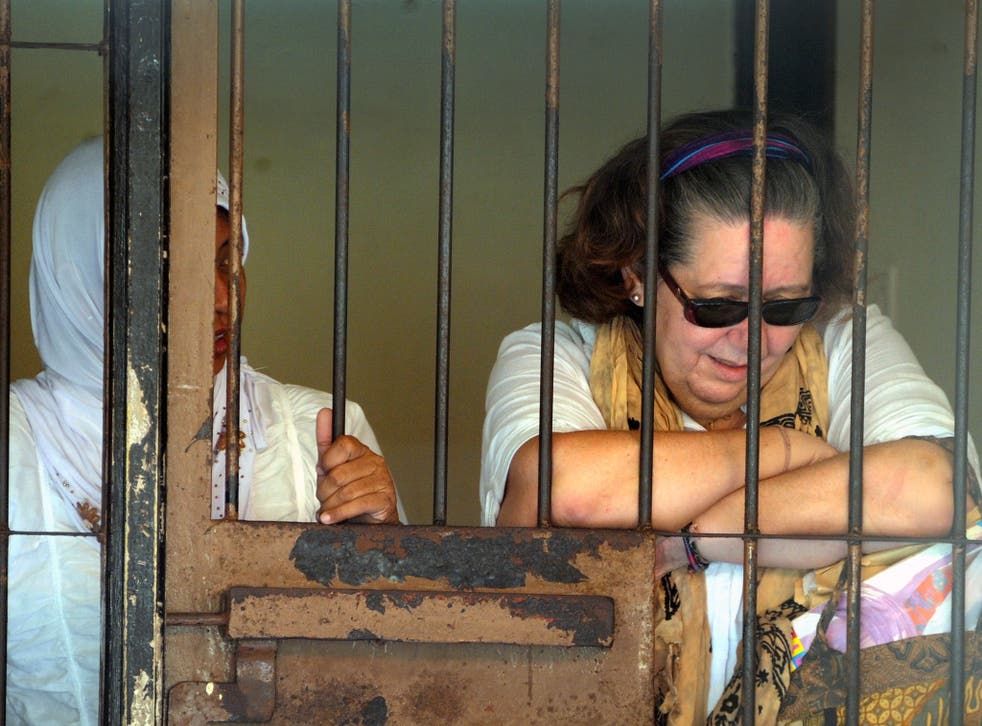 The British grandmother on death row in Indonesia has said that she accepts her fate and "just wants to get it over with" after hearing that the next wave of executions will take place in a matter of days.
Authorities on Indonesia's so-called "execution island", Nusa Kambangan, have notified nine foreign nationals known and a local man that they are to be killed by firing squad within 72 hours.
The news comes despite a shower of fresh appeals from around the world calling for clemency from the Indonesian president. Despite being led by the chief of the UN, Ban Ki-moon, it appears they have fallen on deaf ears.
Among those due to die are two Australian men, 31-year-old Andrew Chan and 33-year-old Myuran Sukumaran, the ringleaders of the "Bali Nine" heroin smuggling gang.
And 58-year-old British national Lindsay Sandiford said that she accepted her own fate when she heard that Chan, who she befriended in jail, would be killed in the next few days.
Chan's brother Michael told Sandiford that the execution was scheduled for Tuesday evening, according to the Mail Online.
"If they kill someone as good as Andrew, what hope is there for me?" Sandiford reportedly told a friend.
"I just want to get it over with. I feel like just giving up."
Sandiford fears she will be in the next round of executions, to take place before the end of 2015. She has admitted smuggling cocaine worth £1.6 million from Bangkok to Bali in 2012, but claims she was forced to do so by a drugs syndicate that was threatening her family.
As well as the two Australians, Indonesia is preparing to kill one French man, a Filipino woman, four Nigerian men, a Brazilian man and an Indonesian man.
The 10 have been asked for their last wish, according to a spokesman for the attorney general, who said that nine of them have had all their legal options exhausted.
But the attorney general of Indonesia also indicated that the Supreme Court is expected to rule on Atlaoui's case as soon as Monday.
In a statement, UN Secretary General Ban urged Indonesia's President Joko Widodo to "urgently consider declaring a moratorium on capital punishment in Indonesia, with a view toward abolition".
Australia's Prime Minister, Tony Abbott, arrived in Paris on Saturday night, where he and Mr Hollande are expected to work together towards a solution.
But on Sunday, consular officials and relatives continued to arrive on the island of Nusa Kambangan, which is effectively one big high security prison, for last visits to the convicts.
Bali Nine pair executed

Show all 22
Indonesia has extremely strict drug laws and often executes smugglers. More than 130 people are on death row, mostly for drug crimes. About a third of them are foreigners.
In January, six convicted drug smugglers, including five from Brazil, the Netherlands, Vietnam, Nigeria and Malawi, were executed at the same prison, prompting the Netherlands and Brazil to recall their ambassadors in protest.
Register for free to continue reading
Registration is a free and easy way to support our truly independent journalism
By registering, you will also enjoy limited access to Premium articles, exclusive newsletters, commenting, and virtual events with our leading journalists
Already have an account? sign in
Join our new commenting forum
Join thought-provoking conversations, follow other Independent readers and see their replies