Barbed wire, missing bridges and impenetrable overgrowth: Ramblers restricted by council cutbacks
More than 100,000 hazards on England's footpaths, warns charity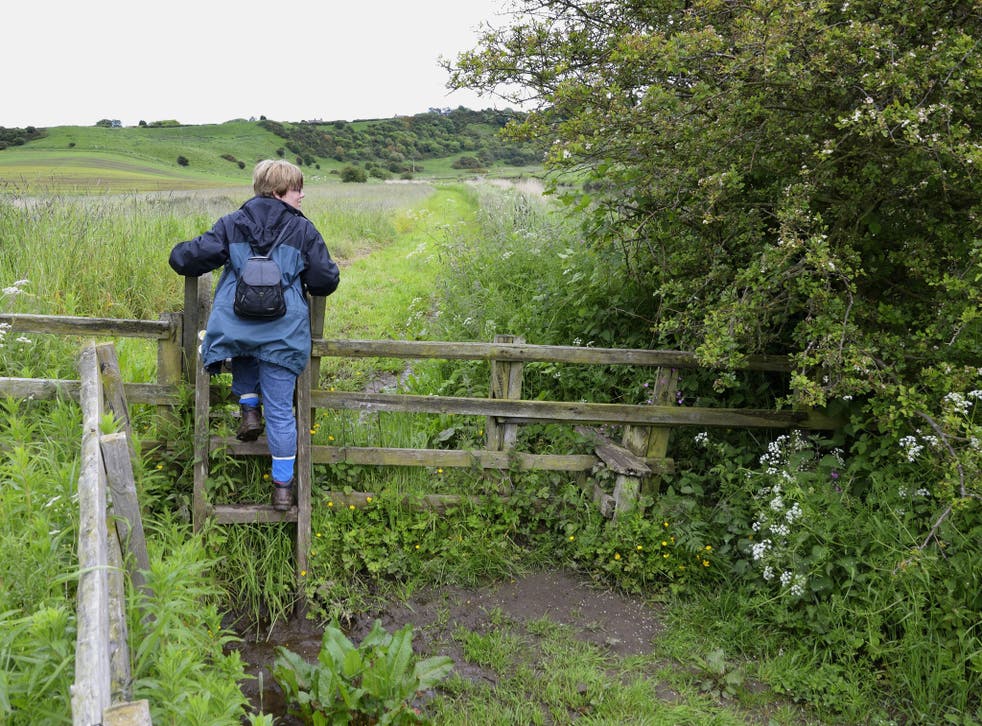 England may be a green and pleasant land, but getting around it on foot is proving harder than ever as council cuts leave footpaths blocked, run-down and overgrown, according to a report.
There are more than 100,000 problems on England's footpaths, with difficulties for walkers ranging from dangerous barbed wire and missing bridges to impenetrable overgrowth, rotten stiles, and flooded fields, the Paths in Crisis report from the walking charity, The Ramblers, claims.
The organisation used the Freedom of Information Act to discover that more than 30 per cent of English councils have cut their paths budget this year, some following from three previous years of swingeing cuts. The 10 worst offenders have cut their rights of way budget by £10.7m since 2009.
Somerset made the biggest budget reduction, slashing the money it allocated for rights of way by £298.800, while Staffordshire County Council cut £102,722 following on from a £410,137 reduction last year
Benedict Southworth, chief executive of The Ramblers, said: "We are genuinely surprised at the scale of the problem and how quickly the cuts have started to have an impact, not only on our rural pathways but on the shortcuts, paths and tracks that crisscross our cities.
"There is a perception that walking is a pastime of the middle classes so footpaths have become an 'easy cut' for councils, but walking is one of the building blocks of life for people to renew their batteries, keep healthy and not feel isolated in their own communities," he added.
Local councils have a legal obligation to maintain rights of way and make sure they are clearly signposted, but the report highlights 11 local bodies which have made substantial budget cuts, have high numbers of paths with problems or are cutting staff responsible for the upkeep of rights of way. Cornwall County Council was of most concern with 19,615 problems reported, while Birmingham City Council and Cambridge County Council also had large numbers of complaints and up to 40 per cent cuts in staff responsible for maintaining rights of way.
There are more than 140,000 miles of footpaths and rights of way in England and The Ramblers is calling on local councils to work with the charity's grassroots network of more than 25,000 people to help restore the network.
Mr Southworth said: "We have volunteers across the country that regularly go out to clear paths, fix stiles and build bridges but without council staff to work with our volunteers and liaise with landowners, it is becoming harder for our volunteers to help."
Join our new commenting forum
Join thought-provoking conversations, follow other Independent readers and see their replies