Baroness Hale of Richmond 'to become first woman appointed as Britain's most senior judge'
The 72-year-old family law expert is expected to become president of the Supreme Court 
Henry Austin
Friday 21 July 2017 01:38 Comments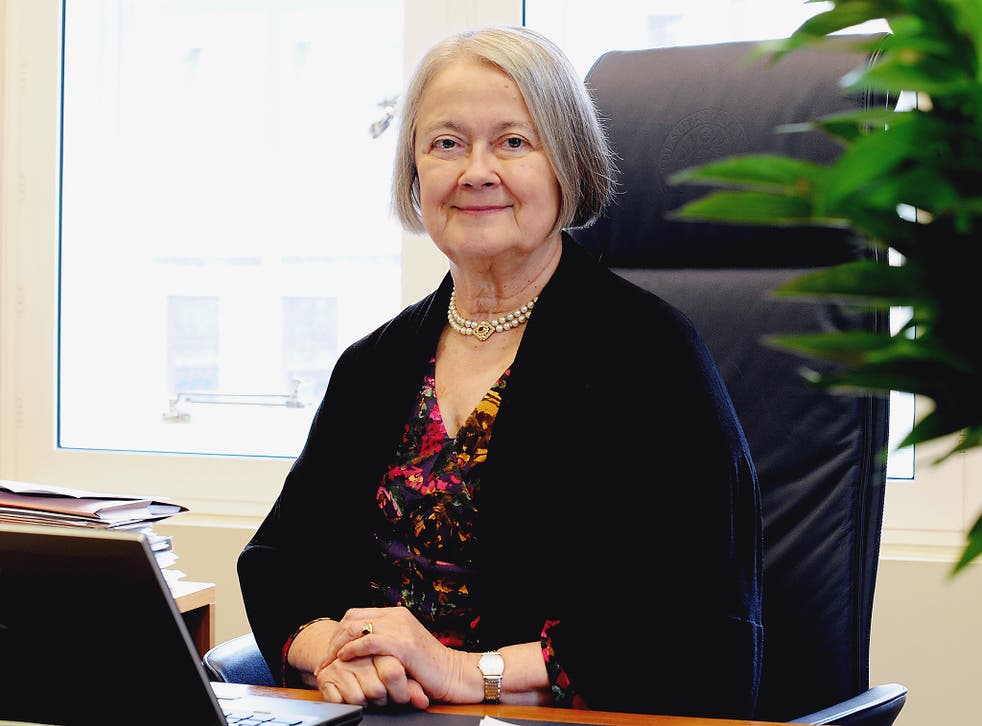 Baroness Hale of Richmond will reportedly become the first woman to be appointed as Britain's most senior judge.
The 72-year-old family law expert is expected to be confirmed as the next president of the Supreme Court, according to The Times.
As deputy president, she is already Britain's most senior female judge, but it is believed that Downing Street will announce her appointment in the most senior role. She will earn £225,000 a year.
One of three daughters, both her parents were headteachers and she was educated at the Richmond High School for Girls before studying at Girton College, Cambridge.
Initially she followed her parents' footsteps into teaching, becoming a law lecturer at the University of Manchester. But after topping the list in 1969's bar finals, she was called to the Bar.
Working part time as a barrister, Lady Hale continued her academic work. During this time she became the first woman and youngest person ever to be appointed to the Law Commission – Britain's law reform body.
In 2004, she became the first woman to sit on the Supreme Court and the first family lawyer to fill the post.
UK news in pictures

Show all 50
A long time champion of diversity in legal circles, she has criticised the judicial appointments system for self-selecting from a pool of predominantly white men from similar economic and academic backgrounds, blaming a culture of "unconscious sexism" in a 2013 interview with The Telegraph.
"Sometimes, it can be a bit lonely," she said at the time. Sometimes you think, wouldn't it be good to have some other women to natter with? It rather depends upon the group of men you're with and how much you have in common. If they're all speaking about sport it gets a bit wearing."
Three other Supreme Court posts are set to be announced at the same time, including Lady Justice Black, which will bring the number of female Supreme Court justices to two.
She is one of the last judges who will be able to serve until she is 75 as she became a judge before rules were changed in 1995, making retiring at 70 mandatory.
Register for free to continue reading
Registration is a free and easy way to support our truly independent journalism
By registering, you will also enjoy limited access to Premium articles, exclusive newsletters, commenting, and virtual events with our leading journalists
Already have an account? sign in
Join our new commenting forum
Join thought-provoking conversations, follow other Independent readers and see their replies