Bath unexploded bomb: Hundreds face 48-hour evacuation as device found at school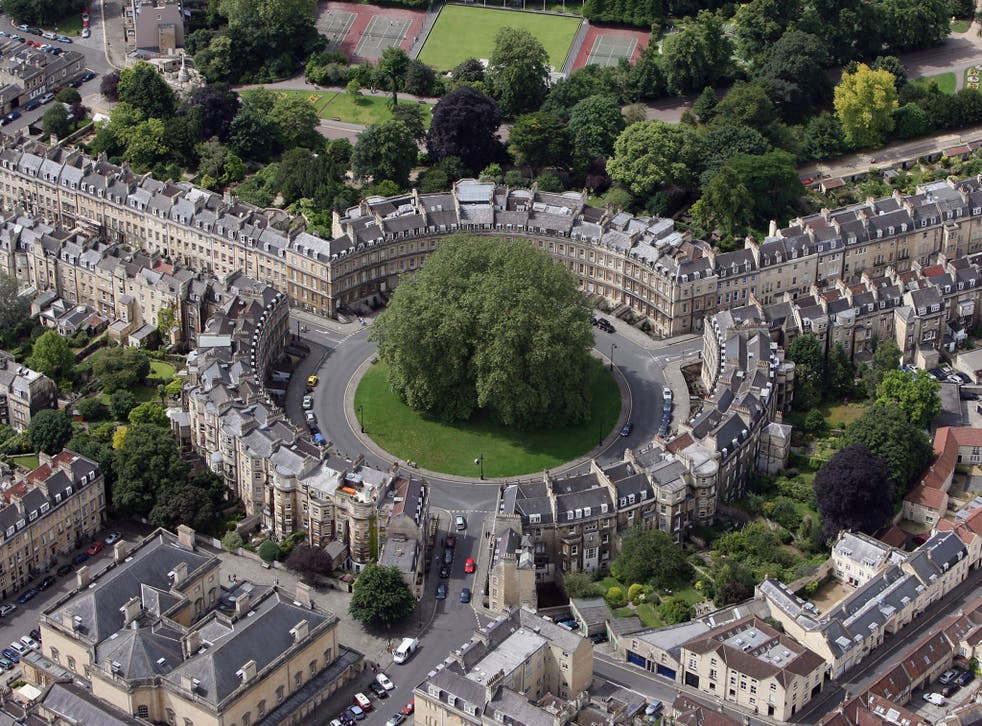 Hundreds of residents may spend another night away from their homes after an unexploded wartime device was found in a school playground.
A 300-metre exclusion zone was set up following the discovery at the Royal High School Bath - which Mary Berry attended - on Lansdown Road, Bath at 4.40pm on Thursday.
Contractors unearthed the 500lb Second World War shell from beneath the surface of the school's playground, which had been in use until two years ago.
An Explosive Ordnance Disposal (EOD) team was called to the site and residents from 1,100 properties nearby were advised to leave immediately.
Three primary schools were closed, along with a doctor's surgery, and drivers were asked to consider if it was "absolutely necessary" for them to travel into the city.
Some residents chose to stay in their homes against the advice of police, but others were taken to Bath Racecourse, the city's Guildhall and Pavilion.
A group of elderly residents spent the night sleeping on chairs they pulled together in a hospitality suite at the racecourse.
Jan Lawrence, 67, a retired lab technician and her husband Bob, 70, a retired civil servant, were evacuated from their home by police at 9pm on Thursday.
"We had gone to the pub because they do a nice curry on a Thursday night," Mrs Lawrence said. "We walked up the hill and the police wouldn't let us go any further, they wouldn't say why.
"We had to come up the back way, that was about 8pm. I just got my dressing gown on and there was a loud knock at the door, it was the police.
"It was 9pm and they said we had to go. We came up here and have been here ever since."
Mrs Lawrence and her husband live in old almshouses, built in the 1800s, on St Stephen's Place.
UK news in pictures

Show all 50
"I had just thrown my clothes into the washing basket but we had to go so I just grabbed them, there wasn't time to get anything else," she added.
Mr Lawrence, who served with the Royal Army Medical Corps before joining the civil service, said: "They say it could be some time.
"We're on the edge of the exclusion zone so hopefully they will let us back in soon. We just want to go home."
Harriet Gillingham, 20, a student at Oxford Brookes University, spent the night at a friend's house with her four-year-old cockerpoo dog named Pepper.
"I wasn't at home, I got back at about 9pm and there were policemen everywhere saying we couldn't go in," she said.
"I was with a friend so we went to her house. I went back at nine this morning and a policeman said it had become unstable and could go off.
"My house is just two streets down, it must be 100 metres away. It is quite scary but I don't think it will go off. I hope it won't anyway."
The EOD team are currently building a barrier around the device using 250 tonnes of sand.
Once this is in place, they will remove the device with a police escort to a safe location away from the Bath area, where they will carry out a controlled explosion.
A number of residents have chosen to remain in their homes and have been instructed to stay inside.
"Some people elected not to come," Mrs Lawrence added. "I wish I had in a way."
One elderly resident, who asked not to be named, said: "We slept in the hospitality suite last night. We pulled six chairs together and made a couple of beds. We were able to get a reasonable amount of sleep. You get very resourceful when you have to. There were fleece blankets too."
The resident, who has lived near the bomb for 40 years, lived in Wales during the war so did not witness the Bath Blitz of April 1942.
More than 400 people were killed and 1,000 injured when Nazi aircraft dropped bombs over two days - affecting almost 20,000 buildings.
"We were very fortunate we didn't have bombs but we did have one landmine," she said.
"We are all concerned about this bomb that they found here now because you can get blast damage from an explosion.
"When the landmine went off it caused a lot of glass to break in nearby shops, flying glass can do a great deal of damage.
"We have been imagining those poor children running around in the playground with an unexploded bomb underneath them."
Join our new commenting forum
Join thought-provoking conversations, follow other Independent readers and see their replies