Belfast paramilitary murals: Colourful emblems of a city's tortured past to receive makeover
Some are being replaced with artwork that reflects 'a peaceful society'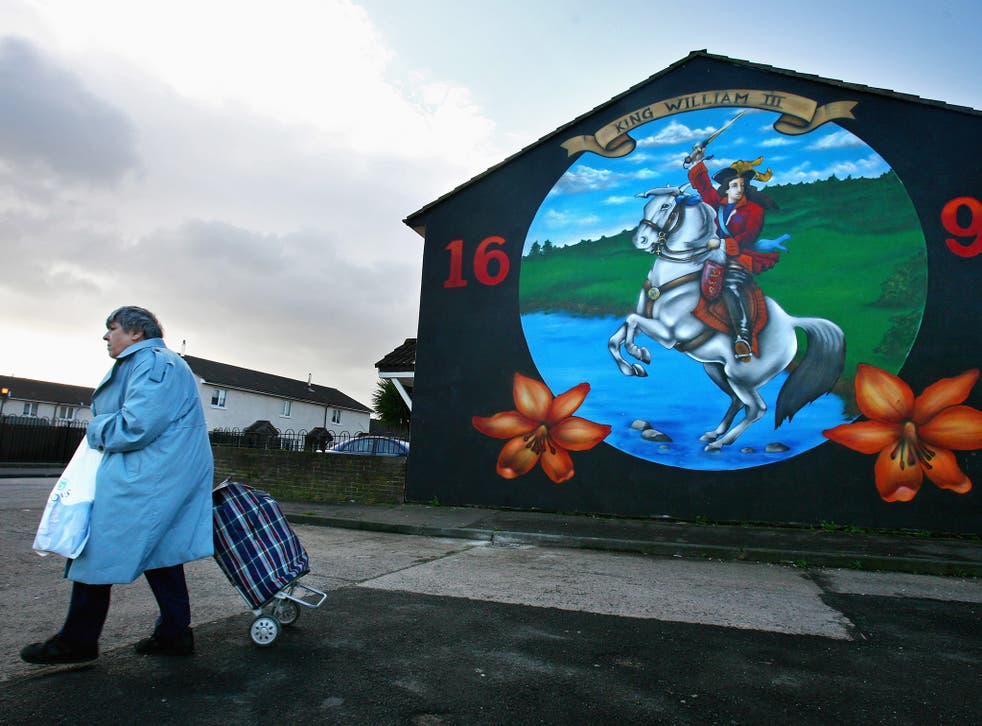 They are colourful emblems of Belfast's tortured past: declarations of allegiance and defiance that some see as poignant reminders of the Troubles and others view as an unnecessary glorification of violence.
Now there are moves to transform the paramilitary murals that have adorned the walls of houses in the city for up to 35 years. Following two years of negotiations between the city council, the housing executive and independent think-tank Charter NI, work is well under way for a project that will "re-image" 23 Ulster Defence Association (UDA) murals.
In Belfast's Lord Street district, nine paramilitary murals are being replaced with artwork that reflects "a peaceful and inclusive society". The project is part of a wider regeneration strategy that includes plans to bring empty social housing back into use. The work will be completed next month, but discussions are already under way that could eventually result in all of Belfast's loyalist and republican paramilitary murals being consigned to memory.
Chris Lyttle, an East Belfast MLA for the cross-community Alliance Party, told The Independent on Sunday that he hoped all paramilitary murals would eventually be removed.
"The current mural re-imaging projects are fantastic and deserve a lot of credit for the courage they have shown to take it forward," he said. "The recent launch of a re-imaged paramilitary mural in Templemore Mtreet, east Belfast [it was reborn as a mural depicting Belfast's boxing heritage] sends out a really positive message of discipline, achievement and success, especially to young people in areas which really need strong positive role models.
"We have excellent murals to C S Lewis, for example, and when we have such a strong sporting and cultural heritage to depict and celebrate, those are the types of images I think are worthwhile to put on walls. Paramilitary murals undoubtedly glorify terrorism and communicate the wrong message to young people."
Mr Lyttle said paramilitary murals were an impediment to community and business development, progress that was "sorely needed in the areas where the murals are located".
It will take time to replace every paramilitary mural. Four UDA murals featuring a masked gunman on "Freedom Corner" along the Newtownards Road were considered "too historic" to be replaced and were repainted in their original form following damage caused by water cannon.
Belfast's black cab tours all use the paramilitary murals to promote their business, believing they are a key tourist attraction. Groups are escorted by a guide through republican-dominated areas such as the Falls Road in West Belfast, with its most famous mural of the hunger-striker Bobby Sands, over the peace line into Shankill Road.
The loyalist area of West Belfast is also being redeveloped but its most famous murals, a masked Ulster Freedom Fighters gunman whose gun barrel appears to follow visitors as they walk past, as well as two designs commemorating UDA paramilitaries, are expected to be repainted on nearby buildings.
Mr Lyttle said he agreed that it is important that people have access to information and stories about the past, but said it should be done in an appropriate manner. He reiterated his party's support for a museum dedicated to the Troubles.
"There are more appropriate ways to remember the past than unregulated murals that clearly promote fear and intimidate people," he said. "Some would argue that they promote tourism; I think in most of the areas where the murals are located it would be hard to make a case that they have promoted any significant business or tourism development of those areas. You can still depict your cultural heritage, but you can do it in a much more positive way.
"There are a lot of issues coming out of a post-conflict society that we have to address, but I think we do need to be honest and courageous in being able to address them."
Join our new commenting forum
Join thought-provoking conversations, follow other Independent readers and see their replies