Bill Holroyd: How one phone call led to the millionaire philanthropist setting up 'Youth Zones' across the UK
So far, OnSide Youth Zones have set up seven centres across the country, with 22 in the pipeline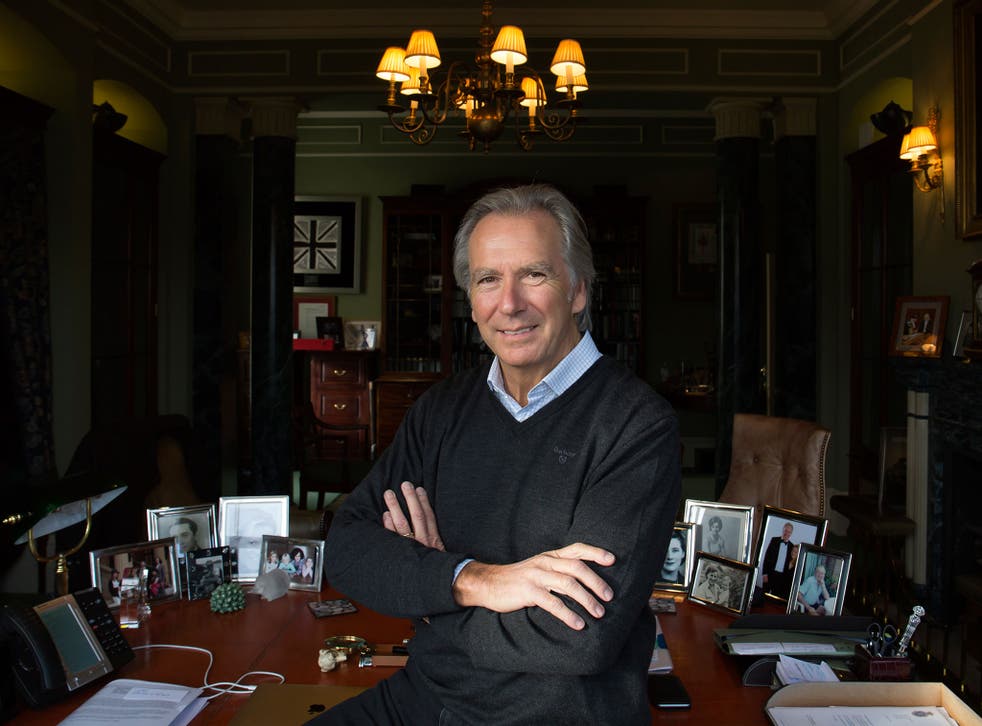 The call from an acquaintance came at just the right time in Bill Holroyd's life.
"The voice at the other end of the telephone asked: 'Would you like to become chairman of the Bolton Lads and Girls Club?'"
It was not obviously a life-changing moment – after all the club had been going since the 1880s (when it had just been known as Bolton Lads Club). But Holroyd, a wealthy businessman who has been involved with more than 25 companies, was restless. He had made his first millions from a food service company supplying ingredients to pubs and restaurants in the North-West, before selling it to bigger firm and setting up his own investment company.
"I had the feeling there was something missing from my life – and it was time to pay something back," he said in an interview with The Independent at his 200-year-old mansion in Cheshire. "I knew I was just not feeling happy.
"When I got the 'phone call, I just knew this was something I wanted to do." Ten years on, Holroyd, 62, is now one of Britain's most active and prominent philanthropists - with plans to establish centres in dozens of towns across the country.
His first thought on visiting Bolton Lads and Girls Club – which opened five nights a week a and all day at weekends – was: "Why is this the only one (of its kind?"
People from all over the country had visited the club and been impressed by the range of activities it offered - but, up until then, no similar schemes had emerged.
He resolved to put that right and a charity – OnSide Youth Zones – was founded, with the ambitious target of setting up 100 similar project around the country. They were not to be called "youth clubs", he decided, because young people will "run a mile rather go to a youth club". These would not be venues where teenagers sat around waiting turns on a run down table tennis table.
"The main thing," said Holroyd, who is probably best known for his involvement with £1.2billion fridge retailer AO World plc – "is to do it professionally. If you're providing tiddlywinks, you do it right with the proper equipment -not with run-down equipment in a club that opens just once a week."
He was adamant, too, that they would have to be public-private partnerships, with community involvement.
Local authorities, it was insisted, must stomp up 40 per cent of the running costs around £400,000 a year. "The kids themselves should pay, too," he said. Holroyd believes this helps give them a sense of pride and ownership of their Zone. In Wigan, for instance, one of seven already opened, they pay £5 a year to join a gym club - substantially less than if they had joined a private facility.
"We couldn't have chosen a worse time to start it," he concedes. With austerity the byword from the Government, local council budgets were being squeezed.
But he had a compelling case to make to local officials.
UK news in pictures

Show all 50
"Of all the councils in Britain, 50 per cent get it and are positive about what we can achieve - 50 per cent say 'oh, no, the cuts we can't afford to do that," he said.
"Yet in the areas where we've set up youth-related crime has gone down by a minimum of 50 per cent. It saves a lot of costs downstream - on combating truancy, anti-social behaviour."
At the Wigan centre, the range of activities is enormous. Yes, there are the traditional table tennis tables plus badminton, rugby, and soccer pitches - facilities for almost ever sport you can name. But there is also dance and drama, a recording studio, a make-up salon, counselling services on sex and relationships and a course on employability which has helped several teenagers find a job for the first time.
Take Sam West, who has been taken on as an apprentice caretaker. "Just after summer, the Job Centre suggested I come down here," said the 18-year-old. "I did work experience and they said there was an apprenticeship going."
The course lasts for a year, and by the end Sam reckons his confidence will have increased so he will be better prepared for his next interview. Better prepared than he was, at any rate, by four months of unemployment before he joined the Zone.
"It is better than it was before (I came here)," said 19-year-old Ryan Winston. "You meet new friends. I didn't know what I wanted - but now I want to become a sports coach."
According to John Harker, the manager of the centre: "For everything we do for young people, there has to be an outcome - even it if is just making a friend."
If a teenager expresses an interest in badminton, they can start off by playing at the zone and then be introduced to a local badminton club to take it further.
He recalls one young person. "He was going off the rails, getting into trouble," he said. "We brought him in here and got him enthused after a bit of a struggle. He showed an interest in the military and now he's a paratrooper."
Holroyd adds: "This is all about getting the scary kids in - the ones that you'd cross the street to avoid.
"You can't just privatise it - it won't work. Nor will leaving it up to the local authority. You need all the community involved to make it succeed."
It sounds a little like David Cameron's largely-forgotten vision of "the Big Society" - although there is possibly more local authority involvement that the Prime Minister might have envisaged. He is certainly an enthusiastic supporter of what Holroyd is trying to achieve and has opened one of the centres.
Holroyd summed up his vision. "My children are at private school," he said. "The education is not fantastically better. What is better is the fantastic opportunities and facilities. I want everyone to have access to that."
So far seven centres have opened - the latest to come on-stream will be in Wolverhampton where one will open next week. A total of 22 are in the pipeline - including four in London - and discussions have started in 65 different locations.
The charity which started as a result of one centre in Bolton is a long way towards achieving its goal.
Join our new commenting forum
Join thought-provoking conversations, follow other Independent readers and see their replies