Bonfire night Million Mask March: Woman assaulted by protesters while trying to protect a horse
'Masked guy punched me & yelled sexist abuse for pushing him away from a frightened horse'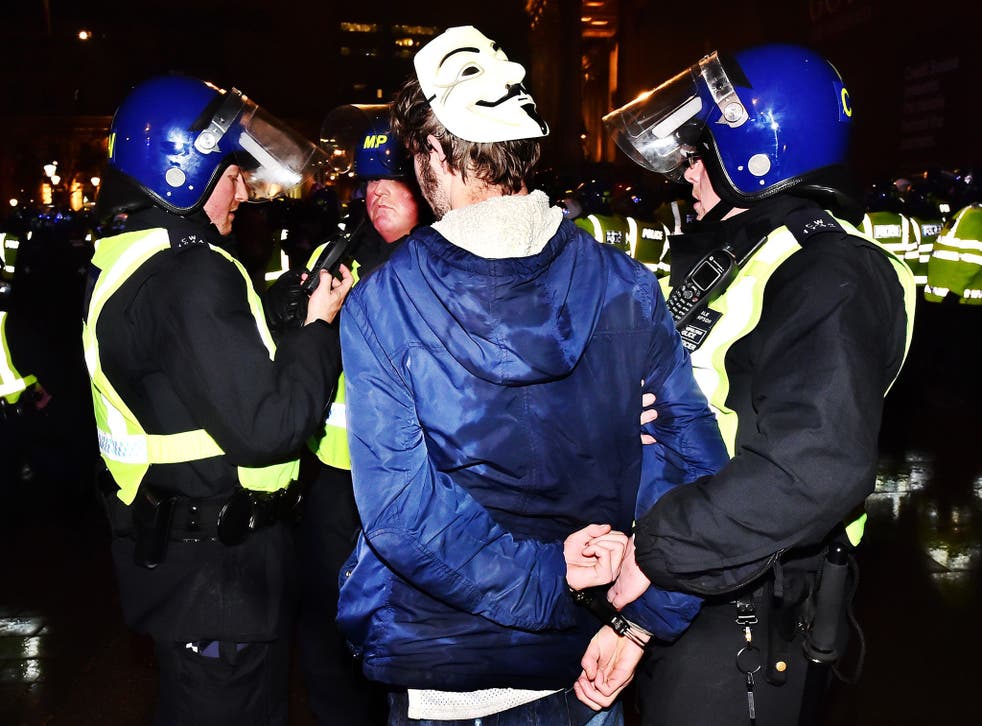 A young woman was attacked by Million Mask March protesters as she tried to protect a runaway police horse that had been blinded by fireworks.
Daisy Greenaway, a 20-year-old student at the University of Westminster, attended the protest in support of its anti-austerity campaign, but ultimately clashed with her fellow demonstrators over their treatment of the horse.
Ms Greenaway told the Evening Standard: "At Buckingham Palace it really took off. A horse ran past shortly followed by the officer who was previously riding him. People threw fireworks. When I told them not to hurt horses they said 'police horses don't feel'.
"I pulled one masked guy away from a horse who then tried to fight me. He punched me and yelled sexist abuse for pushing him away from a frightened horse."
A police officer said the horse had been blinded after a masked marcher shot a firework right at its face.
Police horse runs loose at Million Mask march
Authorities confirmed an animal suffered injuries and was returned to police stables to be treated.
There were several incidents during the annual Guy Fawkes night protest, with three police officers taken to hospital and three men - aged 38 and older - arrested for carrying knives, gas canisters and lock picks.
A police car was also torched in Milbank.
Around 50 arrests were made by midnight but most of these were for public order offences.
The London event was one of 670 organised by the 'hacktivist' collective Anonymous around the world.
Many protesters have disowned the violent splinter groups, with self-proclaimed anarchist Aztecarno Peatonito saying: "Anyone who is violent is not with us."
Another marcher, a masked man going by the name of A+, told the BBC in those cases "the mask has been used for the wrong reasons and we do not condone this."
More than 1,000 people are estimated to have attended the march.
Police chiefs condemned the violence. Sir Bernard Hogan-Howe, Metropolitan Police Commissioner, branded those that had thrown fireworks and missiles at officers and their horses "despicable".
The Commissioner said he believed protesters had deliberately attacked the animals during the demonstration, organised by Anonymous to hit back at austerity measures and perceived inequality brought about by the Government.
"The horses were big enough to see, they knew what they were doing," Sir Bernard said.
Join our new commenting forum
Join thought-provoking conversations, follow other Independent readers and see their replies