Boris Johnson: What the UK's new Foreign Secretary is actually in charge of
Boris Johnson will represent the UK abroad and oversee relations with the wider world in his new diplomatic role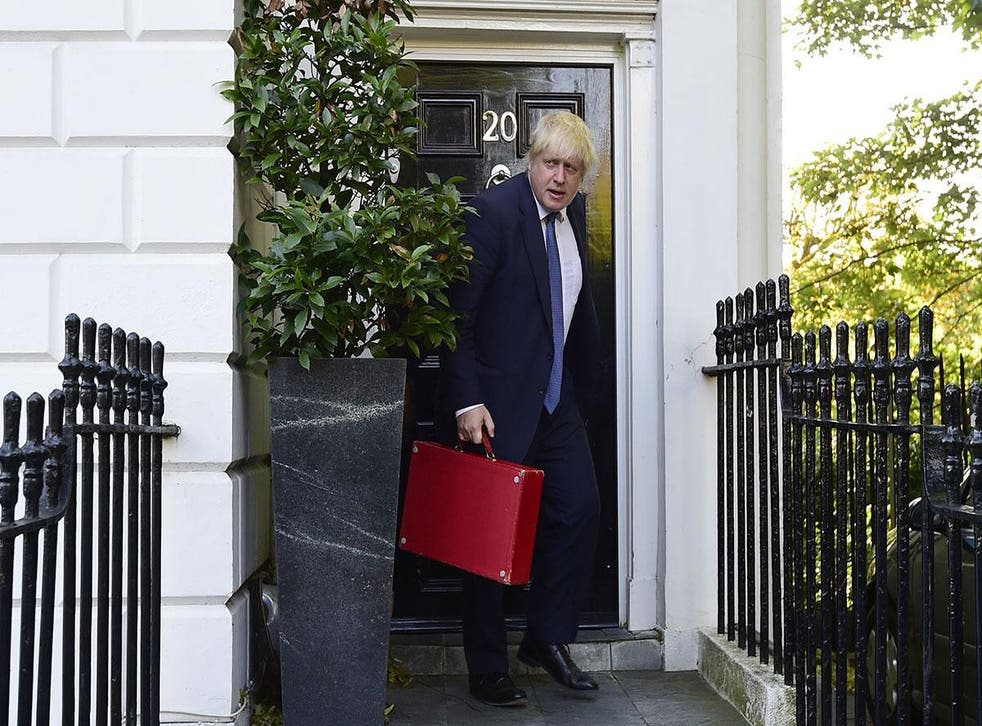 On his first day as a Cabinet minister, Boris Johnson said he is "very excited" to be the new Foreign Secretary – but what will his new job actually entail?
The former London mayor told reporters outside the Foreign and Commonwealth Office on Thursday he hoped to reshape "Britain's global profile and identity as a great global player".
"And on Europe clearly we have to give effect to the will of people in the referendum, but that does not mean in any sense, leaving Europe," he added.
"There is a massive difference between leaving the EU and our relations with Europe, which if anything I think are going to be intensified and built up at an intergovernmental level."
Mr Johnson, who was appointed to the senior diplomatic post yesterday by new Prime Minister Theresa May, will be expected to represent the UK overseas and oversee relations with the wider world in his new role.
He will travel widely, attending diplomatic meetings on matters from international security to the outcome of the US elections.
The Secret Intelligence service (MI6) and the Government Communications Headquarters (GCHQ) are now his reponsibility.
And he will take charge of matters relating to the Commonwealth countries and British Overseas Territories such as Gibraltar and the Falkland Islands.
Boris Johnson says Brexit vote does not mean leaving Europe 'in any sense'
But Mr Johnson's appearance in the Cabinet office has raised eyebrows due to controversial comments he has made in the past.
These include the recent suggestion Barack Obama might hold a grudge against Britain because of his "part-Kenyan" heritage.
In 2008, he made a public apology for offence caused by his comments in a Daily Telegraph column, in which he referred to black people in Commonwealth countries as "piccaninnies" and wrote about "watermelon smiles".
"Boris Johnson as our Foreign Secretary? Is this a bad dream? An elaborate wind up? Please God help us," wrote Labour MP David Lammy in a tweet.
Foreign Secretary, short for Her Majesty's Principal Secretary of State for Foreign and Commonwealth Affairs, is one of the four most senior positions in the UK government.
These jobs, known as the Great Offices of State, include the role of Prime Minister, which Theresa May assumed after her only rival for the position, Andrea Leadsom, pulled out of the Conservative leadership contest on Tuesday.
The other two Great Offices are Chancellor of the Exchequer - now Philip Hammond, who was previously Foreign Secretary - and Home Secretary, named by Ms May as Amber Rudd.
"It's very important that people should realise when you leave Heathrow or Dover, a British citizen is basically the responsibility of the Foreign Office," Mr Johnson said of his new role.
But Ms May's creation of a trade department, led by right-wing Brexit supporter Liam Fox, who is now the country's first Secretary of State for International Trade, means Mr Johnson will not be involved in discussions of a commercial nature.
And another new position, Secretary of State for Exiting the EU, has been filled by leave campaigner David Davis, who will manage intricate negotiations as the UK leaves the EU.
When asked about how the role of Foreign Secretary might change after the creation of these new appointments, Mr Johnson said: "We will be working very closely, as you can imagine, with the new departments for international trade and for the withdrawal from the EU. They will be borrowing some of our staff, as is only proper.
"But I think it's a huge opportunity. The mood here today - I've been very struck at how excited and how positive people here are about the opportunities for Britain."
Mr Johnson is a former journalist who became MP for Henley in 2001 who was mayor of London for eight years. He was a key campaigner for Britain to leave the EU.
6 ways Britain leaving the EU will affect you

Show all 6
Simon McDonald, Under-Secretary of the Foreign & Commonwealth Office, tweeted a picture of Mr Johnson's first meeting with staff as Foreign Secretary on Thursday.
"Over 800 came to Boris Johnson's first all staff meeting [at the] Foreign Office. Standing room only. 1000s overseas listened in," he wrote.
Speaking to BBC news after his appointment on Wednesday, Mr Johnson said he was "obviously very, very humbled, very, very proud to be offered this chance."
"Clearly now we have a massive opportunity in this country to make a great success of our relationship with Europe and with the world and I'm very excited to be asked to play a part in that," he said.
Join our new commenting forum
Join thought-provoking conversations, follow other Independent readers and see their replies