Brexit 'could mean end of fresh British fruit and vegetables'
Brexit 'could mean end of fresh British fruit and vegetables', warns leading farmer
'If you took migrant workers out of the supply chain you would within five days have no fresh British produce on the supermarket shelves' 
Britain's supply of fresh fruit and vegetables may be at risk if post-Brexit immigration controls prevent Eastern Europeans from working in the UK, a leading farmer has claimed.
Guy Poskitt, who runs Poskitt's Carrots in Goole in East Yorkshire, said that without workers from Eastern Europe the industry would fall apart.
"If you took migrant workers out of the supply chain you would within five days have no fresh British produce on the supermarket shelves," Mr Poskitt, whose business grows 80,000 tonnes of carrots and parsnips annually, told Sky News.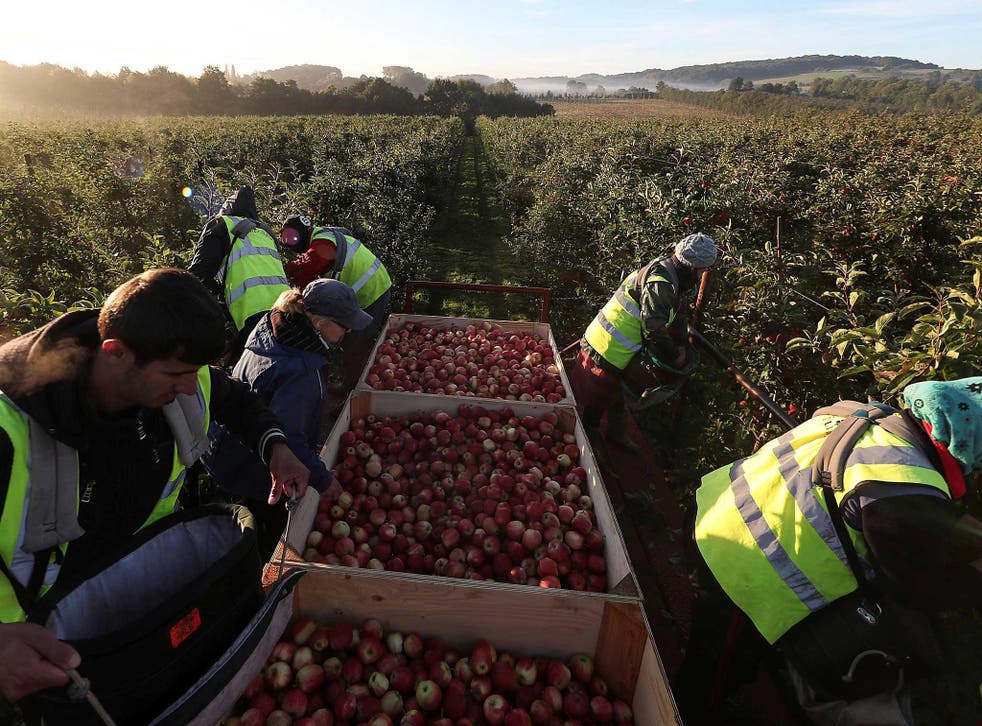 "[My business] would have to close; we could not serve our customers without the availability of migrant workers."
It has become likely that Britain is headed for a hard Brexit deal – in which most ties to the EU are cut – after Prime Minister Theresa May appointed prominent Leave campaigners to the group of Cabinet ministers who will control the negotiations and told the Conservative Party conference this month: "We are not leaving the European Union only to give up control of immigration again."
Several leading Conservatives, including Kenneth Clarke, the former cabinet minister, have urged her to be flexible about freedom of movement to protect British access to the EU single market. EU leaders have made it clear that if Britain rejects free movement it cannot be a member of the single market.
Mr Poskitt voiced his concerns about the industry as early as February, telling the BBC: "We've a lot of good local workers but we also have a great need for a big amount of Eastern European workers to function our business."
He said between 60 and 70 per cent of his workforce who pack vegetables are Eastern European, adding: "We just can't recruit enough local workers. We have to have a seven day a week workforce that supports the needs of the business and we just can't find enough local people who will do that."
John Shropshire, the chairman of G's, one of the biggest producers of salads and vegetables in Britain, told the Guardian in August that the UK's food security would be harmed if the freedom of movement for EU workers stopped.
"If we don't have freedom of movement and they don't replace it with a permit scheme then the industry will just close down," said Mr Shropshire. "No British person wants a seasonal job working in the fields. They want permanent jobs or jobs that are not quite as taxing physically."
Brexit Concerns

Show all 26
About 90 per cent of fruit, vegetables and salads are picked, graded and packed by 60,000 to 70,000 workers from overseas, mostly from eastern Europe, according to the paper.
Directly after the referendum in June, the National Farmers' Union raised concerns that Brexit could cause UK food prices to rise.
NFU president Meurig Raymond warned that the UK's dependence on imports combined with a weakened pound would mean the country could expect to see the price of food go up.
He also pointed out that European Union subsidies for British farmers amount to £2.4bn-£3bn a year and help keep the sector afloat. Another concern was whether tariffs would begin to be applied on major British exports to Europe, such as lamb, wheat and barley.
An exclusive poll for The Independent found a majority of the British public think a good trade deal with the EU is more important than cutting immigration when deciding the terms of Brexit.
Join our new commenting forum
Join thought-provoking conversations, follow other Independent readers and see their replies