The Bristol Pound is launched to help independent retailers
Organisers hope currency will encourage shoppers to buy locally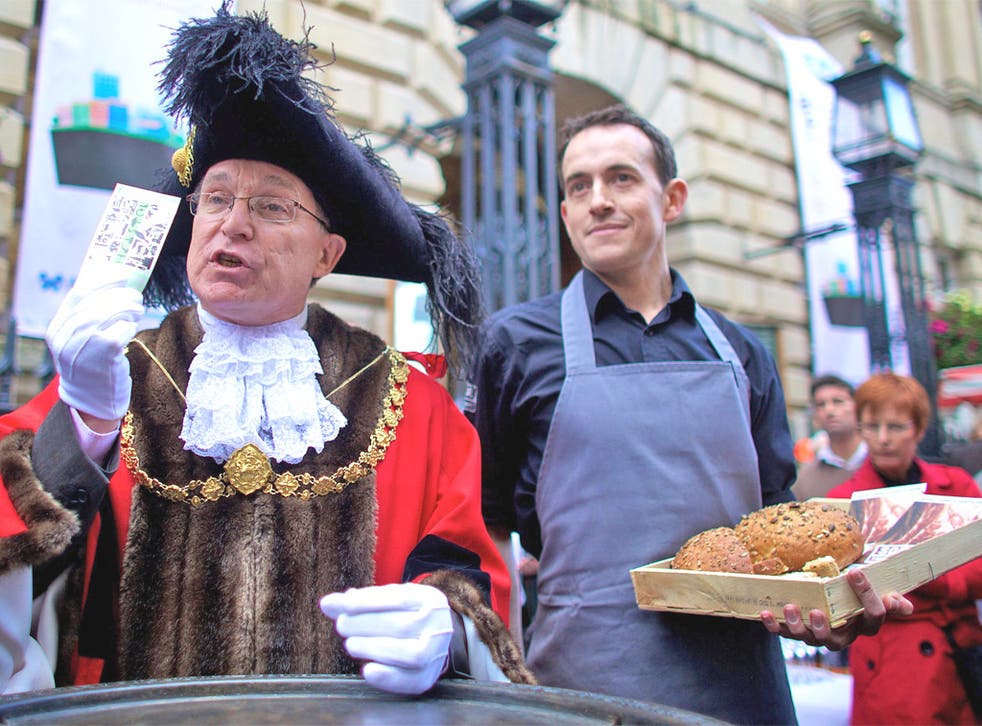 "Is it the green one with the fox and the bike, or the pink one with the tiger in a hoodie painting graffiti on a wall? It's like being on holiday abroad," says Lee Peacock from his drinks stall as he flicks through a wodge of Bristol's unfamiliar new banknotes, trying to work out which one he needs to hand back as change for my iced tea.
The West Country city launched its own local currency to great fanfare yesterday with the Lord Mayor handing over a £B1 note in symbolic exchange for a round loaf of granary bread made by local baker Joe Wheatcroft, who said he would put his first piece of Bristolian cash towards buying a dairy cow.
Inspired by similar schemes in Totnes, Lewes, Stroud and Brixton, the organisers of the quirky not-for-profit project hope the notes – designed by local artists and coming in denominations of £B1, £B5, £B10 and £B20 – will encourage residents to buy locally produced goods from the independent retailers which accept them rather than chains and megastores. With a steady queue of residents soon lining up to swap their pounds sterling for "Brizzle" quids – with an exchange rate of 1:1 – the early signs are good.
The level of interest is far more than just local, too. Television crews from as far afield as Russia, China, Ukraine, Belize and Singapore were keenly questioning the organisers, and other towns across the UK are watching with interest to see if local currencies could be the answer to their own high-street woes.
Lynn Andres, from Guy Fawkes Hair & Beauty, was bullish that the Bristol Pound is not a gimmick and will bring new custom to her premises, saying the city needed to fight back after a mall heavily populated with chain stores opened recently.
"It's hit trade," she says. "What we want is to get more people shopping here in the independent shops because we've got a lot to offer."
Around 300 independent businesses have signed up so far, but the organisers hope that more than 1,000 will soon be involved.
The limits are obvious when The Independent was left disappointed after trying to buy a pastry from a pie stall that doesn't accept the new currency. There was more luck at the Royce Rolls Café – though as there's no coins and no such thing as Bristol pence, the change is given in conventional copper and silver.
One of the most attractive features of the scheme for small shopkeepers and stallholders is the ability of customers to pay for goods by text message – allowing independent retailers to accept non-cash payments without having to go to the expense of setting up a credit card machine.
The idea of spending money simply by showing a membership card to the seller and texting the cost of the item, the name of the shop and a personal pincode to the Bristol Credit Union, which is overseeing the system, might seem a little vulnerable to crime.
But James Berry, the co-operative's chief executive, points out that the typical choice of items is unlikely to persuade Britain's aspiring fraudsters to move into the city.
"It's hard to imagine that someone who got hold of both your card and your phone would then think, 'I'm going to go and buy some local independent goods'," he says.
Quids in: How the scheme works
Who is issuing Bristol Pounds – and who can use them?
Circulating alongside sterling, Bristol Pounds have been launched by a non-proft partnership between Bristol Credit Union, which is regulated by the Financial Services Authority, and a community interest company founded by local business leaders. Anyone can buy Bristol Pounds banknotes at issuing points across the city or online, but only traders who are independent and based in or around Bristol can become sell items under the scheme.
How many Bristol Pounds are in circulation?
£B125,000 in printed cash has been made available in watermarked paper with ultraviolet graphics and foil logos for security purposes. It is hoped that £B500,000 will be in circulation within a year.
Join our new commenting forum
Join thought-provoking conversations, follow other Independent readers and see their replies