British activists launch lawsuit over deadly raid on Gaza 'peace flotilla'
Israeli commandos who boarded the 'Mavi Marmara' could face prosecution if they visit the UK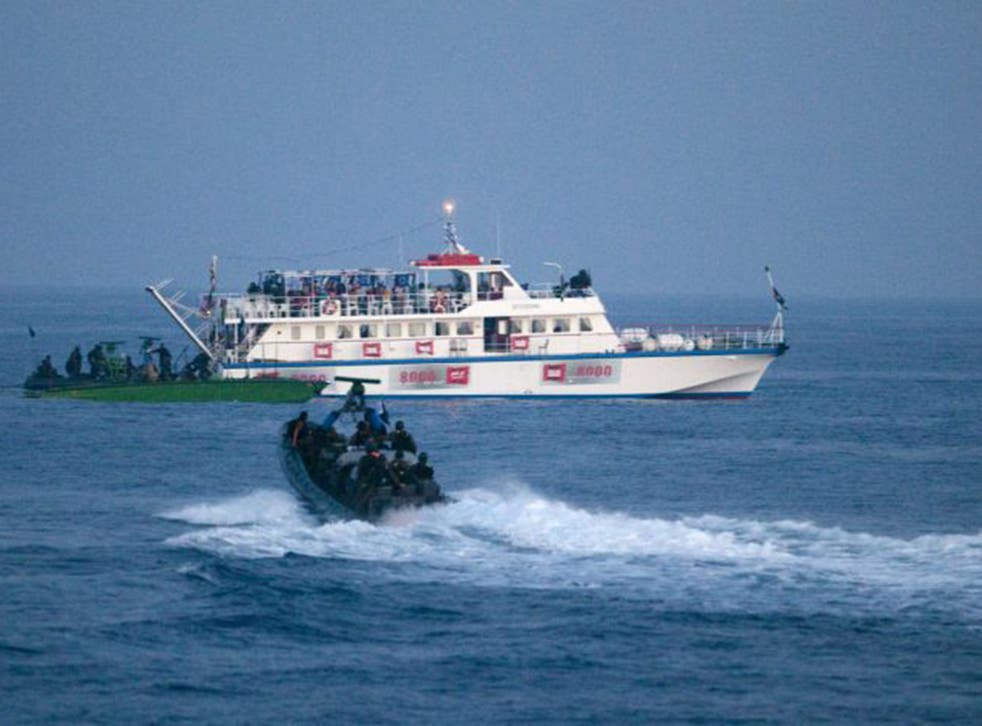 Scotland Yard has been asked to investigate whether Israeli special forces who attacked a "peace flotilla" of ships in international waters killing 10 people committed war crimes. Lawyers acting for British activists have launched legal proceedings in the hope of prosecuting the Israeli soldiers in the UK.
Evidence passed to the Metropolitan Police names five Israeli military commanders alleged to have committed war crimes when the troops they commanded stormed the flotilla which was attempting to breach Israel's blockade of Gaza in May 2010.
Lawyers representing 13 of the 34 Britons on the Turkish-registered MV Mavi Marmara, the main civilian vessel in the fleet of six ships carrying humanitarian aid and construction materials, say some of the commanders had visited Britain since the incident and said the police now had evidence which should result in their arrest if they return. Identical legislation was used to arrest the Chilean dictator General Augusto Pinochet in the UK in 1998.
The Gaza Peace flotilla had been organised by the Free Gaza Movement and Turkish human rights and humanitarian relief groups. Their declared aim was to break the Israeli-Egyptian blockade of the Gaza Strip. The Mavi Marmara was on its way from Cyprus to Gaza when it was boarded by Israeli troops.
Nine Turkish activists died in the incident and a 10th died recently after four years in a coma. The youngest killed was 18-year-old Furkan Dogan. A UN Human Rights Council (UNHCR) report into the raid concluded he had been shot five times, including once in the face while he was lying on his back. Israel's actions drew international condemnation and soured relations with Turkey.
Israel said later some soldiers were forced to defend themselves and broadcast video footage of activists attacking them using metal rods. The Mavi Marmara was eventually taken to Ashdod in Israel, where recording equipment was confiscated which activists maintained prevented them from showing their accounts of what happened.
One of the Britons on board, 42-year-old Alexandra Lort Phillips, from Hackney, east London, said: "We were volunteers, not a disciplined group and the soldiers were attacking us in formation. I saw one of my Turkish friends lying there. I thought he was injured. It didn't cross my mind that he had been shot in the forehead and killed instantly. I can understand why some of those board reacted violently but you never hear about how some of the soldiers captured were treated very fairly. All the world saw was the IDF footage they wanted everyone to see because all our footage was taken."
Paveen Yaqub, from Holmfirth, west Yorkshire, was strip-searched and said the soldiers took pleasure in degrading her. "We were constantly being ridiculed and threatened, guns were just inches from our heads at times. They were trying to humiliate and torment me," she said.
"I couldn't believe the soldiers could possibly get away with what they did. I was stunned when our own government didn't do more to support us. This is an important action – not many people have got very far holding Israel accountable."
The UNHCR report found "clear evidence to support prosecutions" of crimes under the Geneva Convention, namely wilful killing, torture or inhuman treatment and wilfully causing great suffering or serious injury to body or health. It said it found no medical evidence of IDF commandos being shot and described Israel's blockade of the Gaza Strip as "totally intolerable and unacceptable in the 21st century".
A Turkish criminal investigation into the Mavi Marmara killings will continue this year. In November 2014, the prosecutor for the International Criminal Court (ICC), stated there "is a reasonable basis to believe that war crimes under the jurisdiction of the International Criminal Court were committed" on the vessel. However, the ICC haven't pursued the case as it was not "of sufficient gravity to justify further action".
Rodney Dixon QC, representing the 13 Britons as well as other passengers on board, said: "It is not possible to extradite the Israeli commanders allegedly responsible, but if they travel here and the police have sufficient evidence, they could arrest them and they can be prosecuted here. Some have travelled to the UK before and we've provided that information and have asked the police to monitor the situation. At this stage we have filed the complaint with the police and requested they work as quickly as possible."
The legal team is also considering potential civil claims in addition to criminal proceedings.
A Palestinian-born Briton Osama Qachoo, who witnessed a friend being killed on board the Mavi Marmara, said the group had taken "a really important step" by launching legal proceedings in the UK.
Ms Lort Phillips said: "The day after we returned to the UK David Cameron announced he was going to apologise on behalf of the Government to the victims of Bloody Sunday. That was more than 30 years ago. This is going to take a long time to get justice."
Join our new commenting forum
Join thought-provoking conversations, follow other Independent readers and see their replies