British Asian spy Noor Inayat Khan who was executed by the Nazis get memorial in London's Gordon Square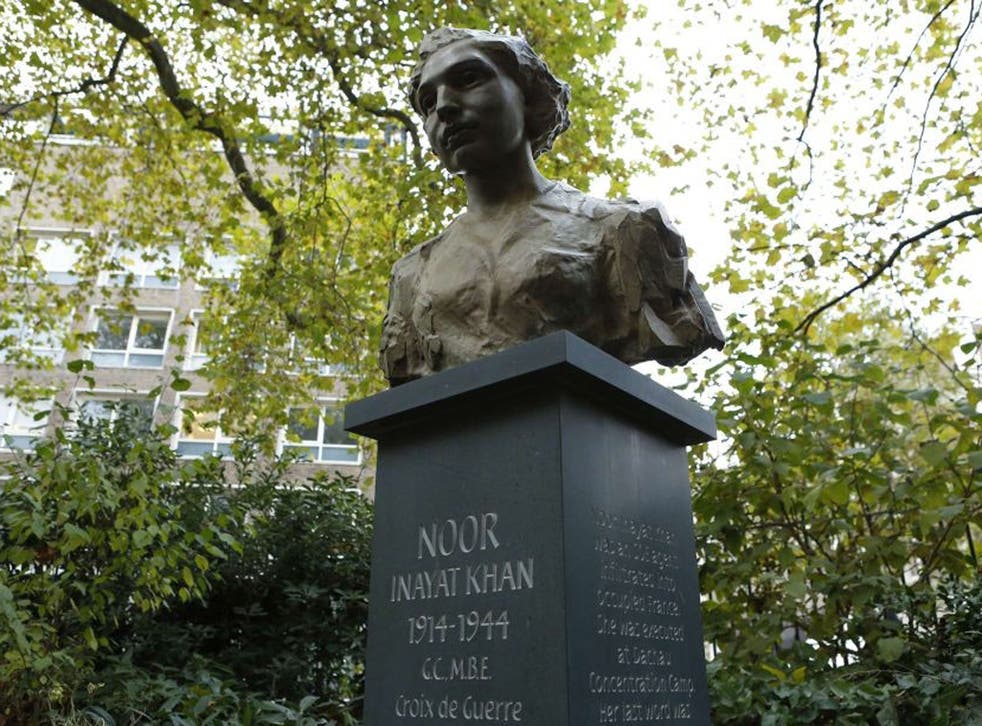 As a child, Noor Inayat Khan imagined fairies while she played with her siblings in Gordon Square. Later, it was where the Indian princess came to read in wartime London during her breaks from training as a spy for the mission behind enemy lines that would cost her life.
Today - some 68 years after she was executed by her Nazi captors in Dachau concentration camp - the spirit of Noor once more imbued the Bloomsbury square she once frequented as her bravery and extraordinary forbearance were formally recognised with a permanent memorial.
A bust of this unlikely heroine of Winston Churchill's sabotage force, the Special Operations Executive (SOE), was unveiled by the Princess Royal after a two-year fundraising campaign and a battle with planners for the statue to take its place among Britain's monuments to its war dead.
The result is Britain's first dedicated memorial to an Asian woman, an edifice whose long genesis shows how the transformation of this harp-playing pacifist into a British secret agent so ferocious she was classified by the Germans as a highly dangerous prisoner had faded from popular memory.
Campaigners now hope the story of Noor, who gave her life for a country to which she had no natural affinity and as a devoted supporter of Indian independence had solid reason to dislike, will be resurrected as testimony to the international nature of Britain's anti-Nazi fight.
At the age of 29, she was parachuted into France in June 1943 as one of the first of the SOE's first female radio operators with Churchill's famous instruction to "set Europe ablaze" ringing in her ears.
With a life expectancy of just six weeks and her heavily compromised spy network collapsing around her, she defied capture for three long months, continuing to send messages back to London as she continually moved around Paris until she was betrayed. Her final utterance, after a savage beating at the hands of an SS officer, was: "Liberte."
Mahmood Khan van Goens Youskine, Noor's cousin who knew her as a child in pre-war Paris and attended yesterday's ceremony, told The Independent: "We are very proud and happy that Noor is being recognised in this way.
"We did not find out until after the war about her SOE work and what ulitmately happened to her. When we did, we were naturally saddened but her spirit has lived on. Everyone - British, Indian and beyond - can take pride in what she did."
Born in Moscow to an American mother and an Indian Sufi Muslim father, educated in Paris and carrying the British passport of an imperial subject, Noor fled France for London with her brother at the outset of the Second World War after recognising the evil of Hitler's regime.
During her interview for a commission in the Women's Auxiliary Air Force (WAAF), Noor, the great-great-great-grandaughter of Tipu Sultan, the "Tiger of Mysore" who refused to submit to British rule, bluntly told her interrogators that she would campaign for Indian secession after the war.
Despite being one of only three female recipients of the George Cross, her exploits were at risk of fading from memory were it not for the efforts of her biographer, Shrabani Basu, to achieve a permanent reminder of her life.
After leading a campaign which gained support from Prime Minister David Cameron and prominent British Asians, including human rights expert Sharmi Chakrabarti and film director Gurinder Chadha, Ms Basu raised the £70,000 to commission and install the bronze bust unveiled yesterday.
She said: "I think it is really important for future generations to know about Noor. She crossed so many boundaries, between Britain and India, between non-violence and her belief that the Nazis had to be defeated. It would be nice to think that children will know about this woman and her courage."
Join our new commenting forum
Join thought-provoking conversations, follow other Independent readers and see their replies