British men describe how they 'trolled the world' with fake story claiming they accidentally caught boat to Syria
'We have literally trolled the world media and we are so proud of ourselves'
Lizzie Dearden
Wednesday 08 June 2016 16:31 Comments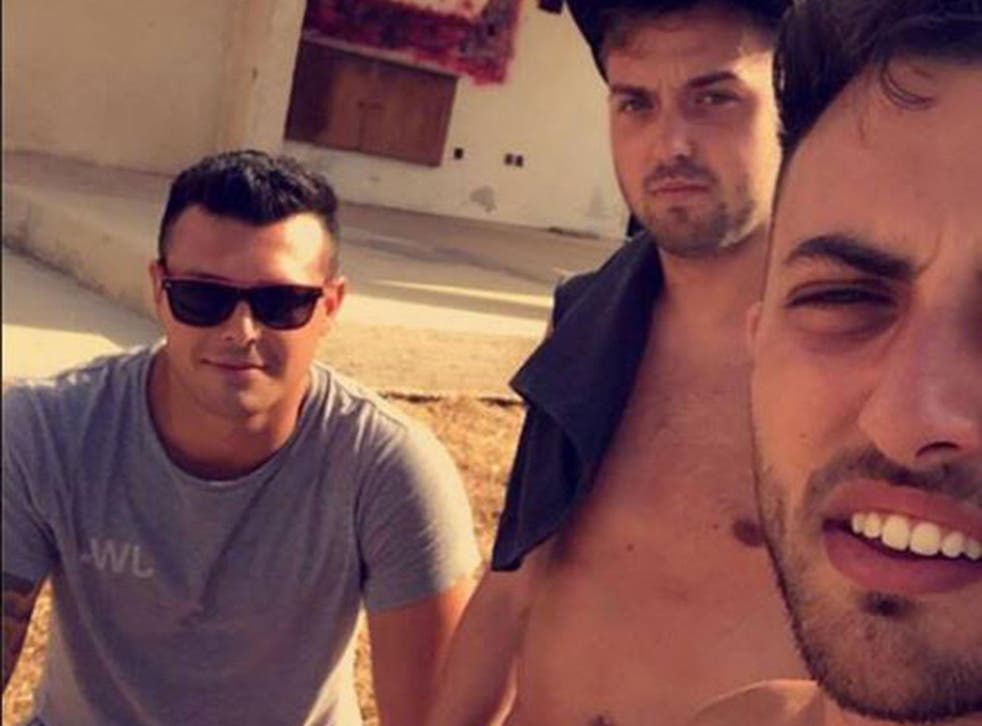 Three British men who claimed they accidentally caught a boat to Syria after a night out in Ayia Napa have hailed the "best prank ever" after their fake news story spread around the world.
The trio said what started as a joke on Facebook spiralled out of control after a post was picked up by online news outlets, and they decided to carry out an unorthodox experiment.
Lewis Ellis, Alex McCormick and James Wallman, who all work as holiday reps in Cyprus, were looking for an apartment to rent in the resort when they were stuck by some graffiti on a wall.
"We thought: 'This looks like it could be in Syria'," Mr Ellis, 25, told The Independent. "So we took a photo and showed some workers and they fell for it."
Mr McCormick, 19, then posted the image on his Facebook page as a joke with the caption: "Thought we were going on a boat trip, turns out we were on a boat transfer and ended up in Syria. #FakeBoatParty."
The selfie shows them in front of a nondescript apartment block covered in graffiti. Despite the writing clearly being in Greek and Latin – rather than Arabic - script it started to gain traction.
Mr Ellis said the friends decided to flesh out a story to go with the post, researching nearby ports across the Mediterranean Sea in Syria, boat crossings, distances and times.
The tale they came up with was that they had stumbled out of a club at 7.30am, "blagged" their way on to what they thought was a dolphin-watching trip and realised too late that they were on a much longer journey.
"We were panicking and saying to these guys 'you need to turn around'," Mr McCormick told the Daily Mirror in one of several interviews before coming clean.
"After hours and hours we turned up in this place and we were like 'what the f***, where are we?"
The men claimed they were taken to a Russian military base after docking in an unknown location, being told they were in the city of Tartous and interviewed before allowed to return to Cyprus.
Controlled by Bashar al-Assad's Syrian regime, it is also home to a Russian naval facility and has been targeted in a series of Isis bombings in recent weeks.
Mr Ellis said they were careful "not to blame anyone but ourselves" with the tale and went to significant effort to back it up, even posing for more photos around Ayia Napa in day-old clothes when journalists asked for evidence for the supposed trip.
"We have literally trolled the world media and we are so proud of ourselves," he added. "They report bollocks all the time and people never check the facts. As soon as they posted it that was it – it went viral."
Mr Ellis, from Manchester, is known for his escapades on YouTube, where he runs a channel including footage of his work as in Ayia Napa and other "adventures".
He described himself and his friend as practiced "pranksters" but said they never expected the story to go so far.
Debunked myths and fake news stories

Show all 25
"It spiralled out of control - it's in the Greek papers, it's in Australia, it's everywhere," Mr Ellis said. "It's the best prank I've ever pulled."
He added that although the hoax started out as fun, the trio believed they were making a valid point about international press coverage.
"We did a stupid thing and the media was all over it, but it was completely irrelevant," he said.
"There are serious issues happening across the world that people don't give a f*** about.
"Hopefully people will think about that but the more important issue is the fact-checking.
"Any journalists who contacted us we told the truth but those who didn't…I've got no sympathy for them at all to be honest."
Register for free to continue reading
Registration is a free and easy way to support our truly independent journalism
By registering, you will also enjoy limited access to Premium articles, exclusive newsletters, commenting, and virtual events with our leading journalists
Already have an account? sign in
Join our new commenting forum
Join thought-provoking conversations, follow other Independent readers and see their replies