British Muslims marched off Easyjet flight after WhatsApp messages mistaken for 'Isis material'
Maryam, Sakina and Ali Dharas say they were victims of racial profiling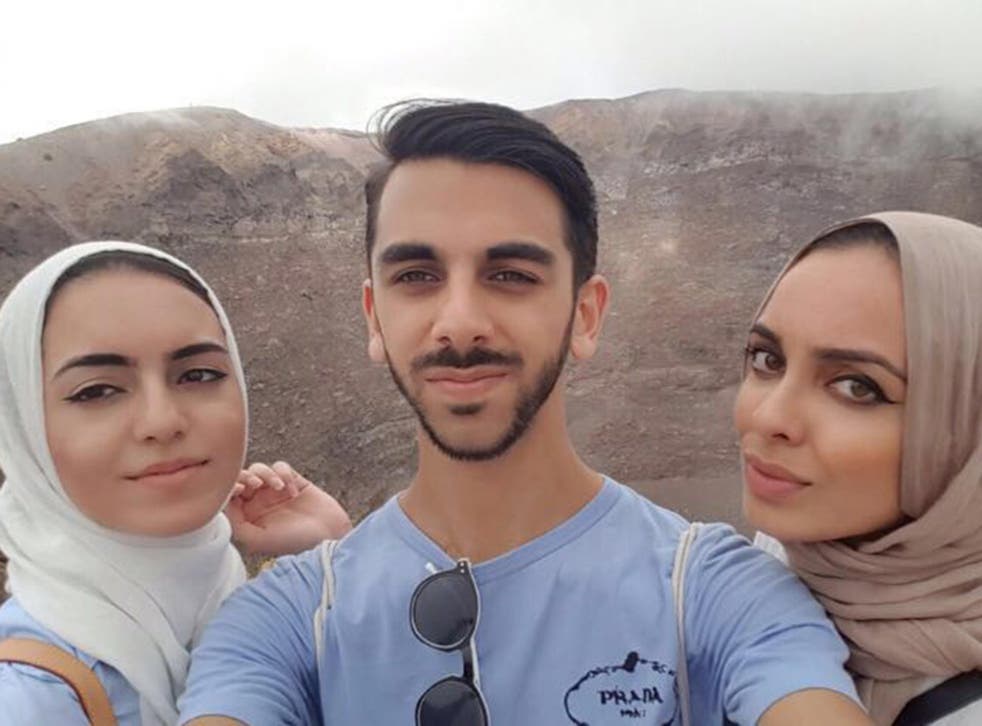 Three Muslim siblings say they were marched off an EasyJet flight to Italy after being falsely accused of having "Isis materials" on their phones.
Maryam Dharas, Sakina Dharas and their brother Ali Dharas were removed from the plane due to fly from Stansted to Naples on 18 August after being approached by a member of the cabin crew.
The siblings said they were greeted by "gun-wielding policemen and men in dark suits" on the ground, who immediately asked them if they spoke English.
Sakina Dharas replied that they only spoke English as they were born and bred in north-west London.
She was then told another passenger had reported seeing them with Arabic text or "praise be to Allah" on their phones and had claimed they were Isis supporters.
Maryam Dharas said: "We're told a couple had reported us having been reading Isis materials. [They said] the pair of us, meaning me and my sister, had been reading Isis material.
"My sister and I wear headscarves. We thought, there's clearly profiling going on here.
Video shows Muslims kicked off flight
"We were just in shock. What is going on? None of us have been doing that. We're absolutely flummoxed."
Maryam said she had been sending Whatsapp messages to their father while on board but that they were were about Labour leader Jeremy Corbyn.
She said she told the officers that if there had been Arabic text on their phones it was "part of the Quran, our religious text, so even if we did have it, it wouldn't signify that we're a part of Isis at all".
UK news in pictures

Show all 50
"Regardless, we've had nothing on our phone remotely Arabic related and we're Indian by ethnicity, so we wouldn't even have Arabic in conversation with anyone," she said.
Despite this one officer, who Sakina said "appeared to be an MI5 agent", asked her to "talk him through my passport, including all my pilgrimages – hajj, and, unfortunately for me, also Iraq".
Sakina and Ali said they had travelled to Iraq to take part in a sponsored walk to raise money for Isis' victims.
They claimed the officer said he had already done full checks on their travel history when the allegations came to light and they had all come back clear but that he would be doing "more research".
He allegedly said that if anything came up he would be "waiting for them" when they returned, but they were not questioned again at Stansted at the end of their holiday on 20 August.
Maryam said they were eventually allowed to go back on board with an apology for the "inconvenience", but that it was "humiliating" to walk through the plane afterwards.
Speaking to the Guardian, the 19-year-old said: "I would like an apology. What happened was wrong. This kind of profiling shouldn't take place. I don't want this to happen again to anyone else."
A spokesman for EasyJet said: "EasyJet can confirm that, following concerns raised by a passenger during the boarding, a member of ground staff requested the assistance of the police, who took the decision to talk to three passengers at the bottom of the aircraft steps, before departure.
"The police then confirmed to the captain that the passengers were cleared to complete their journey and they reboarded the aircraft and the flight departed to Naples".
It comes after The Independent revealed a Muslim woman was detained at Doncaster Airport on 25 July because she had been reading a book about Syrian art.
Faizah Shaheen said she was returning from her honeymoon in Turkey when she was pulled to one side after a fellow passenger raised concerns about her book, Syria Speaks: Art and Culture from the Frontline.
Join our new commenting forum
Join thought-provoking conversations, follow other Independent readers and see their replies