Care home residents dressed in each other's clothes and living in 'dirty' conditions, finds watchdog
Too many care homes are under so much pressure they are not 'getting the basics right every time', warns Healthwatch England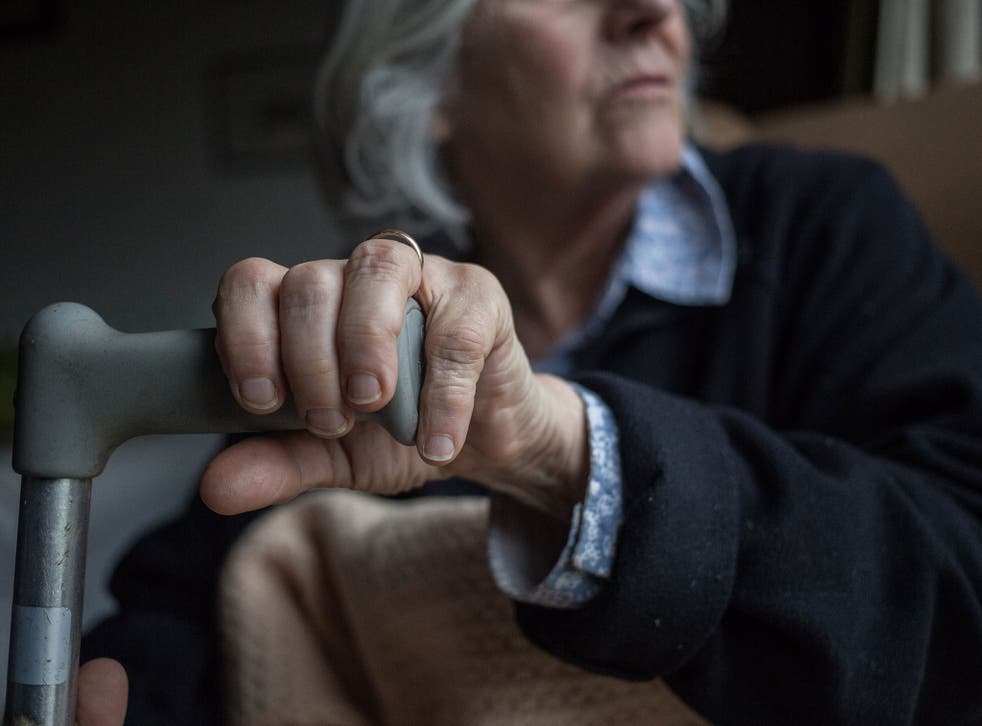 Elderly people are being dressed in each other's clothes and living among dead plants and rotting window sills, according to a damning report on care homes across England.
Too many care homes are under so much pressure that they are not "getting the basics right every time", care consumer watchdog Healthwatch England warned, following visits to 197 care homes between January 2016 and April this year.
The report states that some residents were cared for by rushed staff and were having to put up with things like dead plants, rotting window sills, peeling wallpaper and being put in someone else's clothes.
In 11 care homes, the watchdog had to recommend an immediate "deep clean" after relatives reported their loved ones living in "dirty" conditions.
One resident told the consumer watchdog call bells for assistance to go to the toilet could go unanswered for an hour, while another reported that laundry was not always returned and was "worn by others".
Care residents also said there were few activities offered to them, with one reporting that the options were "television or television". Residents in many of the homes were found to have no access to the internet, restricting their options for staying in touch with family and friends.
Concerns were also highlighted over health needs, with residents facing "barriers" when trying to access care from a GP.
The authors of the report warned "too few homes are getting the basics right every time", and urged that while homes were under financial pressure, clearing away dead plants or ensuring that laundry goes back to the right person "need not cost a lot of money".
"Such examples do not suggest a culture where care is taken to make residents feel truly at home. The best care homes recognise they are people's homes," the report states.
Imelda Redmond, national director of Healthwatch England, echoed their message, saying: "It's not easy running a care home, particularly as the sector as a whole is trying to get to grips with the dual challenge of managing rising demand with limited resources.
"But getting the basics right doesn't have to cost the earth and should be the least we should all be able to expect for our loved ones and ourselves should we need care support."
Earlier this year, it emerged that nearly half of care workers leave the job within 12 months, while the annual turnover rate for nurses working in social care stands at 36 per cent – meaning the sector is having to replace more than a third of nurses each year.
A report by charity Age UK revealed last month that thousands of care home residents were being wrongly charged fees of up to £100 a week in what has been branded a "stealth tax" on elderly people and their families.
UK news in pictures

Show all 50
Commenting on the latest report, Izzi Seccombe, chairwoman of the Local Government Association's Community Wellbeing Board, said: "This study is yet another reminder of the stark reality of the funding crisis facing adult social care, and the urgent need to bring desperately needed stability to the provider market.
"While the £2 billion announced in the Spring Budget for social care was a step in the right direction, it is only one-off funding and social care services still face an annual £2.3 billion funding gap by 2020."
It comes amid growing concerns over social care provision in the UK, which is seeing care homes struggle to meet the increasing demand for care as many of their workers leave due to the strains of the job.
Register for free to continue reading
Registration is a free and easy way to support our truly independent journalism
By registering, you will also enjoy limited access to Premium articles, exclusive newsletters, commenting, and virtual events with our leading journalists
Already have an account? sign in
Register for free to continue reading
Registration is a free and easy way to support our truly independent journalism
By registering, you will also enjoy limited access to Premium articles, exclusive newsletters, commenting, and virtual events with our leading journalists
Already have an account? sign in
Join our new commenting forum
Join thought-provoking conversations, follow other Independent readers and see their replies