Charlie Gard: US doctor says he is willing to come to see sick baby in London
He says the chance of the treatment's 'clinically meaningful success' is about 10 per cent
Katie Forster
Health Correspondent
Thursday 13 July 2017 20:45 Comments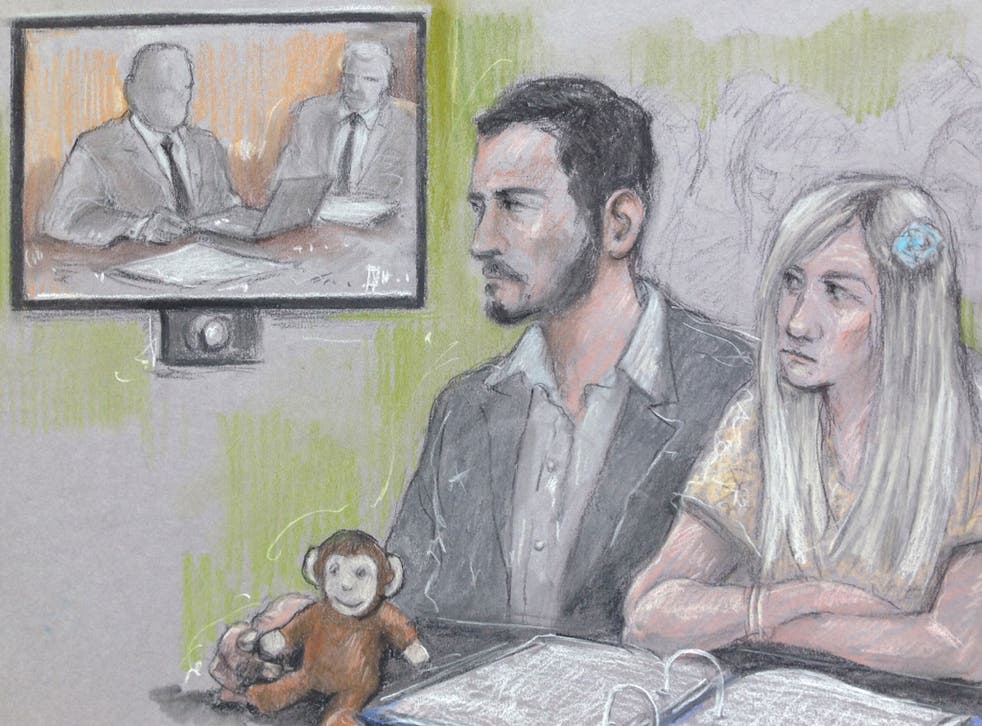 A US doctor offering to treat Charlie Gard has said he is willing to come to London at short notice to examine the sick baby.
The specialist, who is proposing to give nucleoside therapy to the 11-month-old, told the High Court via video link his research "clearly indicates" the experimental therapy reduces muscle weakness in patients with a similar genetic disorder.
He said the chance of the treatment's "clinically meaningful success" was about 10 per cent, based on the findings of a study involving nine patients on life support, of whom one no longer needed a ventilator.
Sobs were heard from family members as the tense hearing, during which Charlie's parents stormed out of the courtroom after a disagreement with the judge, drew to a close.
Campaigners wearing blue and white and chanting slogans in support of Chris Gard and Connie Yates gathered outside the court, where the case that has drawn international attention and offers of help from Donald Trump and the Pope is set to resume at 2pm on Friday.
Charlie, who was born on 4 August 2016, has a faulty RRM2B gene, which affects the cells responsible for energy production and respiration, leaving him unable to move or breath without a ventilator.
The European Court of Human Rights last month rejected an appeal from his parents to take him to the US for experimental treatment, but a new hearing has been called by the hospital in the light of "claims of new evidence relating to potential treatment" for the baby.
Doctors at Great Ormond Street say it would be kinder to stop his life support. Katie Gollop QC, representing the hospital, called the doctor's findings "all very theoretical", saying: "You're trying to translate one experiment to another."
Questions were raised during the hearing over whether the baby feels pain and the extent of his brain damage, which if severe would likely impede the proposed treatment from working.
Charlie Gard judge says he will change his mind if evidence suggests he should
Mr Justice Francis asked the American doctor, who cannot be identified for legal reasons, if he would come to examine Charlie at the children's hospital where he is being cared for.
But Ms Gollop argued there are many experts based in the UK who would be in a better position to give an opinion on Charlie's condition.
The doctor said there was a "small but significant" chance the experimental treatment would improve Charlie's condition, adding: "The only way to tell if the brain damage is reversible is by trying new therapy."
He said he had devised a treatment plan for Charlie, who would be given four strong doses of nucleoside bypass therapy, which is given orally or injected.
There was a 56 per cent chance the treatment would pass the blood-brain barrier, he said, adding that five patients in his trial had reduced their time spent on a ventilator by eight hours or more.
"This is the best scientific data we have," he said, adding he was prepared to extrapolate the TK2 findings to Charlie's genetic deficiency. "These are small numbers, but with very rare diseases we must use every patient and gather as much detail from each patient as possible."
He said he hoped a high dose of nucleosides, which are found naturally in the body, would enter Charlie's cells, affect the mitochondria and prove "therapeutic".
Ms Gollop called the case "desperate" but questioned the court taking evidence "from someone who has never, ever met Charlie Gard", as Ms Yates and Mr Gard laughed bitterly, and urged the doctor to read the previous court decision that details the position of the hospital.
UK news in pictures

Show all 50
The couple, in their 30s and from Bedfont, near Heathrow Airport, earlier walked out after the judge said they had told the court three months ago they were not "fighting for what [Charlie] had now" and were seeking an improvement in quality of life for their son.
"I didn't say he's suffering," shouted Ms Yates angrily before leaving the room with Mr Gard, followed by the couple's solicitor and leaving Charlie's toy monkey on the court bench.
When the hearing resumed, Mr Justice Francis told the parents it is acceptable they walked out and that he understands "this is desperate for you".
The judge called for an independent medical expert​ to measure Charlie's head circumference within 24 hours. If it has not grown, this can be used as evidence of the severity of the baby's brain damage.
Ms Yates said she had measured Charlie's head herself, having spent hours at her son's bedside. But the judge told her an independent opinion was needed: "I'm being told records from a world-famous hospital are wrong, I've got to have more than you're telling me"
He added that it had come to his attention that members of Great Ormond Street had "come under the most vile abuse and threats" from members of the public who have taken up Charlie's cause.
He strongly criticised this behaviour, saying "people working as hard as they do in the health service" did not deserve to be treated in such a fashion.
Register for free to continue reading
Registration is a free and easy way to support our truly independent journalism
By registering, you will also enjoy limited access to Premium articles, exclusive newsletters, commenting, and virtual events with our leading journalists
Already have an account? sign in
Join our new commenting forum
Join thought-provoking conversations, follow other Independent readers and see their replies