'Stop attacking doctors and read the full Charlie Gard court judgments,' paediatrician tells social media users
'Highly emotive case' inevitably provokes strong reactions online, says Dr Ranj Singh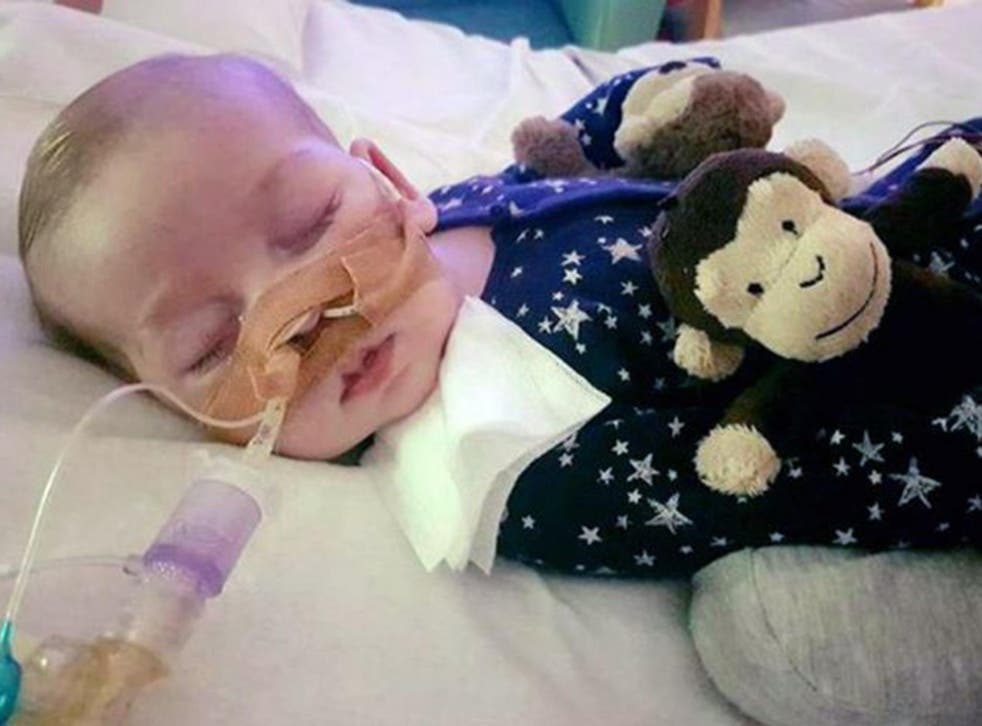 Social media users moved by the tragic case of Charlie Gard should stop attacking doctors and instead read the court judgments setting out the facts of his illness, a paediatrician has said.
Dr Ranj Singh, an NHS doctor, appears regularly on This Morning and is the creator of the children's programme Get Well Soon.
He told The Independent the care of medical staff at Great Ormond Street Hospital (GOSH) was "the reason [Charlie] is alive" and that "there's no reason for them to wish ill intent towards" any patient.
Charlie, aged just 11 months, has a rare genetic condition that means he has brain damage and his muscles are not developing. At least one doctor believes he is "likely" to be suffering, potentially at a "significant" level.
Successive courts have ruled his life support should be switched off due to the degenerative nature of his illness.
A hugely emotional public debate has raged over Charlie's case as his parents have fought to be allowed to take him to the US for experimental treatment they believe could improve his life.
US President Donald Trump and Pope Francis have both waded into the debate around the plan. Judges have concluded the treatment, which has never been used on people, or even animals, with Charlie's particular illness, would be "futile" because there was so little chance it would work.
The doctor who offered it could not guarantee it would have any effect in reversing Charlie's brain damage.
UK news in pictures

Show all 50
Dr Singh told The Independent: "These are not judgments that have been taken lightly, or reached easily. Their job is to provide an objective assessment and decision on complicated areas like this, when mutually agreeable decisions can't be reached.
"People need to go to the court transcripts and have a look at what the arguments are. This is a highly emotive case.
"It will naturally get people's emotions and opinions up, and many people will take to social media to get their information and express themselves. Unfortunately that means it's jumping on a bandwagon.
"People have formed opinions already. There's a huge distrust of the medical profession around cases like this.
"That's sad, because what you've got to think about is the teams that are looking after this extremely unwell child, they do this day-in, day-out. The reason these patients are alive in the first place is because of the 24-hour care that these people provide.
"That's not because I think people are trying to be deliberately malicious. People are expressing themselves and being part of a group that thinks the same way.
"If it's a complex case for medical professionals to get their heads around, it must be even more complex for lay members of the public."
Charlie Gard's father in plea to 'give my boy a chance'
Dr Singh's comments came as GOSH applied for a fresh hearing "in light of claims of new evidence" for a potential treatment for Charlie's condition.
Dr Singh said any new evidence "should be reviewed ... but that evidence needs to be good enough".
Judges in the case have also faced severe criticism as the debate has spread internationally.
But in the Court of Appeal's ruling, Lord Justice McFarlane noted the "strong feelings of sympathy and respect that run like a seam throughout" the judgment made previously by a family court judge.
Mr Justice Francis had called his decision "my sad duty", describing it as "the darkest day for Charlie's parents who have done everything that they possibly can for him". He added: "My heart goes out to them."
Charlie's mother, Connie Yates, said she believed her son was not "suffering" or in pain, and that Mr Trump's intervention had given her renewed hope.
She told Good Morning Britain: "We are not bad parents, we are there for him all the time, we are completely devoted to him and he's not in pain and suffering, and I promise everyone I would not sit there and watch my son in pain and suffering, I couldn't do it."
Ms Yates and Charlie's father, Chris Gard, are estimated each to have spent about 3,200 hours by the boy's side at GOSH. A High Court judge praised their "absolute dedication" and "brave and dignified campaign on [Charlie's] behalf".
Ms Yates added: "It's a one in 10 chance and in some sense people might say that's a small chance but when it comes to medicine that's a big chance.
"There is potential for him to be a completely normal boy but we don't know because we just don't know until we try."
A US hospital said it would take Charlie boy in if "legal hurdles" could be cleared, or send the medication to GOSH pending approval from the US Food and Drug Administration.
Ms Yates said she had researched Charlie's rare mitochondrial condition "non-stop" and had also been told there was a chance the treatment could help Charlie, although GOSH medics argued it would not.
The Court of Appeal ruled in May: "It must follow from that unanimous professional and expert evidence, that to move Charlie to America and expose him to treatment over there would be likely to expose him to continued pain, suffering and distress."
Writing for The Independent, Dr Ravi Jayaram, another paediatrician, said: "As human beings we like things to be black and white, good guys versus bad guys, the establishment versus the little man.
"Unfortunately medicine inevitably operates in shades of grey and there is rarely a 100 per cent 'right' thing to do. Every decision is a balance of potential benefit against potential harm.
"As a result of the binary media coverage, many people have developed fixed opinions on the situation on one side or the other, which they express passionately and loudly.
"The fact that people with as high a profile as the Pope and the President of the USA have become involved reflects how emotive this has become."
Additional reporting by agencies
Join our new commenting forum
Join thought-provoking conversations, follow other Independent readers and see their replies