Cheshire flour mill explosion: Victims' relatives search for owner of company that operated blast-stricken building
The bodies of three mill workers have been recovered from the ruins and police said they were hopeful of finding the body of a missing fourth worker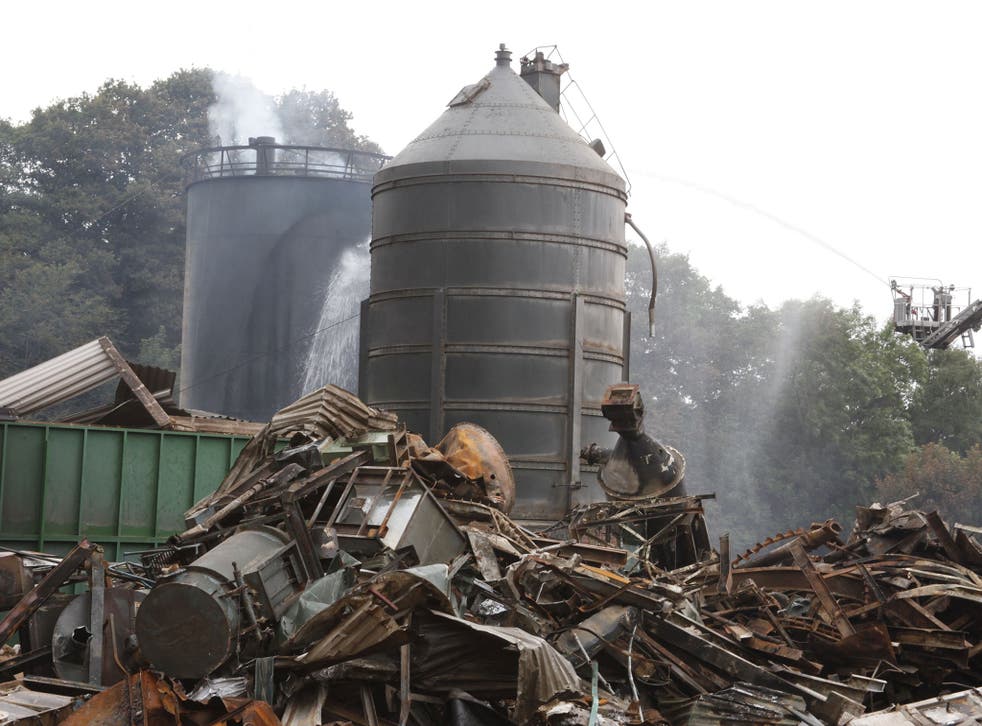 Charles Boden is not normally shy of the limelight. And rightly so, for agriculturally speaking his flock of pedigree Texel sheep, not to mention his 80-strong herd of prize-winning Charolais cattle, are celebrated national champions.
The achievements of this 52-year-old Cheshire squire have earned him the nickname "King Charlie" in show circles. He is still the only breeder to have won first, second and third places in the Sire of the Year awards at the Texel Sheep Society.
His desire and determination to pay top prices for the best animals is well known in auction circles from Aberdeen to Welshpool. His eye for a fine beast resulted in him paying a breed record 70,000 guineas for supreme champion Barnsford Ferny – judgement rewarded when Prince Charles later awarded the Charolais best in show.
But Mr Boden was less conspicuous this week when journalists sought out the owners of a wood mill in Bosley, near Macclesfield in Cheshire, which was destroyed in an explosion and blaze that fire services were still tackling a week later.
The bodies of three mill workers have been recovered from the ruins and police said yesterday they were expecting to find the body of a missing fourth worker – believed to be Jason Shingler, 38 – today. The three bodies recovered are believed to be those of Dorothy Bailey, 62, of Bosley, Derek Moore, 62, of Stoke on Trent, and 51-year-old William Barks, from Leek.
Mr Boden is a director of Wood Treatment Ltd, which operated the mill, and reporters were anxious to put to him comments from Mr Barks' brother, Kelvin, who said William had previously described the factory as a "disaster waiting to happen".
The mill owners failed to buy parts for a faulty machine despite his brother's "relentless" requests, Kelvin Barks said. "He'd always have discussions [with me] saying it's a disaster waiting to happen… and unfortunately it's taken his life before he had the chance to get out," he told ITV News. One of the mill machines was "running hot" and required a certain type of lubricant. "Relentlessly, he tried to get stuff ordered and a lot of the time he was refused; unless it stopped that mill, they wouldn't buy parts for it," he said.
A joint investigation is being carried out by police, fire and Health and Safety Executive officials, and it is unclear whether the machinery mentioned was linked to the explosion. The investigation will continue this weekend but details of the mill's troubled health and safety record have already emerged.
The site, which featured industrial-scale grinding and milling of waste wood and other organic material into a flour which was used in a variety of products including cat litter, animal bedding and biomass wood fuel, had been hit by fires in 2010 and 2012. Its insurers warned them to improve fire protection after one blaze and the company introduced a series of measures including an online fire awareness training system to "ensure its staff are equipped to prevent a fire emergency".
HSE inspectors warned the company of a risk of an explosion two years ago and served an improvement notice on it. Inspectors said the firm failed to ensure the risk of fire or explosion from liquid petroleum gas stored on site was eliminated or minimised. The company later complied.
Its wider approach to safety was called into question when in August 2014 it was served with a prohibition notice after inspectors said employees working at height were in danger.
Yet the company was still planning to expand. It had approval to build a biomass plant using waste wood on the site where the explosion occurred, as well as a second plant in Wigan. East Cheshire council approved the plan, which would process 45,000 tonnes of waste wood a year to power 11,000 homes.
Mr Boden was unavailable for comment last night but the company said it was "shocked and saddened" by the incident.
Join our new commenting forum
Join thought-provoking conversations, follow other Independent readers and see their replies