Nearly half of all children in London, Birmingham and Manchester live in poverty, finds study
Most deprived parts of UK experience biggest increases in child poverty – with levels in areas of London and Birmingham rising to more than 53 per cent of all children, according to findings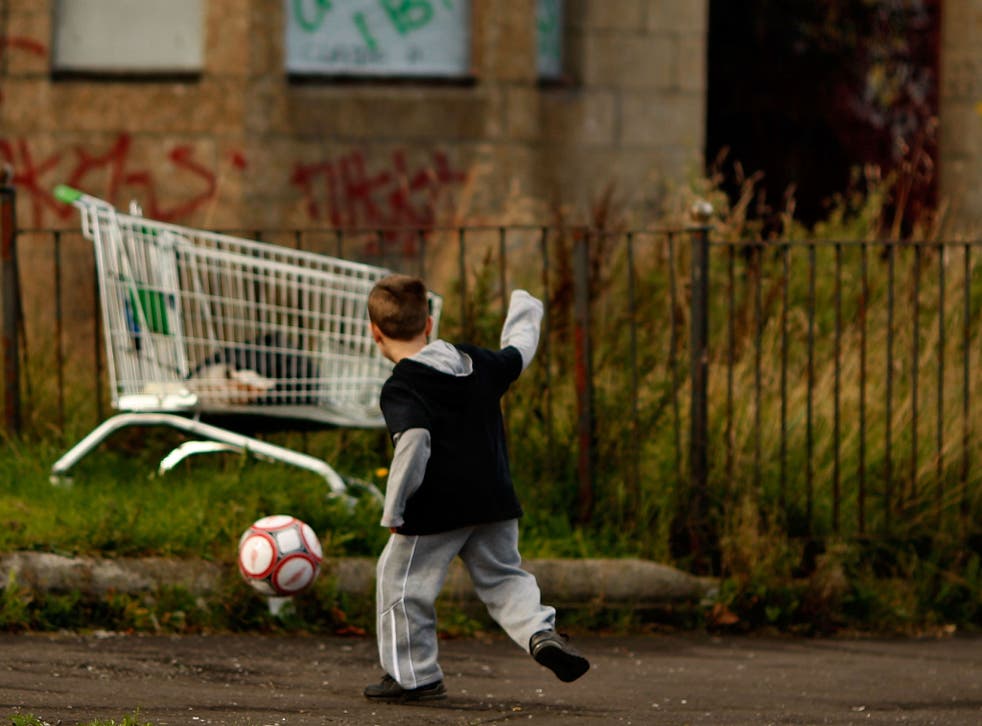 Almost half of all children in some UK cities are estimated to be living in poverty, new figures reveal, amid warnings that welfare reforms are leading to an "emerging child poverty crisis".
An analysis of data indicates the most deprived areas in the country have experienced the biggest increases in child poverty over the past two years, with parts of London and Birmingham seeing levels rise by 10 percentage points to above half of all children.
The "shocking" figures have been attributed to the benefit freeze – which has been in place since 2015 and leaves children's benefits frozen until the end of the decade – as well as the high cost of credit for low income families, leaving many "spiralling into debt".
A report by the independent Joseph Rowntree Foundation (JRF) last month found that Britain's record on tackling poverty had reached a turning point and was at risk of unravelling, with nearly 400,000 more children and 300,000 more pensioners living in poverty than five years ago.
The JRF stated that while poverty levels fell in the years to 2011-12, changes to welfare policy – especially since the 2015 Budget – saw the numbers creep up again. Their report showed a total of 14 million people in the UK currently live in poverty – more than one in five of the population.
Now the latest figures, collated by the End Child Poverty coalition through analysis of tax credit data and national trends in worklessness, estimate that child poverty in Manchester and Birmingham stands at 44 per cent and 43 per cent respectively. In the London borough of Tower Hamlets this reaches 53 per cent.
When broken down into constituencies, the figures indicate that Bethnal Green and Bow in London has the highest child poverty rate at 54 per cent, while in Ladywood in Birmingham 53 per cent are living in poverty. Among the 20 parliamentary constituencies with the highest levels of childhood poverty, seven are located in London, three in Birmingham and three in Manchester.
A child is said to live in poverty if they are in a family living on less than 60 per cent of median household income. According to the latest official statistics, 60 per cent of median income, after housing costs, was around £248 per week.
In light of the findings, the End Child Poverty coalition has called on the Chancellor to end the freeze on children's benefits so that families no longer see living standards "squeezed" as prices rise.
The coalition, which is made up of almost 100 organisations, including children's charities, faith groups and trade unions, also raised concerns that the impact of poverty may be exacerbated by a poverty premium. This means low income families can face paying as much as £1700 per year more than better-off families to buy the same essential goods and services, according to the coalition.
A major contributor to this is the high cost of credit for low income families, they said, urging the Government to address this by providing better access to interest free credit.
Sam Royston, chair of End Child Poverty and director of policy and research at the Children's Society, said it was "scandalous" that a child born in some parts of the UK had a "greater chance of growing up in poverty than being in a family above the breadline".
"There can be little doubt that the Government's policy of maintaining the benefits freeze despite rising prices is a major contributor to the emerging child poverty crisis. No family in modern Britain should be struggling to put food on the table, heat their homes and clothe their children.
"End Child Poverty is calling on the Chancellor to end the freeze on children's benefits, and to invest in interest free credit for low income families, to ensure that poverty doesn't result in spiralling debt."
Debbie Abrahams, Shadow Secretary of State for Work and Pensions, said: "It is a damning indictment of this Government's policies that in some constituencies of the UK over half of children are living in poverty.
"Increasing child poverty is a direct result of this Government's utter failure to tackle the increasing cost of living, stagnating wages and their slashing of social security support.
"The Government refuses to set a target to reduce child poverty, which is no surprise as poverty levels are set to increase with the Child Poverty Action Group stating an additional one million children will be in poverty by 2020 as a direct result of universal credit cuts.
Liberal Democrat MP Layla Moran accused the Government of "failing to protect the most vulnerable in society", adding: "The gulf between the children born in the richest and poorest families is widening, but Theresa May is more preoccupied with the gulf in her cabinet over Brexit.
"When we fail our children like this we fail as a society. The Government must take action."
Claire Kober, chair of the Local Government Association's resources board, said councils were best-placed to "lead the way" in raising people out of poverty, but urged that they needed more financial freedom and flexibility in order to do so.
"This study clearly shows there are parts of the UK where there is more to be done to raise people out of poverty," she said.
"Councils are best placed to lead the way but need the financial freedom and flexibility to integrate services around the needs of low income families, in particular support for employment and progression, financial inclusion, housing and childcare, to help everyone fulfil their potential."
Dalia Ben-Galim, of single parent campaign group Gingerbread, said: "Increasing levels of child poverty will continue to be the reality for many single parent families with the cost of living rising."
UK news in pictures

Show all 51
Dr Mary Bousted, joint general secretary of the National Education Union, said: "These are shocking figures. It is nothing short of a disgrace that in one of the wealthiest countries on Earth, there are constituencies where more than half of children are growing up in poverty."
A government spokesperson said: "The best route out of poverty is through employment, and since 2010 an extra three million more people are now in work and 600,000 fewer children are living in workless households.
"But we recognise that budgets are tight, and that's why we're helping families keep more of what they earn. We've doubled free childcare – worth £5,000 per child each year – while our £2.5bn pupil premium programme is supporting two million disadvantaged schoolchildren across the country."
Register for free to continue reading
Registration is a free and easy way to support our truly independent journalism
By registering, you will also enjoy limited access to Premium articles, exclusive newsletters, commenting, and virtual events with our leading journalists
Already have an account? sign in
Register for free to continue reading
Registration is a free and easy way to support our truly independent journalism
By registering, you will also enjoy limited access to Premium articles, exclusive newsletters, commenting, and virtual events with our leading journalists
Already have an account? sign in
Join our new commenting forum
Join thought-provoking conversations, follow other Independent readers and see their replies