Nine children in typical class of 30 now living in poverty as levels soar to worst seen in decades, report says
'More parents are unable to make ends meet, despite working. This is unacceptable'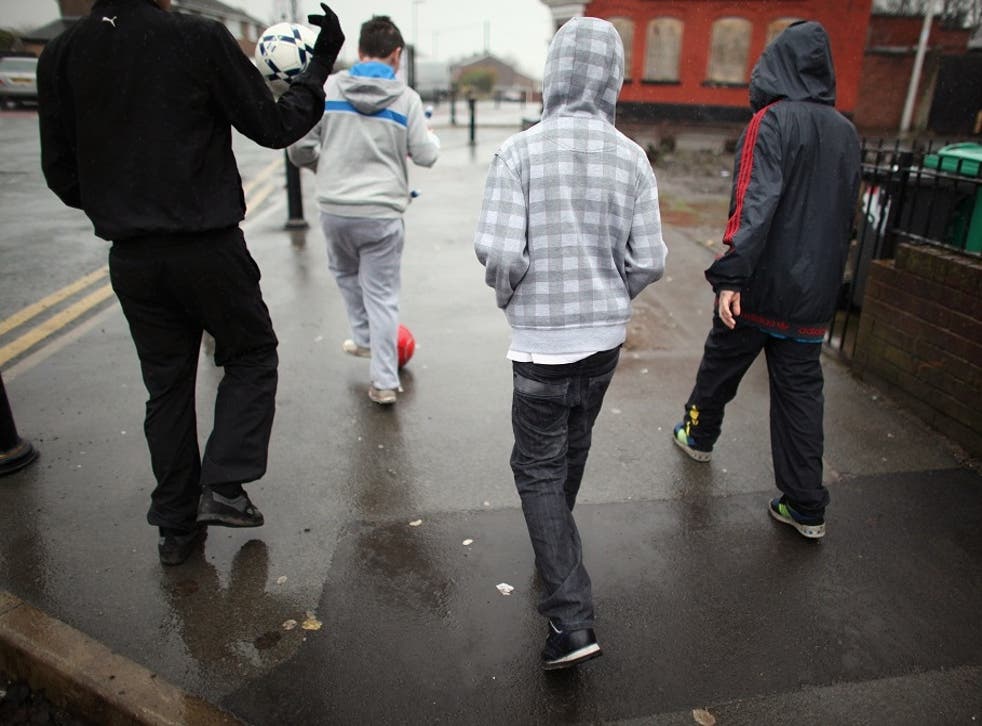 A "relentless rise" in the number of working families struggling to make ends meet means more than half a million children in Britain are now trapped in poverty, a damning report has revealed.
In-work poverty is the highest it has been in 20 years and in a typical classroom of 30 children, nine are living in poverty, the Joseph Rowntree Foundation's state of the nation report says.
Although successive governments have argued work is the fastest route out of poverty, the figures show 8 million people are living in poverty in households where at least one person is already in work.
The alarming figures come after the chancellor Philip Hammond revealed Brexit will make the UK worse off under any scenario.
The government estimates the UK economy could shrink by 3.9 per cent after 15 years under Theresa May's Brexit plan, compared with staying in the EU.
But a no-deal Brexit could deliver a 9.3 per cent hit, the figures say.
Overall one in five of the UK population (22 per cent) are already in poverty – a total of 14.3 million people, and 56.5 per cent of those in poverty are living in household where someone is in work.
Campbell Robb, chief executive of the Joseph Rowntree Foundation, warned families could be "pushed over the brink".
He said: "We are seeing a rising tide of child poverty as more parents are unable to make ends meet, despite working. This is unacceptable.
"It means more families are trapped in impossible situations: struggling to pay the bills, put food on the table and dealing with the terrible stresses and strains poverty places on family life.
"It's time for us to decide what kind of country we want to be. As we leave the EU, we must tackle the burning injustice of poverty and make Britain a country that works for everyone.
"We can do this by taking action on housing, social security and work to loosen the constraints poverty places on people's lives. No one wants to see more families being pushed over the brink.
"We have an opportunity to fix this and ensure everyone can reach a decent standard of living – it is one we must seize to make the country work for everyone after Brexit."
In-work poverty has been rising even faster than employment, the report says, and has been exacerbated by many parents working in low paid service industry jobs with little chance of career progression "especially in hotels, bars, restaurants and shops".
Any gains from the national living wage and tax cuts are often outweighed by changes to tax credits and benefits that top up low wages, while the cost of housing has risen.
To stem the rise in poverty, the report calls for major government investments in affordable housing, ending the freeze on benefits and tax credits, and for employers to help people progress in the workplace.
UK news in pictures

Show all 50
The report quoted Hazel Ratcliffe, a working single parent from Fife, who said: "Life can feel like a hamster's wheel. I am working and pushing myself so hard, but feel like I'm stuck. Every week I have school dinner money to give the boys, diesel for my car, food for the house. Most weeks I manage, but it involves rigid meal planning, then going around the supermarket with a calculator to ensure I stay within budget. Clothes, shoes and food are so expensive.
"I live in private rented accommodation. Benefits should loosen the constraints of low pay and high rents. I think the government needs to increase benefits to match the rate of inflation. The minimum wage needs to be more like the living wage and make sure work is a route to a decent quality of life."
Tess Lanning, the director of the Living Wage Foundation, said: "This report shows the scale of working poverty in the UK today, with low pay and rising living costs squeezing family finances and placing parents and children under enormous pressure.
"It's incredible that millions of working parents are struggling to keep their heads above water, trapped in low pay jobs with little chance of progression. But as the report suggests, employers can play their part by paying workers a real living wage that covers the cost of living.
Support free-thinking journalism and attend Independent events
"That's why, more than ever, we need to see businesses step up and pay a fair day's pay for a hard day's work."
Mayor of London, Sadiq Khan, said: "If we are to halt the rise of child poverty the government must make good on its promise to end austerity and introduce a benefits system that is fit for purpose. A fairer society benefits everyone and I urge ministers to acknowledge the punishing gap between the social security support people should be able to expect, and the harsh reality of what they are experiencing."
The report comes as a survey from the Mental Health Foundation has found that more than one in four (26 per cent) schoolchildren are worried or sad about their families not having enough money.
Join our new commenting forum
Join thought-provoking conversations, follow other Independent readers and see their replies