Surge in child refugees in Calais as conditions reach 'breaking point'
Rights group criticises 'misguided' UK government hostile environment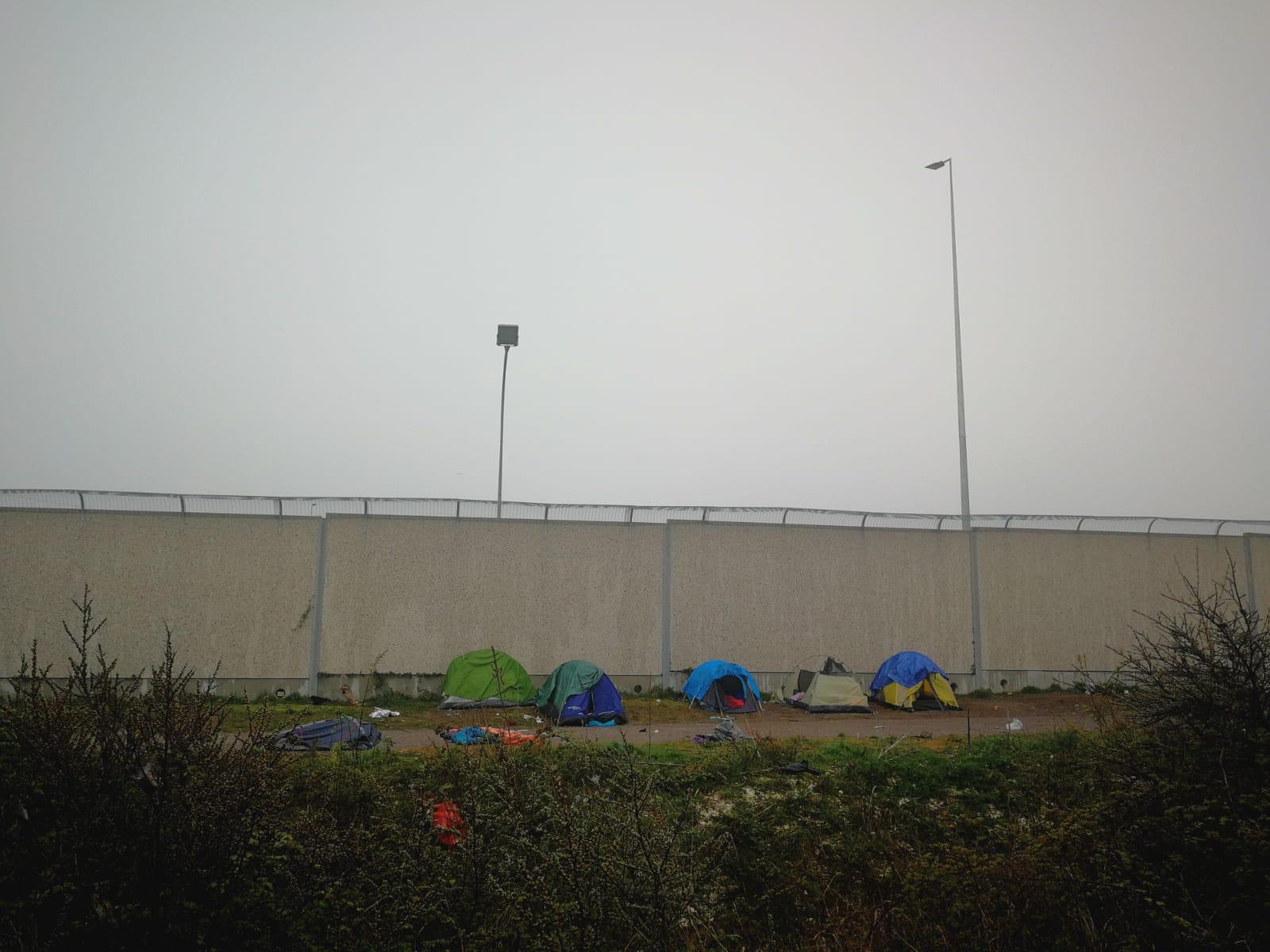 The number of child refugees languishing in Calais in the hope of getting to the UK has surged amid warnings that conditions at the border are reaching "breaking point".
Hundreds of unaccompanied minors are sleeping rough on the northern French coast, with numbers almost doubling in the past three months, according to charities who warn the situation is only getting worse.
While figures show a rise from about 150 to 281, aid workers say the true numbers are likely to be higher as many displaced people, including lone minors as young as 12, are being pushed out of visible areas and further into the "margins of society" due to ramped-up security measures introduced as part of the UK and France's response to a rise in migrant boat crossings last year.
Maddy Allen, field manager at Help Refugees, said: "Securitisation measures have really gone up since the attention on the migrant boat crossings in November. They've fenced up under the bridges where people used to sleep. Walls have been erected around the petrol station. It looks like a prison.
"But the rate of people trying to cross hasn't slowed down. They are still here. People are pitching their tents on the side of the motorway. They're sleeping in the surrounding area but they're just further into the margins of society. They're deep in the forest, deep in the landfill sites, deep in the sand dunes, just very hidden."
Meanwhile child protection workers on the ground say that the transfer of lone minors to the UK under the Dubs Amendment – designed to grant vulnerable children safe passage to the UK – appears to have stopped, prompting rumours that the scheme has been closed.
A separate law designed to reunite child refugees with family members in Britain, known as Dublin III, is facing severe delays, which is said to be pushing eligible youngsters to try to cross illegally instead.
The Home Office denied that all 480 places available under the Dubs scheme had been filled, but refused to provide up-to-date figures on how many children had been transferred.
Ms Allen said the lack of information about legal routes for children meant a growing number were trying to cross the Channel illegally, placing them at risk of exploitation and trafficking.
"There's lack of information around Dubs. They're not taking new children into the system, but there are supposedly more than 200 spaces still due to be filled. These kids just have no information, and the people advocating for those children don't have adequate information, so they think it's going to be quicker to get on a lorry," she said.
Home secretary Sajid Javid vowed in January to "stop vulnerable migrants making these treacherous crossings and tackle the people smugglers who are putting their lives in danger", announcing a £6m investment in new security equipment for the French coast.
His intervention followed a rise in the number of people crossing the Channel illegally in boats at the end of 2018, with more than 220 migrant crossing in the space of a month.
But charities say that contrary to Mr Javid's pledge, the heightened security and attempts to create a "hostile environment" have only created a "push factor" for displaced people in the area to try to reach the UK.
One 19-year-old Ethiopian named Kiyar died last month after he climbed into a lorry in a bid to reach relatives in Britain.
Marta Welander, director of Refugee Rights Europe, said: "It seems the general approach of the British government is to remove what they believe are so-called pull factors – that if they create a hostile environment in the border zone, people will stop coming.
"These policies seem to be largely misguided. They think they are removing a pull factor. But the violence and heavy-handedness of the police and the lack of communication in France is a push factor, pushing people closer to Britain. The more violent and securitised the area becomes, the more desperate people become to cross."
The Dubs Amendment, which was introduced in 2016 to prevent unaccompanied children who have fled their home countries from turning to traffickers in a bid to reach the UK, has come under scrutiny after ministers refused to provide updates on how many children have been approved under the scheme.
MPs and campaigners initially hoped the Dubs scheme would resettle around 3,000 children but ministers controversially set a limit of 480, despite councils saying they could find space for far more.
Immigration minister Caroline Nokes said in response to a parliamentary question in December 2018 that over 220 Dubs children were already in the UK and that transfers were "ongoing" – but sources told The Independent the spaces had been filled.
Marie Charlotte, director of Safe Passage in France, said it was "paradoxical" for the UK government to commit to reducing the number of people attempting to cross illegally, but at the same time make access to legal transfers "very complicated".
"The Dubs Amendment is really important to prevent young people from taking very dangerous journeys and turning to traffickers, which we are hugely concerned about. It's really important now to think about new routes that are going to work," she said.
Lord Alf Dubs, who tabled the Dubs Amendment and was a child refugee himself, said even if the scheme was not officially closed, ministers were "effectively closing it" by "doing nothing".
"There are kids in northern France and in Greece who are fully eligible to come – some of them have even been identified as being eligible – but they are still there and at risk. If the government drags its heels it is effectively closing it anyway, which is a very depressing comment on what's going," he said.
"The 480 was a totally arbitrary figure that the government invented anyway. It has no basis in legislation. It's just a figure that they pulled out of a hat and said that was what local authorities could come up with. We're arguing that local authorities are able to take more.
"At best they're dragging their heels and at worst they've closed the scheme. It's very disappointing."
Support free-thinking journalism and attend Independent events
A Home Office spokesperson said: "The UK has made a significant contribution to protecting vulnerable children, providing protection to over 34,500 children since the start of 2010.
"We committed to relocating 480 children under the 'Dubs amendment' and are determined to deliver on that.
"We are clear that anyone crossing the Channel – one of the busiest shipping lanes in the world – is putting their life at grave risk. The fastest and safest route to protection is to make an asylum claim in the first safe country reached."
Join our commenting forum
Join thought-provoking conversations, follow other Independent readers and see their replies