Child slavery victims being lured back into exploitation due to lack of support amid surge in cases
'It's unacceptable that our most vulnerable children are put through a system that is so severely lacking'
May Bulman
Social Affairs Correspondent
Friday 18 October 2019 08:46 Comments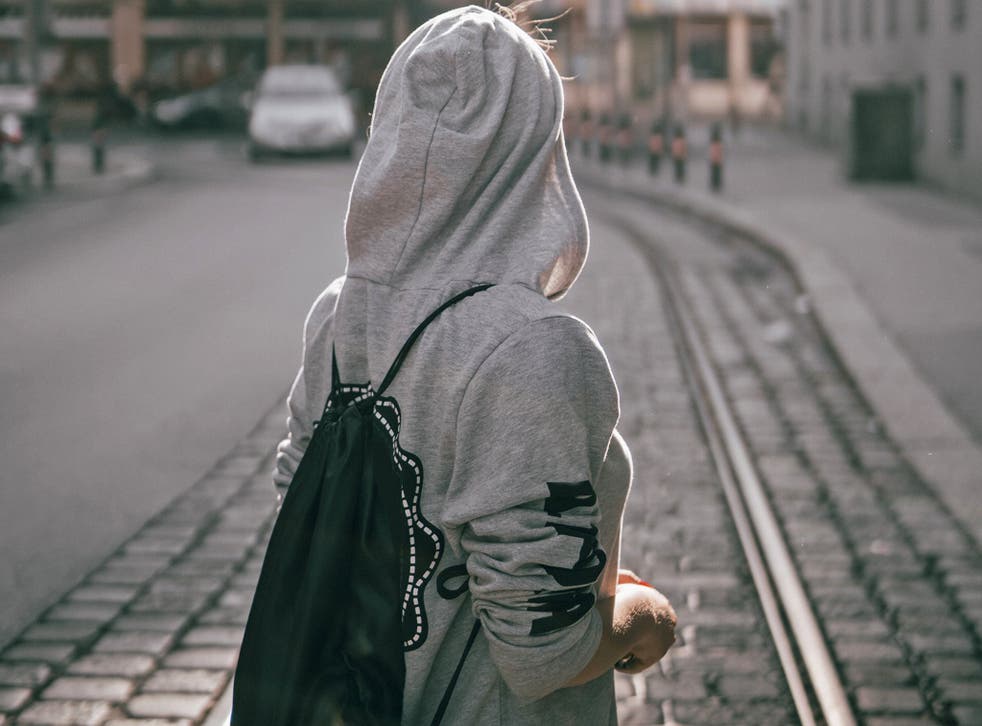 Child victims of modern slavery are being lured back into exploitation and falling into homelessness as cash-strapped local authorities struggle to cope with a surge in cases, charities have warned.
Thousands of young people who have been trafficked and exploited, often by county lines gangs or through international criminal networks, are being left to navigate complex legal, education and immigration systems alone because austerity-hit services cannot adequately support them.
It has meanwhile emerged that the number of council referrals of suspected child victims of modern slavery in England to the National Referral Mechanism (NRM) – the UK's framework for referring and supporting victims – has surged by 807 per cent in five years.
An analysis of official statistics by the Local Government Association (LGA) shows the figure has risen from 127 in 2014 to 1,152 in 2018, with the rate of these child referrals increasing by 67 per cent in a year alone, from 690 in 2017, with children now accounting for 92 per cent of all referrals made by councils.
It comes as the National Crime Agency (NCA) revealed that 292 children were rescued from county lines drugs networks last week alone as part of a crackdown on the activity, and a record 743 people arrested.
The LGA, which represents councils in England, said the spiralling referral rates were being fuelled by an increasing awareness of modern slavery and the growing issue of young people being exploited by county lines drug gangs, which it said was putting its services under increasing and significant pressure.
Campaigners are calling for a scheme of "independent legal guardians", which already exists in Northern Ireland and Scotland, and allocates each child an advocate who would be able to instruct solicitors on their behalf and represent their interests.
Laura Duran, senior policy and research officer at Ecpat (Every Child Protected Against Trafficking) UK, said the increase in referrals was "hugely concerning" because local authorities "simply do not have the funding to adequately safeguard an ever-increasing number of children needing specialist support".
"Through our direct work with trafficked young people, we see firsthand the risks they face if they aren't adequately supported. Many have no other option but to return to traffickers who exploit their continued vulnerability," she added.
"Other young people have become homeless as local authorities are unable to meet their needs in a way that makes them feel safe. When children approach adulthood they are particularly vulnerable to these risks as the support they receive is drastically reduced upon turning 18.
"It's unacceptable that our most vulnerable children are put through a system that is so severely lacking."
Modern Slavery in the UK

Show all 13
One foster carer, who has cared for a number of child victims over the last few years, told The Independent she was having to "fight" to get the youngsters in her care the support they were legally eligible for at "every stage".
She said one of the children in her care was initially not considered to be a victim when she was referred to the NRM because the referral was "rushed through" by the police, who submitted the referral within the first 24 hours.
In another case, she said the principal education lead at the local council had suggested a child didn't need to go to school and instead be supported with 10 hours of one-to-one classes per week, despite full-time education being an entitlement.
The foster carer said: "The NRM process is too often rushed and doesn't match up to what it says in the guidance. People need time. You've got young people for whom it's so far removed to their understanding. Everything is difficult to understand," she said.
"I'm in this surreal place where I'm the foster carer and I'm having to have debates with professionals from across the multi-agency team."
Cllr Simon Blackburn, chair of the LGA's safer and stronger communities board, said the spiralling rate of council referrals, especially relating to county lines drug trafficking or child sexual exploitation, were having a "huge impact on overstretched council services, particularly children's services".
He added: "Councils are committed to tackling the despicable crime of modern slavery, which is a rising threat to our communities. It can destroy the lives of vulnerable people working in fear of physical violence from ruthless gangmasters for little or no pay.
"Extra funding next year will help but government needs to ensure councils have adequate long-term resources to tackle this abuse and support its victims, as well as creating a sustainable NRM system in the long term."
The LGA's analysis follows warnings that unaccompanied minors in the UK were being driven to self-harm and suicide due to "gaps in statutory support" provided to them, which in some cases has led them to take their own lives.
Modern slavery gang members jailed for more than 50 years
Charities warned that many unaccompanied minors are at severe risk of trafficking on arrival in the UK, but that a lack of one-to-one support means they are not adequately protected from exploitation.
A government spokesperson said: "Modern slavery and child exploitation are barbaric crimes and we remain committed to stamping them out and supporting victims.
"Factors like county lines-related criminality are thought to be driving the increase of child referrals to the National Referral Mechanism. The world leading Modern Slavery Act ensures that we are identifying and protecting vulnerable children, including those exploited by county lines gangs."
Register for free to continue reading
Registration is a free and easy way to support our truly independent journalism
By registering, you will also enjoy limited access to Premium articles, exclusive newsletters, commenting, and virtual events with our leading journalists
Already have an account? sign in
Join our new commenting forum
Join thought-provoking conversations, follow other Independent readers and see their replies