Chip shop owner raises £6,000 in 24 hours to take parking fine appeal to Supreme Court
Chip shop owner hopes public's donations will pay for Supreme Court case
Adam Lusher
Saturday 02 May 2015 22:40 Comments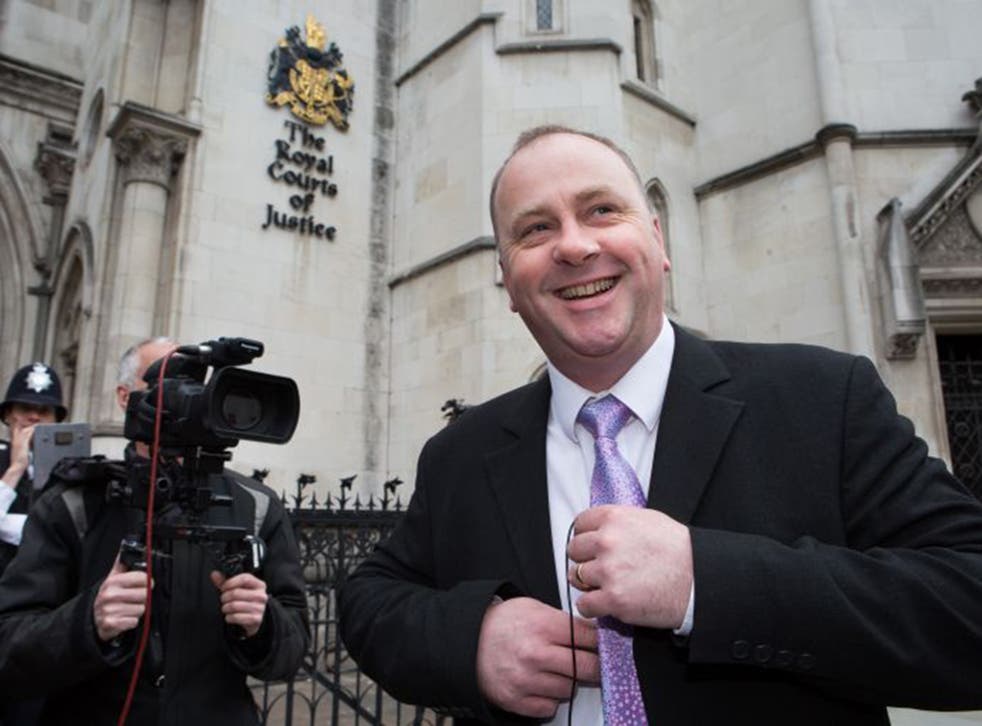 Never, it seems, should you underestimate the British public's hatred of parking charges. When Barry Beavis, an Essex chip shop owner, asked the public for money to help take his appeal against an £85 parking ticket to the highest court in the land, he doubted he would get anything.
Instead it took him only 24 hours to raise the £6,000 requested, and last night members of the public were still donating to help his legal appeal to the Supreme Court.
Mr Beavis, 48, the owner of the Happy Haddock in Billericay, said he had been overwhelmed by the popular support for a battle that began in April 2013 after ParkingEye, one of the country's largest car park operators, charged him £85 for a 56-minute overstay at a Chelmsford retail park.
Mr Beavis, who challenged the charge on the grounds that it was "unfair, unlawful and disproportionate", said: "The response has been truly humbling. It has given me the courage to continue. To quote Winston Churchill: 'Success is not final, failure is not fatal: it is the courage to continue that counts.'
"That so many people donated so much money in such a short space of time shows that this is clearly an issue that resonates with an awful lot of people."
Throughout the case ParkingEye, which operates in more than 900 UK venues and made a net profit of £1m in 2013, has insisted its charges are "fair, reasonable and legally enforceable". The company, bought by outsourcing company Capita for £57.5m in October 2013, has stressed that it is a "professionally run parking company, with independent and external appeals procedures".
But anger has been mounting at charges imposed by firms managing car parks on private land on behalf of businesses like shopping centres and supermarkets.
The number of tickets issued by such companies, which often rely on automatic number plate recognition, has increased fivefold since 2007 to about 2.5 million a year, and the cost to motorists is an estimated £100m a year.
The frustration of some drivers was reflected in comments left by those donating to Mr Beavis via his page on the crowdfunding website indiegogo.
"Hurtlocker" wrote: "The practice of scalping the unwary parker is socially reprehensible. This is an attempt to legalise extortion!"
Ewan Hoosami told Mr Beavis: "Barry, you are performing a great public service in sticking it to these filthy weasels. We are all behind you. All of us, 'til the end."
If victorious, Mr Beavis might set a precedent allowing millions of drivers to claim refunds from parking companies. Before one hearing Professor Stephen Glaister, director of the RAC Foundation, a transport research charity, said: "Tens of millions of pounds hang on this case."
But after starting in the small claims court, Mr Beavis lost at Cambridge County Court. The case was then heard at the Royal Courts of Justice in London in February, where three Appeal Court judges ruled against him on 23 April, declaring that the £85 charge was "not extravagant or unconscionable".
The next day Mr Beavis launched his appeal for funds, asking for £6,000 to cover the cost of submitting a notice of appeal and an outline of his case to the Supreme Court.
He said: "I had no expectations of reaching the £6,000. Instead, the appeal went live on indiegogo on the Friday at 8.39am, and when I looked at the webpage again at 11am on the Saturday morning, the target had been reached. It was amazing."
Mr Beavis has now received £7,880, which he thinks could prove enough for him to proceed to the Supreme Court. He is hopeful a QC will agree to represent him pro bono.
"I have to carry on," he said, "because there has been an injustice, and it needs to be righted. A lot of people feel incredibly hard done by. Parking management needs to happen – people can't just dump their car in a retail park and take the train to London. But what the parking companies are doing is just plain wrong. Someone needs to stand up to them."
Register for free to continue reading
Registration is a free and easy way to support our truly independent journalism
By registering, you will also enjoy limited access to Premium articles, exclusive newsletters, commenting, and virtual events with our leading journalists
Already have an account? sign in
Join our new commenting forum
Join thought-provoking conversations, follow other Independent readers and see their replies