Church facing new battle over attitude to LGBT members ahead of General Synod
Retired bishops accuse Church of England of 'managing' response to gay relationships
Caroline Mortimer
Sunday 12 February 2017 16:47 Comments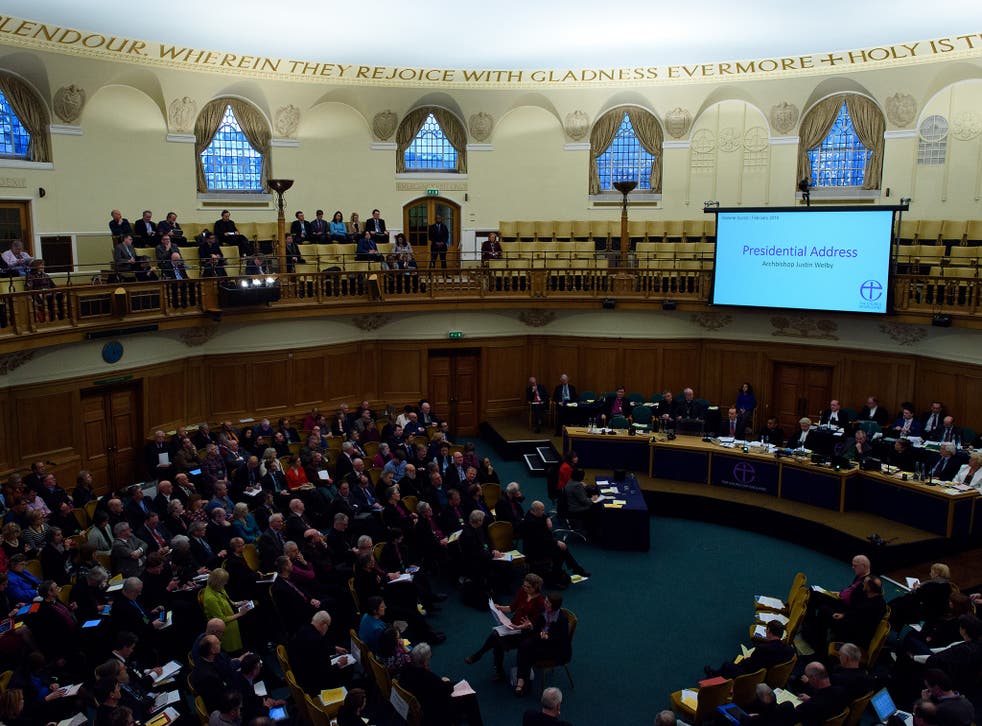 The Church of England is facing a fresh crisis over the issue of equal marriage after a group of retired bishops accused it of marginalising LGBT members.
In an open letter published online, 14 leading retired bishops wrote that a recent report on same-sex marriage failed to include the "authentic voice" of the LGBT community and was instead focused on talking about them rather than to them.
It said the report read as though bishops saw "their task as managing rather than perhaps enabling or leading" on the issue.
The report, written by serving bishops, upholds the traditional teaching that marriage is between a man and a woman.
Currently church doctrine says that LGBT clergy members must be celibate and are forbidden from conducting same-sex marriage ceremonies.
In contrast, the Church of Scotland voted to allow members of the clergy to marry their same sex partners earlier this year, even if it did not overhaul its stance on marriage as between a man and a woman.
The bishops wrote: "Our perception is that, while the pain of LGBT people is spoken about in your report, we do not hear its authentic voice.
"Our experience would lead us to doubt whether there was an expectation around that canons and doctrinal statements would be changed within any reasonable timescale, and that focus seems to have taken far more time than it would have done if the authentic voices of lesbian and gay people had been allowed to express the major focus of their hopes."
UK news in pictures

Show all 50
They suggested that the focus on changing canonical law regarding same-sex marriage, rather than focusing on changing the tone and culture surrounding the issue, demonstrated a lack of conviction.
"The tone and culture of your document are incredibly familiar – we've been there and talked in that tone of voice, and it prevents calls for a change of culture, of course offered in complete sincerity by you, from ringing true", they said.
The intervention comes as the Church prepares for its five-day General Synod in London starting on Monday. Officials hope the 500-plus members of its general assembly will accept the report's findings.
Unusually, it will not make a formal request for the synod to accept the report's conclusion but merely to "take note" of it.
The three sections of the synod - the bishops, the clergy and the laity – will also be asked individually to "take note" of it, and if just one section rejects it the motion will fail.
Campaigners have warned that there is a movement within the synod as many, particularly in the clergy, are in favour of being more accepting towards LGBT members.
One of the signatories to the letter, the former Bishop of Worcester Revd Dr Peter Selby, told The Observer: "There will be some [serving bishops] who think 'why don't these dinosaurs shut up, it's none of their business'. But I hope there will also be some who are glad we have put this on the record."
Register for free to continue reading
Registration is a free and easy way to support our truly independent journalism
By registering, you will also enjoy limited access to Premium articles, exclusive newsletters, commenting, and virtual events with our leading journalists
Already have an account? sign in
Join our new commenting forum
Join thought-provoking conversations, follow other Independent readers and see their replies