Church of England calls on Goverment to ban 'gay cure therapies'
'It is imperative that the Church is unequivocal in its condemnation of such harmful practices'
Rachel Roberts
Monday 10 July 2017 18:54 Comments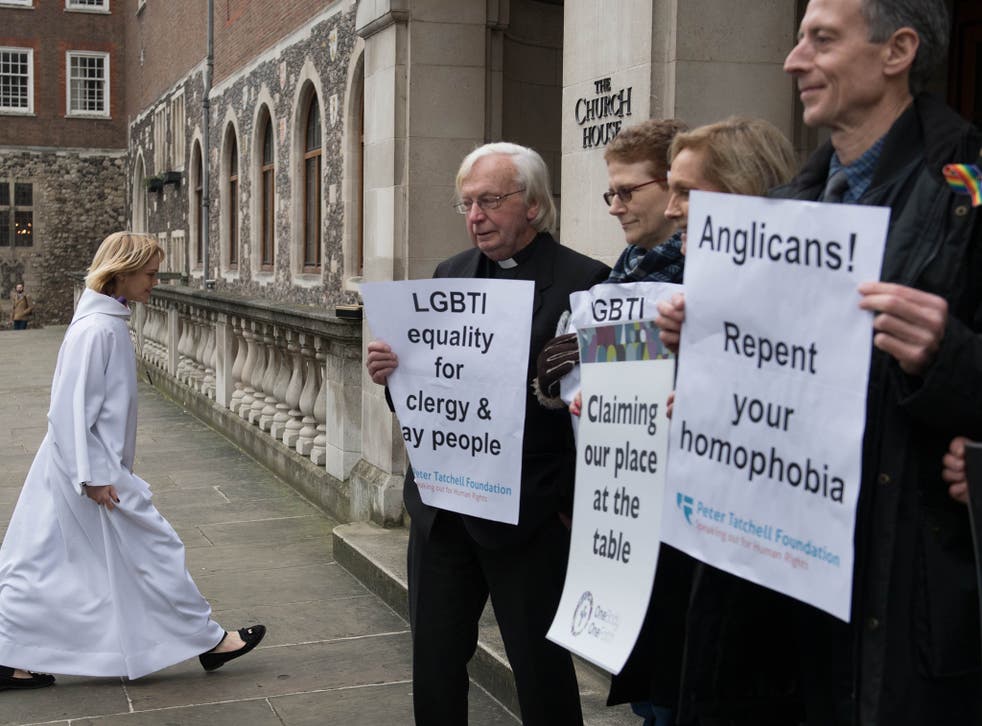 The Church of England has called on the Government to officially ban "gay cure therapy", which sees homosexuality as a fixable "condition".
During a private member's motion (PMM), the General Synod overwhelmingly backed a motion calling for the practice to be outlawed.
The "therapies" can involve a variety of techniques including nausea aversion therapy and even electric shock treatment.
Those who carry out the "treatment" are not usually medically qualified, and most professionals consider the therapies harmful.
They are available privately and although they are not officially available on the NHS, campaigners claim there are instances where people seeking counselling are being referred on the NHS to those who practice conversion therapy.
"Given that many practitioners are non-medically trained religious leaders, it is imperative that the Church of England is unequivocal in its condemnation of such harmful practices," it said in a statement.
Jayne Ozanne, an LGBT campaigner who underwent the "therapy" herself, presented the motion.
She said: "I call it abuse. I believe it is spiritual abuse. It (sexual orientation) is a very delicate area that only true professionals should be dealing with. And they won't try to change people's sexual orientation, they will help them try to deal with it.
"What people don't understand is that you can enter this sort of practice willingly because you think it is the right thing to do because you have been told it is what God wants. It is only years late that the impact becomes apparent."
Gay marriage is one of worst threats in 500 years, says Church of England

Show all 6
Leading figures in the Church of England are backing the motion, including the Archbishop of York, Dr John Sentamu and the Bishop of Liverpool, Paul Bayes, who said: "As the world listens to us, the world nears to hear us say that LGBT orientation and identity is not a crime… it is not a sickness, And LGBT orientation and identity is not a sin.
He added: "We must distinguish between an ascetic and a therapeutic approach."
The UK should be leading the world in the fight to ban gay conversion therapy, he said.
The motion was signed by the Royal College of GPs as well as the UK Council for Psychotherapy, and the Church of England has now officially endorsed it."
But the organisation Christian Concern condemned the motion for being brought "on a purely emotional basis."
Its chief executive Andrea Williams said: "Firstly, the talk of 'gay conversion therapy' is highly loaded and provocative. There are very many Christian counsellors and spiritual directors, as well as vicars and lay pastoral workers, who meet regularly with Christians with same-sex attraction. They do so because the person has come to them, and because they want to explore their sexual desires within the framework of the Bible and Christian discipleship."
The former family law barrister added that she believed the evidence presented by Ms Ozanne, which claimed that many people who undergo such forms of therapy go on to attempt suicide, was flawed.
Mz Ozanne told the Synod that her conversion therapy had resulted in two breakdowns and two spells in hospital.
The final vote, after a series of amendments, was 298 to 74 in favour of the Church supporting the motion.
Conservative MP Mike Freer, who is gay and regularly speaks out on gay rights, led a debate in Westminster Hall in 2015 calling for the practice to be banned in the UK, but no further action has been taken by the Government.
33,000 people signed a petition calling on the Government to ban the practice this May, but 100,000 signatures are usually required before a petition is considered for debate in the main chamber.
The Department of Health claimed it had "already taken the necessary steps to prevent the practice of gay conversion therapy in the UK."
Register for free to continue reading
Registration is a free and easy way to support our truly independent journalism
By registering, you will also enjoy limited access to Premium articles, exclusive newsletters, commenting, and virtual events with our leading journalists
Already have an account? sign in
Join our new commenting forum
Join thought-provoking conversations, follow other Independent readers and see their replies