Comic Relief 2015: Sir Elton John shaves Evgeny Lebedev's entire face for charity
Beard, eyebrows, the lot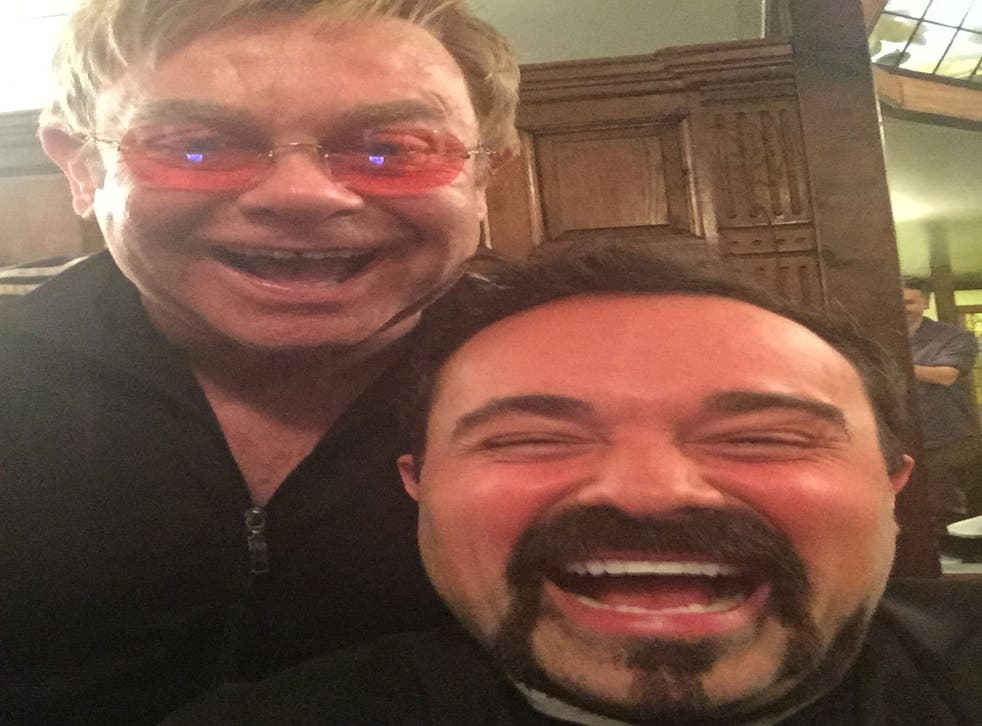 Whatever you do for Comic Relief this year, it probably won't be as outlandish as shaving your entire face – two days before a meeting with the Prince of Wales.
But that was the challenge set by Sir Elton John to the owner of The Independent, Evgeny Lebedev, at an Oscars after-party on Sunday night.
And the Russian businessman showed he was more than game.
The incident was captured on video:
It was captured on camera as well, where you can see the neatly coiffured beard getting smaller…
And smaller…
And smaller
And as for the small matter of how to explain the new look to Prince Charles during his visit to the offices of The Independent, Mr Lebedev had to don prosthetic eyebrows for the day.
Sir Elton said of the challenge: "It is the most amazing cause. I thought it would be great to shave the beard off my good friend Evgeny Lebedev. He's had this beard for so long, it's so boring and I've forgotten what he looks like underneath it."
The film was made by writer and director Ol Parker - perhaps better known for The Best Exotic Marigold Hotel - at Sir Elton's studio in Los Angeles and begins with the opening dialogue: "We are going to de-nude Mr Lebedev of his facial monstrosity."
The star then takes his friend through a series of hipster-style 'looks', before Evgeny is revealed in his clean-shaven glory.
Mr Lebedev said: "In all the years that I've known him, Elton John's commitment to charity has been second to none. I knew he'd be up for it. What I didn't know is that he'd shave my eyebrows off as well. That wasn't in the script. Who said Elton's wild days were behind him?
"Before I knew it, the eyebrows had come off - and Elton's gags streamed in. 'They used to call you Two Beards, now they'll call you No Brows', he said. 'From the Highbrow Proprietor to the Eyebrow Proprietor'. 'You look like an alien, maybe should get a spaceship home. Anybody got a number for UFO Airlines?'"
Red Nose Day is on 13 March.
Anyone who similarly wishes to de-nude themselves will find all the help they need at rednoseday.com.
The pictures above - and more - were all captured in a series of selfies. Text FUNNY to 70703 to donate £1 and upload them for a chance to appear in the Red Nose Day campaign. #RNDface
Join our new commenting forum
Join thought-provoking conversations, follow other Independent readers and see their replies