Britain's Backbone
'What if I kill someone at a funeral?' Undertakers struggle to cope with coronavirus death toll and shortage of PPE
Those who work with death on a daily basis are considering their own mortality more than ever before due to a lack of protection and clear guidance, writes Mark Critchley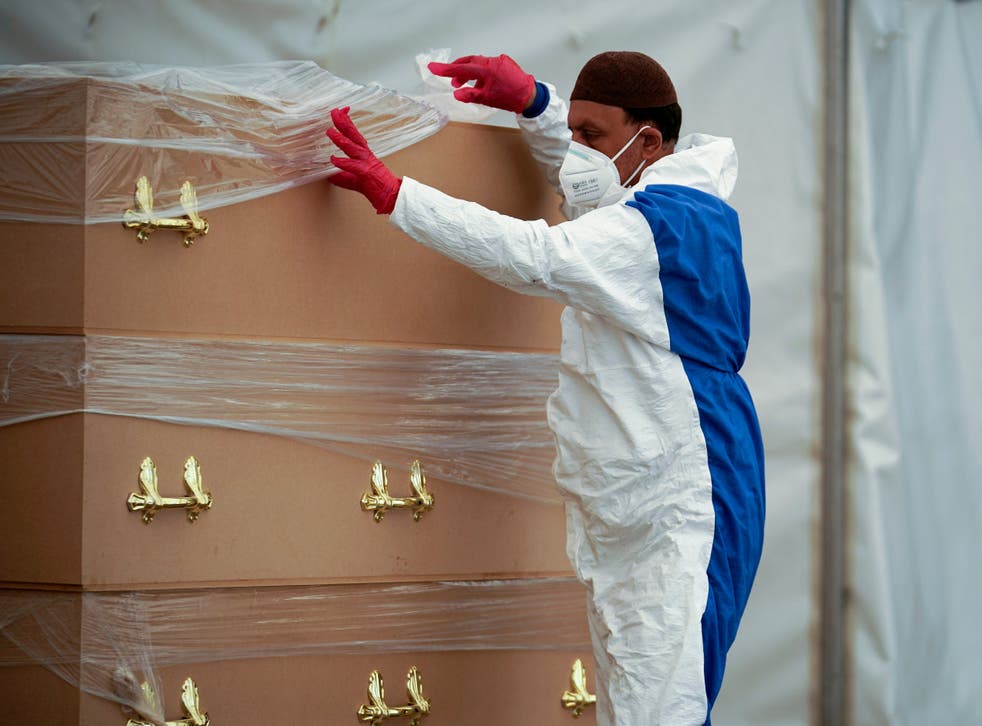 Funeral director Lucy Coulbert arrives at the office by 6.30 each morning and, if she's lucky, manages to leave by 10.30 at night. With the coronavirus death toll rising exponentially, her Oxford-based firm, The Individual Funeral Company, is twice as busy as usual – and there's no end in sight. "In the last three weeks my shortest working day is 16 hours," she says. "I'll be honest, I am absolutely exhausted."
Over those 16 hours, Coulbert breaks the news to bereaved relatives that they cannot attend the funerals of loved ones, many of whom have died from coronavirus. She organises and attends the services herself; one of the few people there to see the recently departed to their final resting place. And she worries about the safety of her and her employees as they move bodies from homes and hospitals, coming into contact with victims of the pandemic that has swept the globe. In a career of working with death, she is now considering her own mortality more than ever before. "I've made a will at 38 years old," she says. "That's not normal."
As with many frontline workers, a lack of personal protective equipment (PPE) and confusion over what is required is one of the most familiar complaints. The government's advice says there is a small but continuing risk of infection to those handling the bodies of the deceased who were infected by Covid-19. Until the end of March, it was recommended that funeral directors wear full PPE while working with the dead.
Public Health England then released updated, industry-specific guidelines that said gowns and respirators were not necessary. "I'm on a lot of different forums with funeral directors," says Jo Williamson, owner of Albany Funerals in Maidstone, Kent. "We were puzzled, thinking what has happened here?" Naturally, many of them drew a link between this change in advice and the highly publicised shortages in the NHS and elsewhere.
In a statement to The Independent, Public Health England said their initial advice was based on previous coronavirus outbreaks of Sars and Mers. The change of guidance was based on an "improved global understanding of Covid-19 and the safe systems of working in mortuary practice", and their current advice is aligned with that of the World Health Organisation. Nevertheless, many funeral directors would rather be safe than sorry.
"We decided as a company that we would treat the initial advice we were given as what we would use," Williamson says. "We're in full PPE handling bodies." Coulbert is doing the same. Thankfully, both were well prepared and ordered stocks of PPE months ago. But new supplies are scarce. What is available to buy is highly expensive, and that means others are struggling to protect themselves and their employees.
"There are funeral directors who've got nothing," says Coulbert. "I've seen funeral director staff arrive at hospital mortuaries without a mask and without a gown, and those are the two most basic things we need. It is frightening. It's whatever you can get.
"We're in and out of people's homes, in and out of care homes, in and out of hospitals. We can't avoid that contact. If we don't have the right PPE, we are probably one of the very few professions actually spreading it around our local area.
"One of the biggest concerns that I have is what if I have it? What if I'm a carrier and I go to a funeral service and there's 10 people there and I'm not wearing a mask and I give it to those 10 people. What if I kill somebody at a funeral service? That is a genuine concern that I have."
Some standard, everyday equipment is also in short supply. Body bags are not deemed necessary to prevent infection from the deceased but are nevertheless "absolutely impossible" to find, says Coulbert, who was passed a document issued by local police that advised on how to wrap a deceased's body in plastic.
David Holmes, of Holmes Funerals based in southeast England, is among those struggling for equipment. "We feel we are at great risk, yet have a duty to do the best we can," he says. "Our usual suppliers have no PPE. We do have gloves and paper masks, and as of last week, the police supplied a roll of thin plastic aprons. That's it.
"Like health professionals, we feel let down. A pandemic was predicted, so where are the stocks of vital equipment? What happened to the emergency planning that we know goes on year after year? Who is responsible for the failures?"
There is also more general frustration with the government's failure to set out clear rules on funeral services themselves. The number of mourners at any given ceremony should be "as low as possible", according to official advice, while only members of the deceased's household, close family and close friends are permitted to attend.
The latest guidance says all mourners who are not displaying symptoms of Covid-19 should be facilitated to attend services if they wish to do so, even if they are part of an at-risk group, despite the clear risk of infection.
"It means that it's all a little bit up to us," says Williamson, who is holding burial services where a limited number of guests can respect social distancing guidelines but is only offering cremation services first thing in the morning. "Some of the crematoriums we use are still saying up to 25 people are allowed in. There's 11 slots a day," she says. "You can't possibly clean that chapel between each time."
Informing the bereaved that they will not be able to attend their loved one's ceremony is difficult but Williamson is finding alternatives, whether it be live-streaming or driving the hearse past the family home so they can come outside and say goodbye from a distance.
"I'm trying to give people a bit of hope and say yes it's terrible it really is, we are stripped of all our tools that we use to help people, but there are other ways to help," she says. "It's not as good as maybe it could be but it's something. With every single family we've had we've managed to find one thing that makes a difference to them."
Coulbert has gone further and stopped offering attended burials as well as cremations. "Have we lost clients? Absolutely we have. Have we lost money? Absolutely. Am I doing the right thing? Without a shadow of a doubt. The decision that I've made ... even thinking about it makes me want to cry but that decision is absolutely the right one I could make." She describes the government's failure to unequivocally ban attended funerals as "one of their biggest mistakes" in their handling of this crisis.
"I know it sounds awful but we've prepared for the worst, hoped for the best and it's been even more catastrophic than I've ever imagined," she adds. "We're tired. We're so tired. It's overwhelming ... But more importantly, above and beyond all of that, we've got to make sure our clients don't ever understand any of it.
"A funeral director's job – what we're here for – is to take all of that pressure away from our client: to be really gentle with them, to really walk them through everything. But it's really difficult in the current circumstances to take all of that pressure away, because we don't know what's going to happen."
Register for free to continue reading
Registration is a free and easy way to support our truly independent journalism
By registering, you will also enjoy limited access to Premium articles, exclusive newsletters, commenting, and virtual events with our leading journalists
Already have an account? sign in
Register for free to continue reading
Registration is a free and easy way to support our truly independent journalism
By registering, you will also enjoy limited access to Premium articles, exclusive newsletters, commenting, and virtual events with our leading journalists
Already have an account? sign in
Join our new commenting forum
Join thought-provoking conversations, follow other Independent readers and see their replies