Lawyers call for 'pause' on court cases after hundreds of staff and judges catch Covid
Concern courts 'not safe' as at least 600 cases confirmed among staff, judges, lawyers and other users since 24 November
Lizzie Dearden
Home Affairs Correspondent
Friday 15 January 2021 17:43 Comments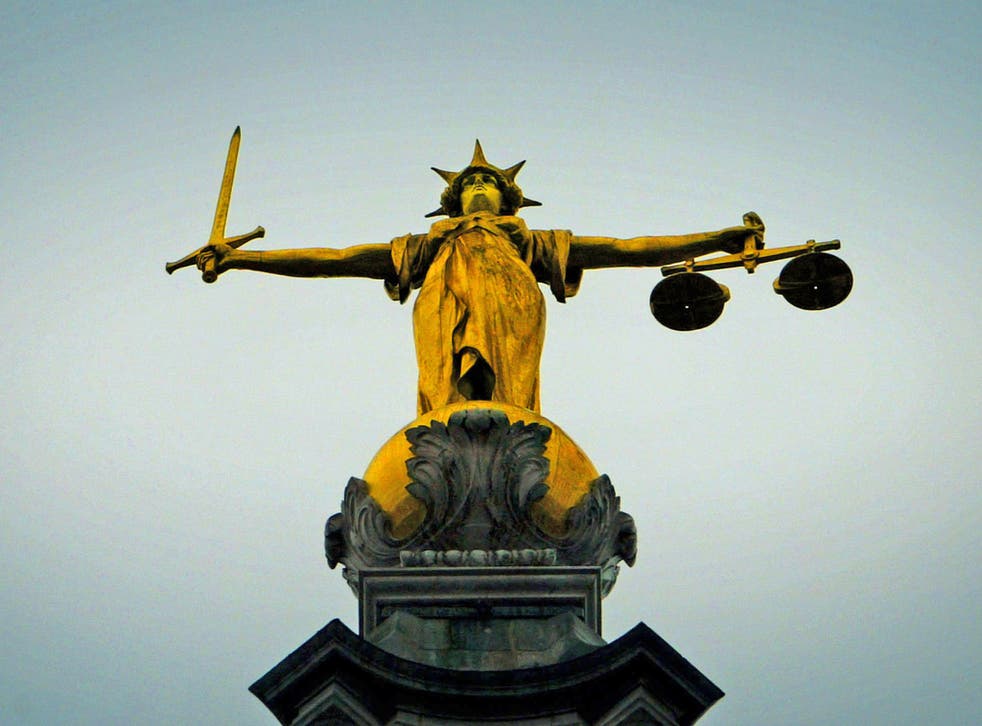 Almost all legal hearings must be stopped because of safety fears, a law association has urged as figures show at least 600 court users have caught coronavirus in recent weeks.
Figures released by the Ministry of Justice show that 434 court staff, 69 judges and magistrates, 23 jurors and 73 other court users tested positive for Covid-19 between 24 November and Monday.
The true number is feared to be higher, as there is no official requirement for defendants, witnesses, journalists, members of the public and other people who visit courts to report a subsequent coronavirus diagnosis, and not everyone may have been tested.
A total of 196 courts reported confirmed cases in the period, with the worst - Oxford Combined Court - on 20, followed by the London Central Family Court (16), Medway County Court (13), Port Talbot (11) and the Old Bailey on 10.
In response to a question from Alex Cunningham, Labour's shadow courts minister, the government said "swift and robust action" was taken for each positive case.
Chris Philp, the courts minister, added: "There should be no assumption that a positive case indicates that there has been transmission within a court or tribunal building.
"The positive incidence rate for HM Courts and Tribunals Service (HMCTS) staff has generally tracked the English national average during the pandemic. With the exception of a very small number of locations, our current assessment is that transmission within the estate is limited."
But legal associations warned that some lawyers feel it is no longer safe to attend court, and that more hearings must be conducted remotely to protect everyone involved.
The Law Society, which represents solicitors in England and Wales, said a letter to HMCTS on Friday calling for a two-week pause of all Crown and magistrates' work, including jury trials, except for urgent custody matters.
President David Greene said that although it was "essential for justice to continue to be delivered", safety was of the utmost importance.
"Since the third national lockdown was announced we have received a significant amount of feedback from our members expressing serious concerns about the safety of court buildings, despite assurances from HMCTS that they are Covid-secure for the new variant," he added.
"By its nature, unless remotely accessed, the court process throws people together in limited space.
"Due to the rapid acceleration of transmission and the ever-increasing pressures on the NHS, we are now in a position where urgent action within the courts must be taken."
Mr Greene said that although a pause would temporarily worsen the court backlog, rising coronavirus transmission would cause court closures and a loss of capacity as staff, lawyers, judges and parties to cases fall ill.
The Bar Council, which represents around 27,000 barristers in England and Wales, said some of its members had "taken the view that they do not consider it safe to attend court".
A message to members said it has been "seeking further information and reassurance over the course of the last fortnight, recognising that the situation is an evolving one with an increased risk of transmission everywhere".
The council said it was reviewing guidance provided by the authorities and "raising further urgent queries about this material and seeking additional information about risk management".
James Mulholland QC, chair of the Criminal Bar Association (CBA), warned safety measures were being introduced too slowly, and do not address concerns.
He told members the association had raised the issue of testing with HMCTS before Christmas, and had been told a limited pilot scheme for lateral flow testing for court users was being developed.
UK news in pictures

Show all 50
Mr Mulholland said the CBA has been told that a case has been made to Matt Hancock for critical justice workers to be prioritised for the next phase of the vaccine rollout, but there were no guarantees.
"If it is deemed essential that such a public service continues to operate, a fundamental condition of so doing must be a prioritisation as to vaccination," he added.
Courts are not among the "relevant places" where people are legally required to wear face coverings, and the use of face coverings has been inconsistent and enforced largely at the discretion of presiding judges.
In a message on 5 January, the Lord Chief Justice, Lord Burnett of Maldon, said that courts and tribunals "must continue to function" as a backlog of outstanding cases mounts.
"All those attending court must abide by guidance concerning social distancing, hand washing, wearing masks etc," he added. "Judges and magistrates will have a role in making sure this happens."
Lord Burnett said the increased rates of Covid transmission meant that footfall must be kept to a minimum, and that "no participant in legal proceedings should be required by a judge or magistrate to attend court unless it is necessary in the interests of justice".
But earlier this week, Richard Miller, head of justice at the Law Society, told MPs there have been some instances of judges taking "patently unreasonable decisions" requiring in-person hearings.
"There are many courts where sensible decisions are being taken but there are some where very minor and administrative hearings are being listed for in-person hearings," he told the Justice Committee.
"[Some] judges are refusing requests to have these cases held by video link, including where the advocate has said the reason why they are asking is because they are vulnerable and don't want to risk exposure."
HMCTS said a two-week pause would require huge administrative effort to vacate and reprioritise trials, and that reported coronavirus infections were starting to plateau.
It insisted that public health guidance was being folowed,and that staff and independent inspectors regularly check buildings to risk assessments are adhered to.
A HMCTS spokesperson said: "We are in a much stronger position to manage the risks posed by the virus compared to last spring having invested £110m in safety measures.
"In recognition of the understandable anxieties of those who must attend court, we have worked closely with public health experts who are clear that our buildings are Covid-secure and set up to deal with the new strain of the virus.
"Nonetheless we have increased use of remote technology to reduce the number of people who must attend court and minimise risk further."
Register for free to continue reading
Registration is a free and easy way to support our truly independent journalism
By registering, you will also enjoy limited access to Premium articles, exclusive newsletters, commenting, and virtual events with our leading journalists
Already have an account? sign in
Join our new commenting forum
Join thought-provoking conversations, follow other Independent readers and see their replies