Don't call it a 'strike': Barristers withdraw labour and courts including Old Bailey fall silent for the first time in centuries over legal aid cuts
They feel misrepresented as 'fat cats' and are alarmed by cuts in the legal aid budget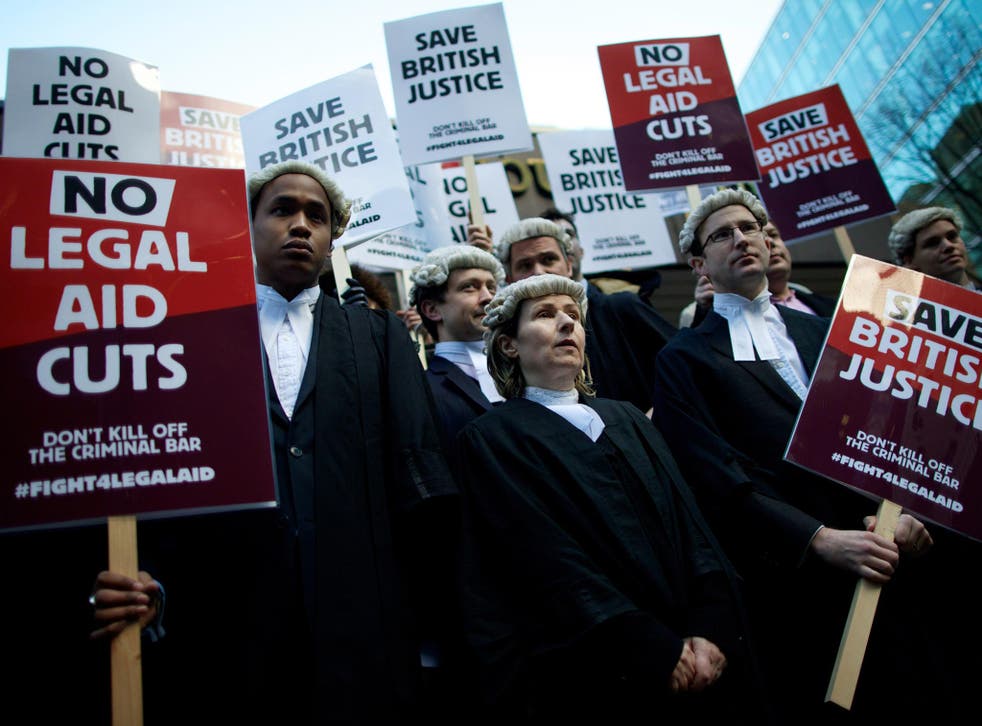 There were no shop stewards in donkey jackets or flying pickets. That icon of British union-led disputes, the brasier, was absent from the action. There were orders that no one should indulge in economic vulgarity and call it "a strike". Nevertheless, for the first time in a history that stretches back to the 14th century, criminal barristers in England and Wales suspended production, withdrew their labour, and for half a day the criminal courts, including the Old Bailey, fell silent.
All strikes have hate-figures. For the miners in 1984 it was Margaret Thatcher. For today's barristers, the proposed cuts to legal aid fees ordered by the Justice Secretary, Chris Grayling, have become the equivalent of pit closures.
Charles Evans, from New Bridge Street chambers, standing in the cold and appearing for himself, said: "It's funny that this dispute has coincided with the news that Mrs Thatcher lied about the way she dealt with the miners. A lie brought down that industry - and it is lies now that will bring down the criminal bar."
Evans was outside the Central Criminal Court. There were similar scenes outside crown and magistrates courts across the country. Barristers in gowns and wigs, stood in the territory normally reserved for press photographers trying to snatch a picture of show trial defendants. It looked like an elaborate fire-drill had evacuated hallowed halls of justice.
The Justice Secretary intends to remove £220m a year from the criminal legal aid budget. Barristers believe they are being deliberately misrepresented as "fat cat" lawyers, milking the public purse. Gareth Hughes from 2 Pump Court, said that Grayling's claim of criminal barristers taking home an average of £100K a year was "simply not true" and that the Ministry of Justice were "cynically manipulating the figures to influence public opinion".
Red and white tape lined the narrow street outside the Bailey. It looked like the police were expecting trouble. Were horses and baton-wielding officers waiting round the corner? No. The tape was simply an aid for lorries delivering to a neighbouring building site.
Ben Hayhurst, also from 2 Pump Court, said Grayling "just wants to make a name for himself." Others outside the Bailey were clear on what that name could be - Thatcher was called the same thing by the NUM leader, Arthur Scargill.
Evans, who claimed every barrister was uncomfortable at the action they were taking, said the criminal justice system was "already close to collapse". He forecast an end to the independence of criminal barristers, where four or five corporate firms would dominate the industry, and where young and inexperienced barristers would have divided loyalties between their firms shareholders and their clients.
Hayhurst, a barrister for just over 10 years, said he was being forced to turn away criminal work. "I can't afford it. The fees won't pay my mortgage."
There was unanimous dismissal of Grayling's £100,000 average pay as "nonsense". More like £37,000 most said. And there was anger. Did the public want to see cases rushed? Did they want someone cheap, just out of law school prosecuting terrorists? Did people know miscarriages of justice would soar?
If this was indeed a strike, it was the probably the most well-argued and eloquent dispute in English labour history. And no one needed a lawyer to plead their case.
Many said the evidence was stacked against Grayling. One said "This isn't the criminal bar taking a cut like everyone else in the public sector. We've been cut since the late 1990s - fees are already down some 40 percent of the rates charged in the late nineties.
Bartholomew O'Toole, from 5 Kings Bench Walk, said the attraction of becoming a barrister was going. "2000 apply for law school, 700 become pupils in a chamber. 400 get tenancies [permanent jobs]. Then they find the money is just not there. In five years the criminal bar will be gone, unrecognisable."
Sarah Forshaw QC, the head of chambers at 5 KBW, also head of the South East circuit, covering courts from Norwich to Sussex, including London, said "Grayling has no legal experience. That shouldn't matter if he listens - but he doesn't. We've told him where he can find the savings he needs without removing specialist advocates, but he won't listen."
Inside the Bailey, where normally there would have been the busy legal traffic of counsel, court officers and the accompanying flow of what one official called "the good, the bad and the ugly side of the law", there was instead only large silent empty halls.
But on floor 2, waiting for his client, James Cartwright, called to the bar in 1968, summed up his side's case. "If you are going to live by the rule of law, then you need good lawyers. This cannot happen if you pay them silly money."
Join our new commenting forum
Join thought-provoking conversations, follow other Independent readers and see their replies