Huge majority of Britons prefer Scotland's tougher quarantine rules to England's measures
Survey shows why UK government must 'rethink its approach', claims SNP
Adam Forrest
Thursday 18 February 2021 11:39 Comments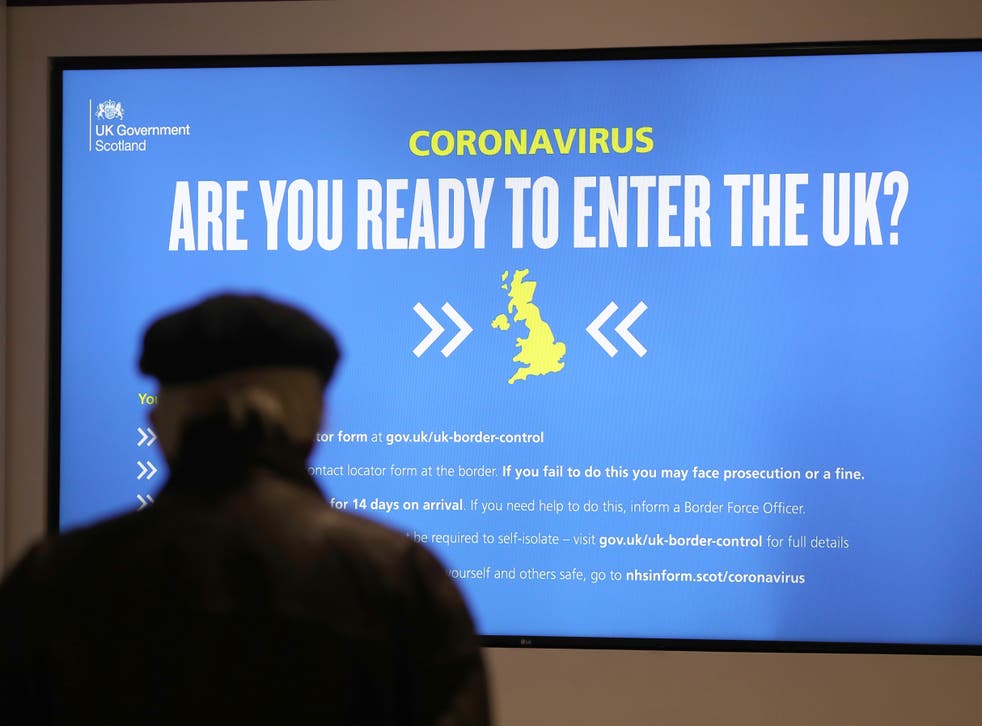 Almost three in four people across the UK prefer the Scottish government rules for hotel quarantine to the less strict approach taken for arrivals in England.
A YouGov poll found 72 per cent of people preferred the policy by Nicola Sturgeon's government, demanding all travellers arriving from abroad remains in a hotel for 10 days.
Only 18 per cent of respondents said they prefer the measures taken by Boris Johnson's government, which only requires those coming from a "red list" of countries with a high level of Covid cases to quarantine.
The UK and Scottish governments are currently locked in discussions on travel rules, with Ms Sturgeon seeking to persuade ministers at Westminster to adopt a simplified, one-nation approach.
The poll has promoted SNP has renewed its calls for Mr Johnson to "follow the lead" taken by the first minister.
"It's clear that the public back these limitations on international travel and managed quarantine rules," said Kirsten Oswald MP, the SNP's deputy leader at Westminster.
"Even at this late stage, the UK government must rethink its approach and strengthen measures for those arriving into the country. At the very least it must work with the Scottish government to ensure that the rules in place ... are respected and implemented."
Both governments have received flak for the implementation of the quarantine scheme, which came into force on Monday.
A loophole allowed some of first people asked to stay in "managed isolation" in Scotland – arriving from other parts of the UK and Ireland's Common Travel Area – to be sent home. It emerged that Scotland's strict quarantine will apply only to direct international arrivals.
Travel industry chiefs in Scotland expressed despair that the rules will effectively incentivise travellers to route themselves via England or Ireland. Scottish Labour said the situation was "farcical".
Ms Sturgeon, meanwhile, said she wanted UK ministers "to work with us" so that people who are destined for Scotland via English airports are made to quarantine close to the point of arrival.
On Tuesday health secretary Matt Hancock said he was "happy to have conversations" with the Scottish government about offering quarantine facilities for people travelling on to Scotland.
Register for free to continue reading
Registration is a free and easy way to support our truly independent journalism
By registering, you will also enjoy limited access to Premium articles, exclusive newsletters, commenting, and virtual events with our leading journalists
Already have an account? sign in
Join our new commenting forum
Join thought-provoking conversations, follow other Independent readers and see their replies