Crickhowell: 'Offshore' Welsh town unites in its anger at Britain's corporate tax avoiders
Almost overnight, this small community of around 2,800 people has become the focus of international attention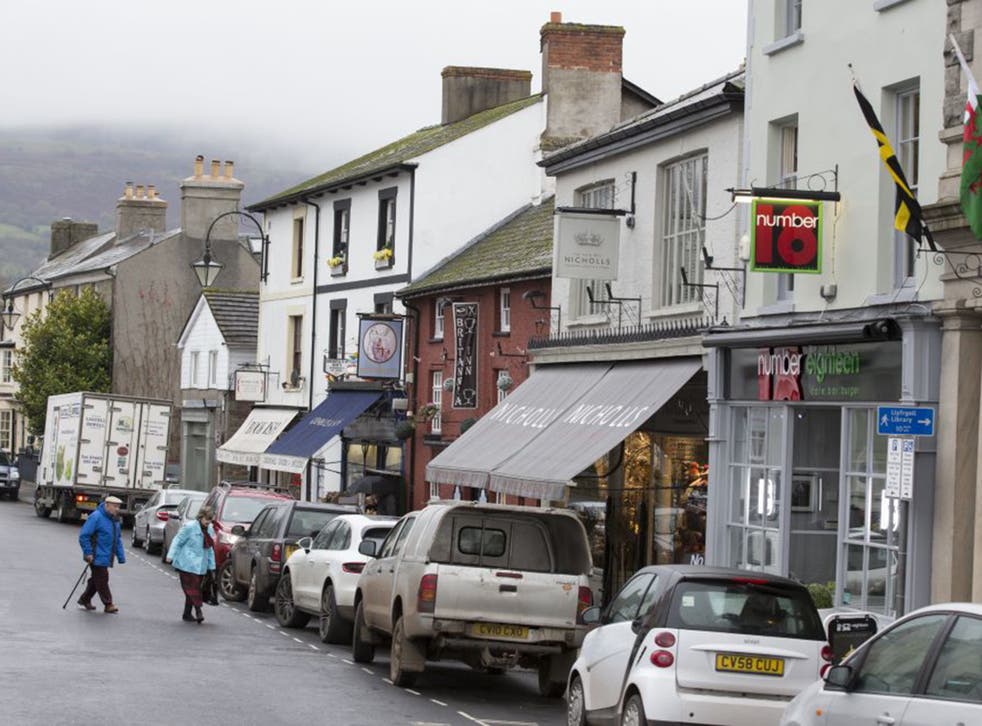 Where there once was Amazon, there is now the Book-ish Bookshop; where there were Caffe Nero and Starbucks, there is now the Number Eighteen Café and Latte Da. Corporate tax avoiders of Britain beware: the people of Crickhowell are angry and they're not going to take it any more.
That, at least, was the message on the busy shopping street of the picturesque Welsh market town when The Independent visited. Almost overnight, this small community of around 2,800 people has become the focus of international attention for its attempt to become the UK's first "offshore" town – a feat it hopes to accomplish by copying the tax avoiding tactics employed by big corporations.
The Crickhowell tax revolution started when a team of documentary makers led by television presenter Heydon Prowse came calling earlier in the summer. Having already tried towns in other parts of the UK – businesses in Newhaven and Shoreham turned down the opportunity despite the delicious potential for tax-related puns – the producers settled on the pretty Welsh town inside the Brecon Beacons National Park due to the residents' history of standing up to big retailers.
A quick walk down Crickhowell's main shopping street bears this out: Boots the chemist is the only national chain. Within a one-minute walk are two independent butcher's shops, two coffee shops, two pubs, a chocolatier, a florist, an outdoor clothing shop – not to mention Webbs, a department store which has been owned by the same family for three generations. The joke locally is that if Crickhowell gets snowed in, it doesn't matter because they have everything they need anyway.
Only this week, the community clubbed together to buy the Corn Exchange pub from Punch Taverns for £500,000 to prevent it becoming a Co-Op. Nearly 200 residents bought shares priced between £500 and £30,000 to ensure that the property stayed independent. It is evidence that Crickhowell is not afraid to puts its money where its mouth is.
"Facebook pay less tax that Lorraine does through her PAYE," says Sam Devoss, gesturing towards the waitress working behind the counter at the Number 18 Café which she owns with her husband Steve Lewis. "That's just not fair, it makes you really angry. If we had a Starbucks opposite, we couldn't possibly compete with them, because we pay every penny that we owe."
That may not be the case for much longer. Number 18 is one of the four businesses in Crickhowell to have played a key role in the creation of the town's own tax avoidance scheme, which they researched by travelling to Amsterdam and the Isle of Man, where some big companies base themselves for tax purposes.
The other three participants are the local optometrists, outdoor shop Crickhowell Adventure and the Black Mountains Smokery. The owners' outrage at discovering the truth behind the big firms' tax arrangements will be shown in The Town That Went Offshore, a documentary made by Renegade Pictures for BBC Two which is due to air next year.
Filming is still continuing and many of the businesses have not yet decided whether they will actually make use of their tax avoidance scheme, which is currently being examined by HMRC to ensure its legality. "It might be legal, and everyone might be doing it, but is it the right way to go?" mused Irena Kovaleva, the owner of the optometrists, who moved to the UK from Russia 15 years ago and speaks passionately about the British sense of "fairness".
5 tax avoiding companies in the UK

Show all 5
She added: "Most normal people get up, go to work, read the paper and think: 'No tax to pay' – and then go back to do whatever job you need to do. You don't have time to stop. Maybe if this is in every paper and on television people will stop and think: 'Actually this isn't fair' and go to places like Number Eighteen rather than Starbucks."
The project had the support of every shop owner The Independent called on, from Debbie Davies in Petals Florist to Lee Naylor of F.E Richards butcher's and Charlene Ireland of the Pavlova ice-cream parlour. Many said they hoped the publicity around the documentary will force the Government to make the tax system fairer. This is a town where Starbucks is a dirty word: Greg and Lyn Bevan-Jones, the proprietors of local cafe Latte Da, say there is much disquiet over the forthcoming installation of a small self-service machine bearing the US coffee giant's branding in a nearby garage.
"The whole point of it really it to highlight unfairness and get some kind of level playing field," says Emma Cawfield-Walters, the owner of Book-ish Bookshop. "It's a threat more than anything else, a threat that we hope not to have to follow through on. Why does it have to be one rule for me and my little bookshop, and another rule for Amazon who are my main competitor?"
The Crickhowell revolution is already showing signs of spreading. Other towns across the UK have expressed an interesting in creating their own copycat tax avoidance schemes after Ms Cawfield-Walters gained the support of Totally Locally, which campaigns for local investment and counts just under 100 towns as members.
"Crickhowell as a town pays more corporation tax than quite a lot of the major corporations, so if you're looking at 98 towns that's a huge chunk of money, and then we've got something really viable," she says. "We've had an amazing reaction on Facebook as well: 'Can Reading do this? Can Bournemouth do this? Can we be in on this?'"
The project is already leaving a physical impression, as many shops in Crickhowell have pasted stickers to their windows declaring themselves part of a "Fair Tax Town". The slogan for this new movement, which is launching today and can be adopted by other like minded communities across Britain, is: "Either we all pay tax or none of us do".
Natasha Cox, who is hard at work among the racks of salmon at the Black Mountains Smokery during the company's Christmas rush, said the idea of setting up a new tax avoidance scheme was admittedly "controversial" but that the principle behind it was to put pressure on the Government to change the system.
"I don't think the average Joe in the street would actually know the intricacies of how these multi-national companies are avoiding tax, and it's a really good way to raise awareness about what's going on," she added. "As firm believers in paying tax, we just want to see the big companies doing it too."
HMRC said it was cracking down on tax avoidance by making companies that shift their profits overseas in order to avoid paying tax in the UK subject to a 25 per cent "diverted profits tax", or "Google Tax".
Companies that have an annual turnover of £10m or more must tell HMRC if they think that their company structure could make them liable for the new tax, which has been structured to avoid hitting small and medium-sized businesses.
A spokesman for HMRC said: "We will take a look at the Crickhowell plan and will make sure the correct amount of tax is being paid. The Government has brought in all necessary measures, including the Google Tax, to ensure that multinationals cannot shift their profits elsewhere to avoid paying their share."
Join our new commenting forum
Join thought-provoking conversations, follow other Independent readers and see their replies