Cursed are the cheesemakers: Supermarkets accused of ripping off farmers over cheese profits
Claims that shops pay farmers less for milk while charging the same for cheese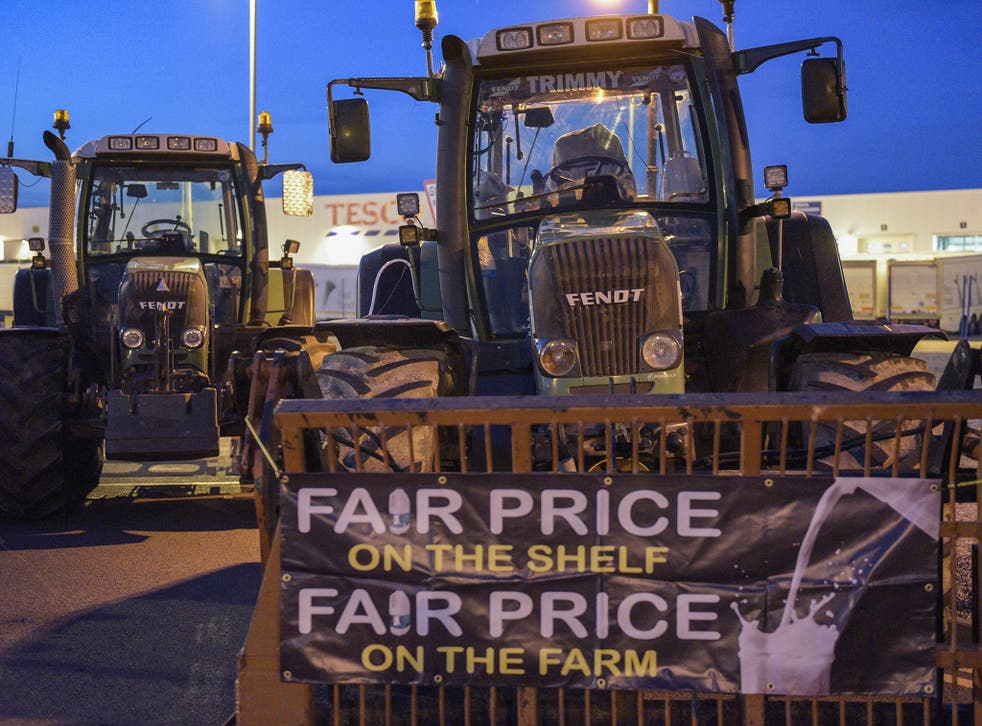 The milk war has moved into new territory after the UK's most militant farmer accused the supermarkets of inflating the profits they make on cheese at the farmers' expense.
Having already forced most of the major retailers to give them a small milk price increase this month, farmers have opened up another front in their attack by setting their sights on other dairy products – in one case, by blockading Tesco's biggest distribution centre in a protest over cheese.
The National Farmers Union (NFU) has met with Environment Secretary Liz Truss and the other major farming ministers and unions across the UK to discuss the crisis in dairy and livestock farming.
David Handley, a veteran farming campaigner, has claimed that not only have supermarkets driven down the price they pay farmers for milk by more than a quarter in the past year – they have done this while continuing to charge customers around the same price for cheese, despite the falling cost of a major ingredient.
"We tracked the cheese price for six months up until a month ago – and the cheese [profit] margin actually got bigger," he said. "At farmgate level [amount paid to farmer] the milk price was dropping in consecutive months, but the price of cheese to the consumer was rising about 1 per cent," he said.
"That's profiteering somewhere along the line. The milk price is coming down – therefore the product's going to be cheaper to produce – so why is the price to the consumer going up? Some of that margin has got to come down the supply chain to the farmers," added Mr Handley, who rose to prominence by leading the fuel blockades in 2000.
Retailers pay cheesemakers around £2,500 a tonne for mild English cheddar, but they are selling it for between £7,500 and £15,000 a tonne, he said.
Register for free to continue reading
Registration is a free and easy way to support our truly independent journalism
By registering, you will also enjoy limited access to Premium articles, exclusive newsletters, commenting, and virtual events with our leading journalists
Already have an account? sign in
Register for free to continue reading
Registration is a free and easy way to support our truly independent journalism
By registering, you will also enjoy limited access to Premium articles, exclusive newsletters, commenting, and virtual events with our leading journalists
Already have an account? sign in
Join our new commenting forum
Join thought-provoking conversations, follow other Independent readers and see their replies