Cycle death inquest: Boyfriend hugs driver of 32 tonne tipper truck that killed his girlfriend
Kenji Hirasawa said his partner Min Joo Lee and the driver of the lorry were both victims of poor road layout and transport policy
Jamie Merrill
Thursday 19 December 2013 19:24 Comments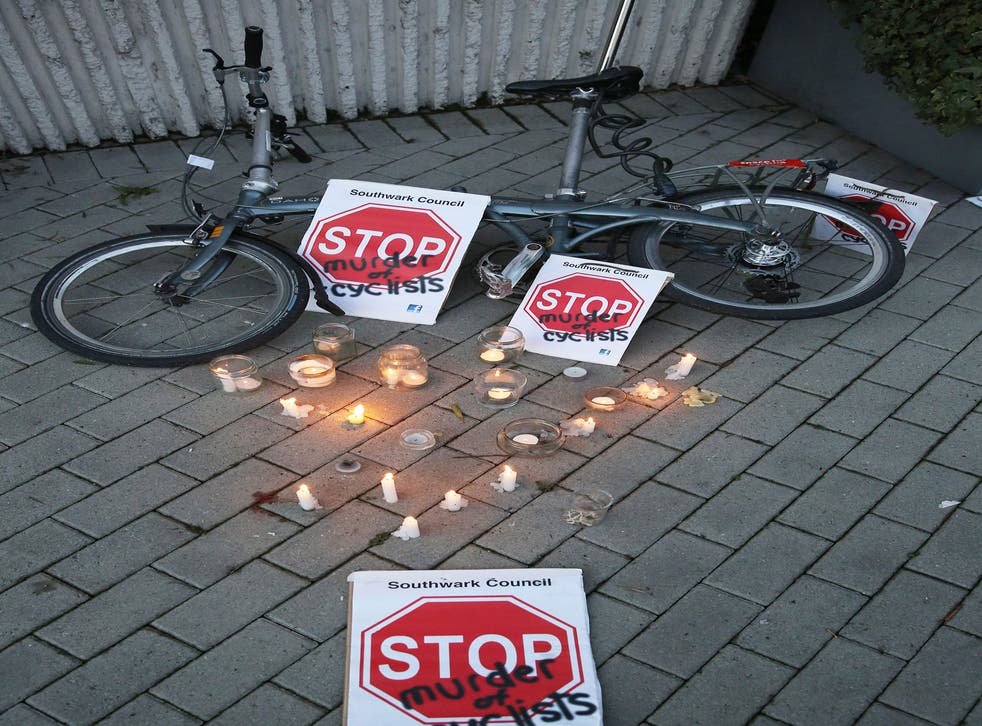 One is the boyfriend of a 24-year-old fashion student killed when she collided with a 32 tonne tipper truck; the other is the driver of the lorry. The two came together in an emotional and unlikely embrace outside of court this week after an inquest into the death of Min Joo Lee found that lorry driver Terence Gibbs could not have been expected to spot her.
Ms Lee died from severe head injuries after being struck at a junction near King's Cross in central London in October 2011. At the inquest at Poplar Coroner's Court on Tuesday her boyfriend Kenji Hirasawa, came face to face with Mr Gibbs for the first time and told the court they were both the victims of poor road layout and transport policy.
Mr Gibbs, who has been driving lorries for 48 years, said: "It hurts believe me. I can remember what happened like yesterday. I am so sorry this has happened. I wish only for a miracle to bring the life of that lady back."
He added: "I've done that route hundreds of times and I still do it now... There's no cycle lanes - there's nothing down there for cyclists. It's winding me up."
Mr Hirasawa told the court: "Transport for London (TfL) is encouraging people to cycle more - but the roads are not safe enough. The environment is not safe enough. The same accidents are going to happen. I don't think TfL are doing enough to make things better."
According to the Camden New Journal, which reported the case, he then told Mr Gibbs: "I hope you can have a nice life later."
CCTV footage shown to the court revealed how a bus and a minicab had stopped in the green "advanced stopped zone" box reserved for cyclists to give them a head-start at the traffic lights, while a report by the Met Police's road accident investigation unit found that Mr Gibbs could not have expected to see Ms Lee because she was so close to the front of the lorry at the lights.
The footage shows Ms Lee, who was from Korea and studying in the UK, pushing off while restricted by heavy traffic before the tipper truck hit her and she died of the "highest possible level of head injuries".
In a previous interview with the Camden New Journal Mr Hirasawa who is from Japan, said the couple were profoundly in love. He added that he has organised a white "ghost bike" which is still visible at the scene of the accident.
A verdict of death by road traffic collision was recorded by the coroner Mary Hassell, who said that Mr Gibbs could not reasonably have been expected to have spotted Ms Lee.
She said: "It is in some ways unsurprising that the collision took place because this was such a busy junction. Ultimately, cyclists and trucks don't mix. The best possible way of having to avoid collision is to separate them."
Register for free to continue reading
Registration is a free and easy way to support our truly independent journalism
By registering, you will also enjoy limited access to Premium articles, exclusive newsletters, commenting, and virtual events with our leading journalists
Already have an account? sign in
Join our new commenting forum
Join thought-provoking conversations, follow other Independent readers and see their replies