Cyclists hit out at depiction of the war on Britain's roads in BBC documentary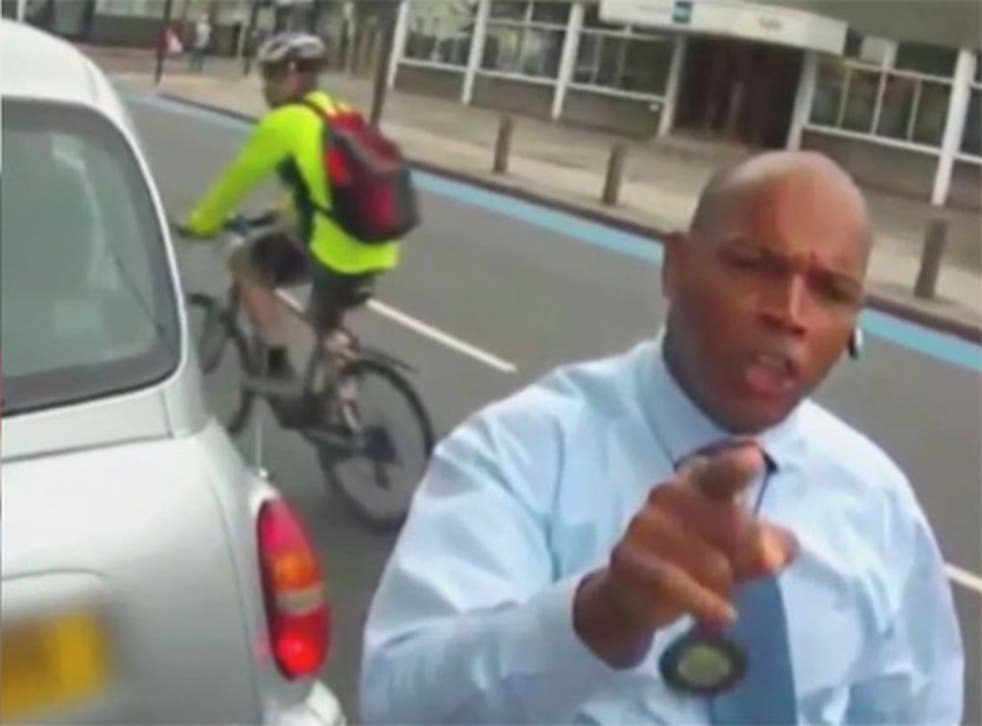 A prime-time documentary that promises to deal with cycle safety couldn't come at a better time. Weeks after Bradley Wiggins' bruising encounter with a van, the number of cyclist deaths in Britain this year hovers at a record 112.
It also comes as the perception of conflict on our roads threatens an Olympic gold-plated bike boom of the sort not seen for generations.
But cyclists and drivers have accused the BBC of presenting a woefully distorted picture.
I believe The War on Britain's Roads, which is broadcast on BBC One on Wednesday night, does more in 60 minutes to terrify would-be cyclists and knock a safety campaign off-course than a lorry load of angry road users could in a month of rush hours.
The documentary, made by Leopard Films (better known for Cash in the Attic), is at best provocative in a way that might lead to more useful debate.
It's compelling, too. I've seen it and was shocked by some of the encounters it shows, and moved by the accounts of participants whose relatives had been killed.
At its worst, however, the film is sensationalist and dangerous. The footage it presents as everyday depicts Britain's roads as an unremitting war zone. Furious drivers throw punches, angry cyclists bang on windows, people die. It's a wonder, after years and thousands of miles of cycling and driving, that I still have four limbs.
The clips comes from YouTube, where cyclists with helmet cameras post footage to shame errant drivers. In the film, incidents are interspersed with interviews in which many participants on both sides of the windscreen express regret.
Any attempt to encourage more considerate road use is to be encouraged, but where was the balance, the voice of reason, the statistics behind the horror? Any would-be rider will leave the film thinking cycling is a one-way street to an early grave.
Ian Austin, the Labour MP and chair of the all-party cycling group in parliament, has called the film "irresponsible nonsense," while Roger Geffen of the cyclists' group, the CTC, has accused the BBC of portraying cycling as "an activity solely for battle-hardened males with helmets and cameras". He added: "This hostile stereotyping merely scares mums, children and others back into their cars."
Chris Boardman, the former Olympic gold medal-winning track cyclist, has seen clips from the film. "Cycle safety has become very topical and that's good," he told The Independent, "but we're lacking balance. Cycling is still statistically safer than going to your own bathroom, but facts are being ignored in favour of sensationalism."
The most controversial sequence shows couriers racing through central London, putting dozens of people at risk. What the film doesn't make clear is that the footage was shot six years ago by an American filmmaker. Including it has been likened to "presenting a James Bond car chase as how average people drive to work."
Motoring groups aren't impressed either (87 per cent of members of British Cycling own a car). AA president Edmund King has likened the attitude of some drivers towards cyclists to "racial discrimination". He added: "We need to talk about each other in a civilised manner, and I don't think a programme like this really helps. It's not a war out there."
The BBC defended the film as "a serious examination of the relationship between cyclists and other road users," adding: "It set out to explore real-life stories and is not a comprehensive investigation... Raising awareness of these issues, on a primetime BBC One programme, can only be a positive thing for both cyclists and other road users."
This will only be true if everyone who sees it is also presented with cycling as a safe, convenient way to get around that would be safer still if authorities woke up to the needs of the modern road users, and if everyone, including self-appointed warriors with helmet cameras, learned to be nice. If not, the BBC has only fuelled the war.
As Boardman tweeted today: "Here's an idea, I'd like to make a program on what cycling CAN be in this country, any takers...?"
Join our new commenting forum
Join thought-provoking conversations, follow other Independent readers and see their replies