Cyclists stage massive 'die-in' for fatal bike crash victim in Camberwell
Riders brought traffic to a standstill by lying in the road to remember Esther Hartsilver who was killed in Denmark Hill last month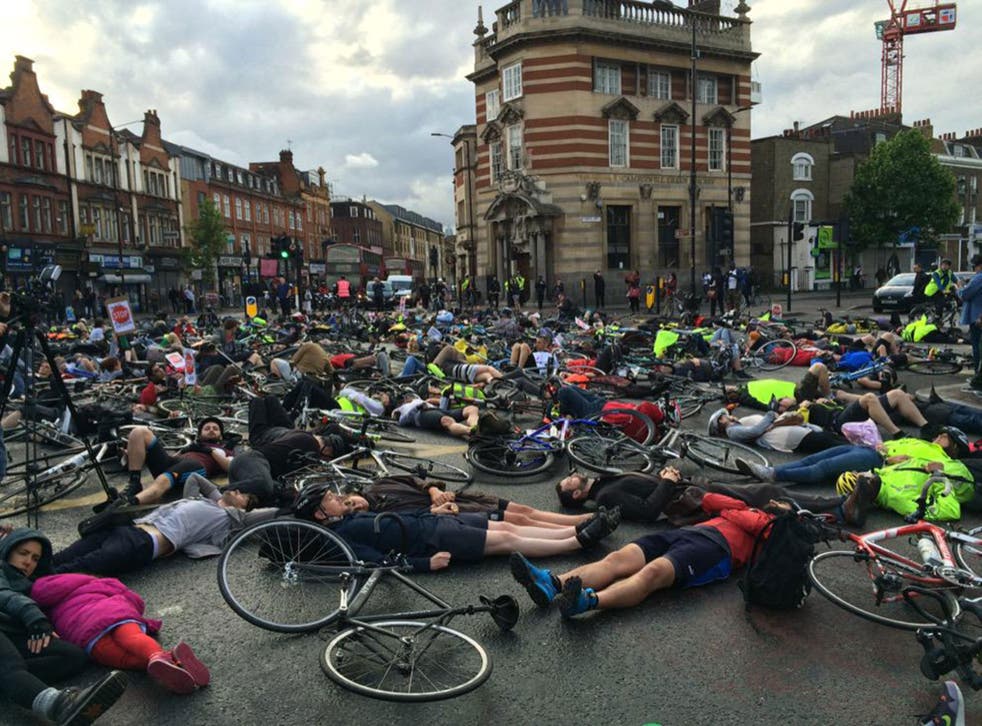 Dozens of cyclists brought Camberwell in London to a halt last night by staging a massive 'die-in' protest in honour of a cyclist who was run-over and killed in the area almost two weeks ago.
Physiotherapist Esther Hartsilver, 32, lost her fight for life in hospital after being struck by a lorry in Denmark Hill on May 29 while making her way to work at King's College Hospital.
Last night, riders stepped down off their bikes and lay down in the road at the scene of the incident to protest and to raise awareness of cycling safety and to 'reiterate the need for space and decent infrastructure for people that choose to cycle.'
Ms Hartsilver became the 41st person to be killed while cycling in the UK this year – and was one of three females killed in the country that same day.
She was the sixth person killed in London whilst cycling in 2015 – where all the incidents have involved an HGV. All but one of the victims have been women.
Attended by Ms Hartsilver's family and friends, Nicola Branch, the co-organiser of the Stop Killing Cyclists pressure group behind the 'die-in', described it as "emotional" and added: "It sends a loud message to Southwark Council that it must urgently install protected cycle lanes and protected left hand turns at junctions across the borough."
The leader of Southwark Council, Peter John, said: "Our sincerest sympathies are with the family and friends of Miss Hartsilver.
"We want to make cycling safer for everyone in Southwark, which is one of the reasons why we plan to invest millions of pounds in cycling over the next five years."
Assuring the public he will be asking the Mayor of London to work closely with Southwark Council on the matter, Mr John added: "In addition to this, last year I proposed a London-wide ban on HGVs during rush-hour to protect cyclists and, following the tragic death of Esther Hartsilver, the case for such a ban remains strong."
Last week, a separate vigil took place to remember Ms Hartsilver which attracted more than 200 friends and family members who ran eight kilometres from Shoreditch to City Hall to honour her.
Chanting her name along the way, a short memorial service was then held which saw the runners spell out 'Esther' in tea lights and candles.
Join our new commenting forum
Join thought-provoking conversations, follow other Independent readers and see their replies